Home Renovations Under $5,000: Enhancing Your Space on a Budget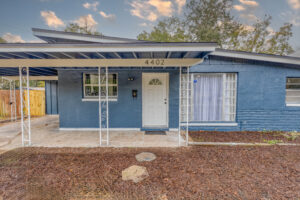 Home renovations offer a fantastic opportunity to transform your living space, creating a more comfortable and aesthetically pleasing environment. However, the idea of home renovations often conjures up images of hefty budgets and long timelines. Fortunately, there are numerous creative and cost-effective ways to revitalize your home without breaking the bank. In this guide, we will explore a range of home renovation projects that can be accomplished for under $5,000, allowing you to achieve a refreshed and inviting atmosphere within a limited budget.
Fresh Paint and Accent Walls
One of the simplest and most impactful ways to update your home is by giving it a fresh coat of paint. A gallon of paint typically costs around $30 to $50, making it an affordable option. Consider creating an accent wall in a bold color to add a pop of personality to a room without needing to paint the entire space. This approach not only transforms the look of a room but also introduces a new energy to your living space.
Update Lighting Fixtures
Changing outdated light fixtures can have a remarkable effect on the ambiance of your home. Swapping out old, worn fixtures for more modern or stylish options can breathe new life into any room. Pendant lights, chandeliers, or even energy-efficient LED bulbs can make a significant impact on the overall aesthetic while staying within your budget.
Kitchen Facelift
A complete kitchen renovation may seem out of reach, but there are budget-friendly ways to give your kitchen a fresh look. You can replace cabinet hardware, update the faucet, or even apply a fresh coat of paint to cabinets for an instant facelift. Adding a peel-and-stick backsplash can also provide a stylish and affordable update to your kitchen's appearance.
Bathroom Upgrades
Similar to the kitchen, you can revamp your bathroom without a complete overhaul. Installing a new vanity, updating the mirror, or replacing worn-out fixtures are relatively inexpensive ways to modernize the space. Adding a new shower curtain, bath linens, and accessories can further enhance the overall appeal of the bathroom.
Flooring Makeover
If your flooring is looking worn or outdated, consider inexpensive options such as laminate or vinyl plank flooring. These materials are durable, easy to install, and can mimic the appearance of more expensive materials like hardwood or tile. With careful shopping and DIY installation, you can transform the look of a room without straining your budget.
Enhance Curb Appeal
First impressions matter, and enhancing your home's curb appeal can be achieved without a hefty investment. Simple tasks such as freshening up the landscaping, painting the front door, or adding outdoor lighting can significantly improve your home's exterior aesthetic.
DIY Projects
Embrace your creative side and take on DIY projects that can add character to your home. From creating a custom headboard for your bed to repurposing old furniture with a fresh coat of paint, DIY projects allow you to personalize your space while keeping costs down.
Home renovations under $5,000 are entirely achievable with a bit of creativity, planning, and strategic spending. By focusing on cost-effective updates, such as painting, lighting, and small-scale improvements, you can give your home a fresh and appealing look without straining your finances. Remember, a well-executed renovation doesn't have to break the bank; it's about making thoughtful choices that breathe new life into your living spaces and create a more inviting and comfortable environment for you and your family.
Buying or Selling in Northeast Florida?
And if you're looking to buy or sell a home in Northeast Florida, you've come to the right place. Here at Welch Team, we specialize in helping homeowners sell their properties and find the homes of their dreams. Contact us today to learn more!