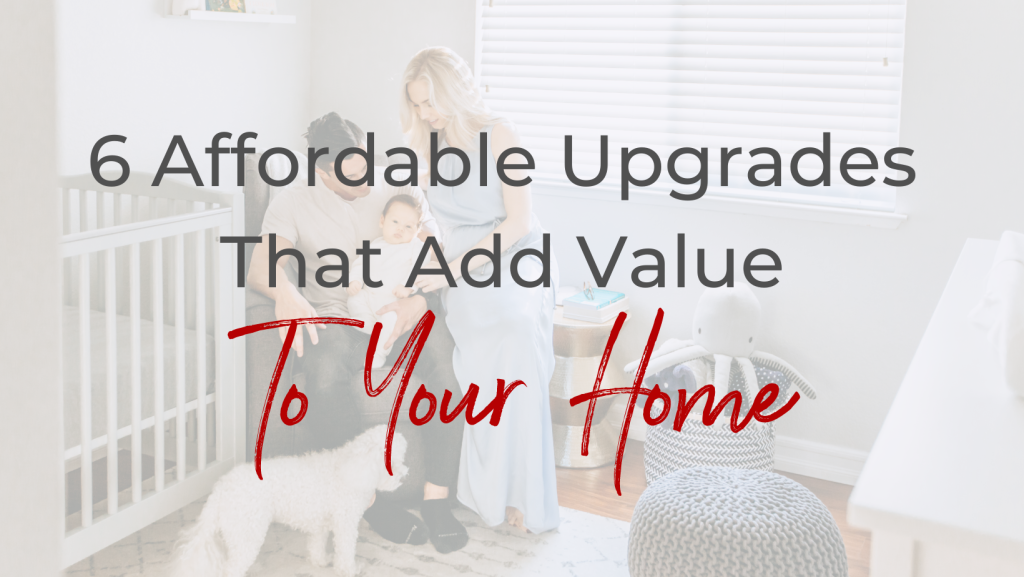 Are you looking for affordable ways to add value to your home? Fortunately, there are many ways to effectively add value to your home, but many of them can be incredibly time intensive or costly. So, if you want to make the most impact on your home's value for the least amount of money, you have to get a little creative with your upgrades.
6 Cost-Effective Upgrades That Increase Home Value
Many assume that you must make significant changes to add value to your home, but that's not always the case. In fact, some of the best ways to add value are the simplest. Here are six affordable upgrades that can add a ton of value to your home.
1. Make Repairs
Making repairs in a no-brainer way to add instant value to your home with little upfront cost. If your home has problem areas or visible damage, that'll decrease the overall value of your listing. So, if you fix those problems, you instantly recoup the value you would've lost.
2. New Paint
Most home buyers (and consumers) buy with their eyes. So, if they like what they see, they're more likely to spend more money on it. If you add a fresh coat of paint to the interior and exterior of your home, that'll do wonders in impressing prospective buyers and add immediate value to your home. Plus, you can even do it yourself, making it a super cost-effective upgrade.
3. New Floors
The difference between new and old floors can make a world of difference in how your home is evaluated. If the floors are dingy, damaged, or need to be replaced, that can decrease the overall value of your home. On the other hand, new floors add value to your home and create a stellar first impression for new buyers.
4. Prioritize Energy Efficiency
Going green isn't just a recommendation – it's a priority for many new home buyers. Due to the rising cost of electricity and record-high inflation rates, many new homeowners are searching for ways to save money. As a result, they'll spend more to buy a home that prioritizes energy efficiency, so you should, too!
5. Spruce Up Your Landscaping
One of the first things new home buyers see when they drive up to your home is your front yard (curb appeal). Additionally, one of the last things they see on a home tour is the backyard. So, here's a secret: invest in your landscaping in both the front and back of your home because it's the first and last thing people will see. Not only will this increase your home's value, but it will also make people more likely to buy.
6. Update Appliances and Fixtures
One of the most cost-effective ways to add value to your home is by updating your appliances and fixtures. Create a warm welcome with updated lighting, or make your kitchen shine with a new refrigerator, oven, dishwasher, or cabinetry. Either way, you'll be doing yourself a service while simultaneously increasing the value of your home!
Interested in Selling Your Newly Improved Home?
Are you interested in selling your newly improved home in Northeast Florida? Here at the Welch Team, we specialize in getting our clients the best deal possible. Contact us today to learn more about how we can help you sell your home. 
And while you're here, don't forget to get an instant estimated home value. It'll provide a free and accurate estimate of your home's current value based on market trends and location.