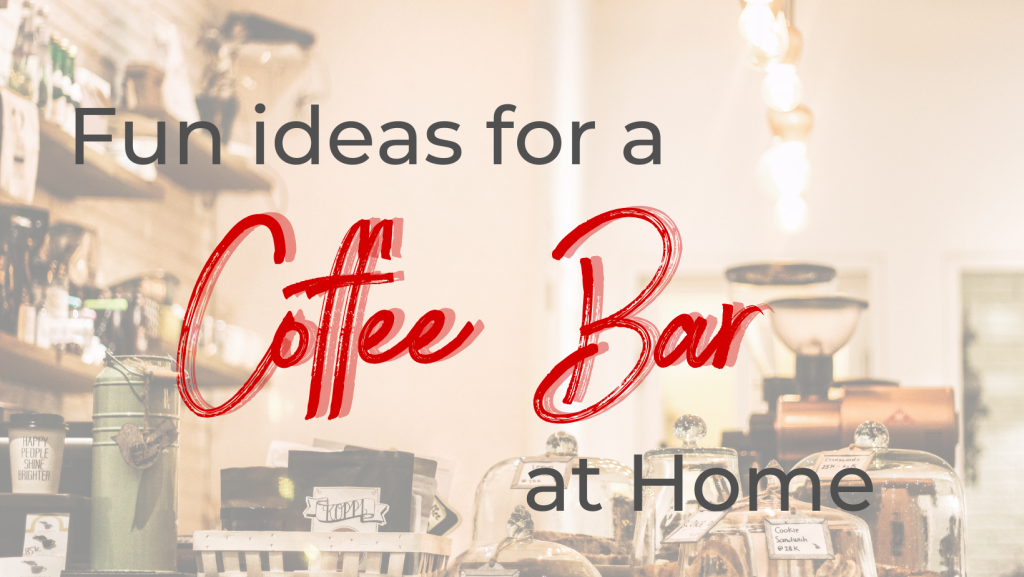 Are you looking for fun coffee bar ideas for your home? Coffee bars are excellent places to showcase your love of coffee (or tea) in neat and imaginative ways. And if you look for inspiration online, you'll learn pretty quickly that there are almost endless ways to customize your coffee bar. The hardest part is deciding which idea is right for you. 
5 At-Home Coffee Bar Ideas
That's where we come in! We've scoured the internet and our imaginations to come up with the most inspiring at-home coffee bar design ideas, tips, and tricks for you to use in your home. Here are five of the most unique coffee bar ideas to help inspire your next DIY home creation. 
1. Create a Portable Coffee Bar with a Rolling Cart
Portable coffee bars are super fun and incredibly functional. One of the best ways to create one is to convert a rolling cart. These are often found on trains and in libraries but can fit just as easily into your home. 
And as a bonus, your coffee bar becomes mobile, allowing you to take it with you all over the house. With a rolling coffee bar, you can say goodbye to constant trips to the kitchen!
2. Convert an Old Dresser into a Coffee Bar
Old dressers are another great furniture item that can easily be transformed into a chic, antique, or modern coffee bar. The drawers give you plenty of space to store cups and other coffee accessories. And the tops of the dressers provide ample space for your coffee pot, Keurig, or espresso machine!
3. Convert a Closet Into a Coffee Nook
If you're hurting for space and don't want to put a coffee bar against a wall, why not convert one of your closets? You can install an accordion door for easy access or just remove the door entirely and create a closet-sized coffee nook! This idea allows you to create a unique and stylish coffee bar without taking up additional space. 
4. Block Off a Section of Your Kitchen Counter
If you have enough room in your kitchen, you may just block off a particular section of your countertop and use that as your coffee bar. On the positive side, it's already built into your kitchen, so you don't have to create something from scratch. Plus, if you have any cabinet space available above the counter, it can provide the perfect place for coffee accessory storage!
5. Combine Books and Coffee
Coffee and books are a perfect combination – that's why so many bookstores offer coffee and tea to their patrons. So, why not take that as inspiration and combine your bookshelves and coffee bar into one perfect little spot? You can utilize a rolling cart, dresser, or even an old half-shelf for the coffee bar, two tall bookcases for symmetry on either side of the bar, and a comfy table and chair for lounging. It's perfect!
Looking for a New Home?
Are you searching for a new home where you can create the perfect coffee bar? Well, look no further! Here at the Welch Team, we specialize in finding people their ideal forever homes in Jacksonville, St. Augustine, and anywhere else in Northeast Florida. Contact us today to learn more!
And while you're here, you should grab a copy of our free buying guide! It contains tips from industry experts, trusted local vendors, and a complete walkthrough of the home buying process.