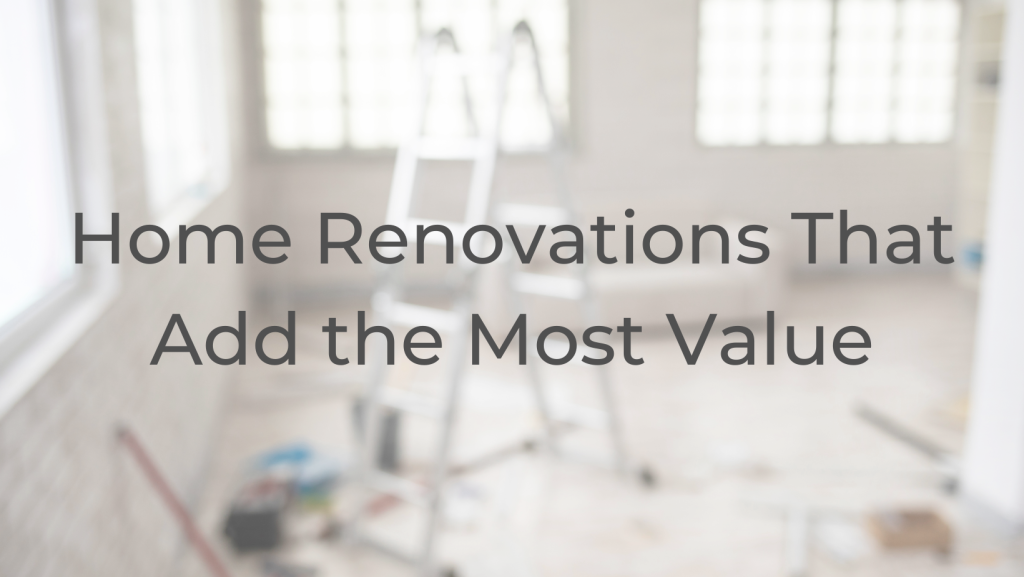 Many people assume that extensive home renovations are the best way to add value to your home. But when you're trying to figure out which renovations add the most value, the math is a little complicated. Not only should you look at how much it adds to your property value, but you should also consider how much it costs.
5 Popular Home Renovations That Add th
e Most Value to Your Home
Many popular renovations, like adding a bedroom or remodeling the master bath, may significantly increase the home's value, but they also have a hefty price tag. So, when you're trying to determine which home renovations add the most value, you have to use a relatively simple equation: divide the added value by the project cost to determine your recouped percentage. 
But for those who don't have to do the math yourself, no worries! We did it for you. Here are five home renovations that will add the most value to your home (based on percentages).
1. Garage Door Replacement
This might come as a surprise, but garage door replacements are the most profitable home renovations you can make. While they may not add tens of thousands of dollars to your home's value, the cost and resale value of a garage door replacement are almost identical. Plus, this renovation increases your curb appeal, which is incredibly important when selling a home.
Average Cost: $3,907
Average Resale Value: $3,663
Total Cost Recouped (%): 93.8%
2. Siding Replacements
When we talk about siding replacements, there are a few different types of siding that we should mention. Replacing a small portion of the home's siding (in the entranceway, patio, etc.) with manufactured stone veneer adds a ton of value. 
Fiber-cement and vinyl siding replacements, on the other hand, recoup a little less but are still relatively high on our list of valuable renovations. Plus, all these siding replacement projects serve the additional purpose of increasing curb appeal and improving the overall exterior aesthetic of your home, which can aid in the selling process. 
Manufactured Stone Veneer Siding:
Average Cost: $10,386
Average Resale Value: $9,571
Total Cost Recouped (%): 92.1%
Fiber-Cement Siding:
Average Cost: $19,626
Average Resale Value: $13,618
Total Cost Recouped (%): 69.4%
Vinyl Siding:
Average Cost: $16,576
Average Resale Value: $11,315
Total Cost Recouped (%): 68.3%
3. Minor Kitchen Renovation
Kitchen renovations are a popular option among homeowners and home designers, but you have to be careful. Kitchens can be pricey to renovate, so you want to keep your changes and alterations minor. A significant kitchen renovation may add value, but every new feature will come with a substantial price tag, so do your research and be cautious. 
Average Cost: $26,214
Average Resale Value: $18,927
Total Cost Recouped (%): 72.2%
4. Vinyl Window Replacements
Energy-conserving vinyl window replacements have multiple benefits. They add value to the home, and homebuyers will be relieved to know they won't have to replace their windows soon. They also boost your home's curb appeal.
Additionally, with energy costs on the rise, energy-conserving windows also help protect new homeowners from high electricity bills. This is an excellent selling point because energy conservation is incredibly important, and everyone wants to save money on their utilities!
Average Cost: $19,385
Average Resale Value: $13,297
Total Cost Recouped (%): 68.6%
5. Replacing the Roof
How many years does your roof have left? Is it in disrepair or approaching the end of its life? If so, you might consider replacing it before you sell.
While roof replacements are one of the highest-earning renovations you can pursue, recouping your investment isn't the only benefit. Remember: a roof in poor condition can make or break a sale. So, if you want to increase your chances of selling your home quickly and without complications, it might be a renovation project you consider.  
Average Cost: $22,636
Average Resale Value: $15,247
Total Cost Recouped (%): 67.4%
Interested in Selling Your Home in Northeast Florida?
Are you thinking about selling your home in Jacksonville or anywhere in Northeast Florida? If so, you've come to the right place. Here at the Welch Team, we specialize in getting our clients the best deals possible. Contact us today!
And if you're looking for contractors, lenders, and other professionals in the industry, don't forget to grab a free copy of our vendor list. We have close connections with a vast network of trusted and pre-screened industry veterans.