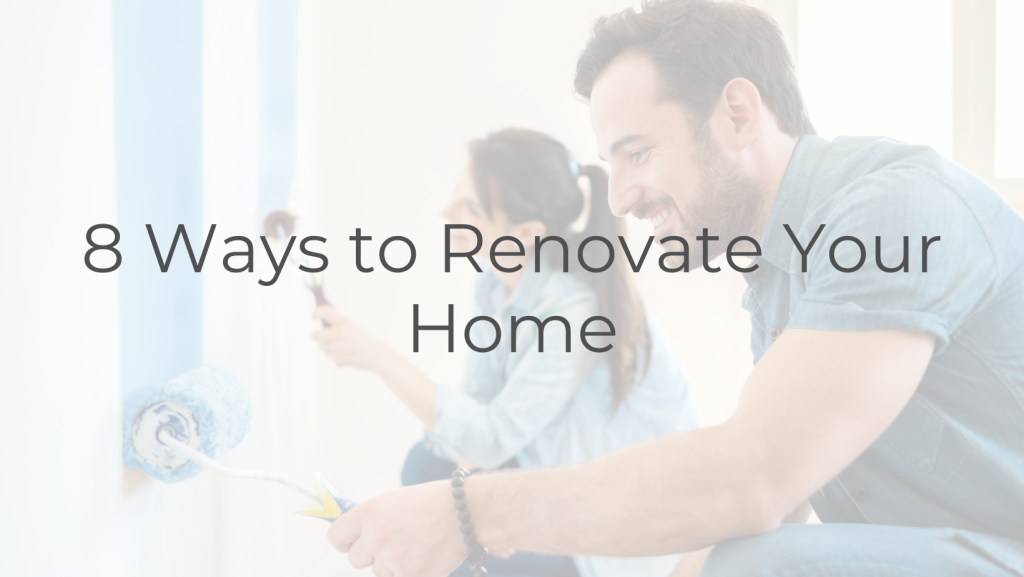 Are you looking for ways to renovate your home in 2022? After two years indoors, you might be itching to make some changes. Fortunately, there are many home renovation projects you can take on that range in cost and difficulty.
8 Home Renovation Ideas in 2022
As you settle into spring, why not take this time to reinvest in your home before summer? Here are nine 2022 home renovation ideas to help inspire your next project. 
1. Add Some Color to Your Kitchen Cabinets
From bright colors to fun finishes, colored kitchen cabinets are incredibly popular. It's the ideal way to add a bit of brightness to your kitchen décor without changing much. Plus, it's a relatively low-cost kitchen renovation idea, so it's perfect for almost any budget.
2. Revamp Your Home Office
Now that so many people are working remotely, it might be time to revamp your home office. You shouldn't have to work in a closet or the middle of your kitchen if you can help it. Take this opportunity to invest in your home office by renovating a spare bedroom or adding a new room to your house.
3. Wallpapers Are Back!
Just like colored cabinets, wallpapers are making a comeback with designers worldwide. Depending on your home's design aesthetic, you can go with something simple and modern, bright and eccentric, or traditional and classic. You really can't go wrong!
4. Install Glass Walls
With so much time spent indoors these last two years, many people are craving sunlight. So, instead of altering your lifestyle to spend more time outside, why not bring all that sunshine inside? Glass walls are an excellent way to open up your home and brighten up your space.
5. Create Your Dream Backyard
Home renovations don't have to be interior. In fact, people are utilizing their backyards more than ever before. So, take the time this spring to install a pergola, create a beautiful garden, or reinvest in your landscaping. It'll definitely be worth your time!
6. Brand New Floors
With all the foot traffic your home has had to endure, your floors might be in need of some serious renovation. So, why not make 2022 a year of new flooring installations? You can invest in high-end hardwood, luxury vinyl, laminate, or brand-new carpet. 
7. Built-in Shelves
Built-ins are all the rage right now, and we can see why. People love shelving, and a built-in shelf seamlessly adds flair to any design aesthetic. If you're looking for a straightforward and affordable renovation idea, built-in shelves might be the way to go!
8. Smart Technology
Is it time to make your home a home of the future? Investing in smart technology is advantageous for many reasons, including convenience, home security, connectivity, and energy conservation. Investing in smart technology is also a great way to improve the overall value of your property.
Wanting a Fresh Start?
Are you less interested in renovating and more interested in buying a new home? Well, if you live in Jacksonville or anywhere in Northeast Florida, you're in luck. Contact the Welch Team today to check out some of the most gorgeous properties in the entire Sunshine State!
And while you're here, don't forget to pick up your free buyer's guide!