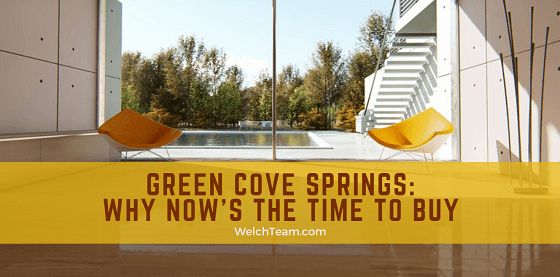 The past few months have thrown a monkey wrench into just about every aspect of life. Jobs. Schools. Dining out. How we shop for groceries. This pandemic also impacted the real estate industry. Even so, buyers still bought homes, and sellers still sold homes. Given all the turmoil we've seen take place in our nation over the past several weeks, is it still a good time to buy Green Cove Springs Florida homes for sale? The quick answer? Yes.
Green Cove Springs – Why Now's the Time to Buy
The Green Cove Springs community is a southern suburb of the greater Jacksonville metro area. This beautiful small town sits right along the St Johns River. Its proximity to Jacksonville makes it a great location for young professionals to own a home. The great public school system, low cost of living, and plethora of outdoor activities available make it a fantastic place for families, too.
Lowest Interest Rates Ever
Why consider purchasing one of the Green Cove Springs Florida homes for sale right now? How about historically low interest rates? Freddie Mac recently reported that the interest rate for a 30-year, fixed-rate loan hit 2.98%. That's the lowest point ever in the almost 50 years that Freddie Mac has kept track of interest rates. For buyers, that means significant savings when they borrow money for a home purchase. Back in November 2018, buyers paid almost 2% more for the same loan. 
Prices Still on the Rise
Even though sales proved a bit sluggish lately, prices continued to go up. Zillow reported that home values of Green Cove Springs Florida homes for sale rose by 3.6% in the last 12 months alone. Finding a fixer-upper in a price range that allows you to make a quick flip might be a little more difficult right now. But that doesn't mean you shouldn't keep looking. If you're on the fence about purchasing a property, you'd be better off acting sooner rather than later.
Lenders Tightening Standards
Another reason to buy a Green Cove Springs home today rather than waiting is that lenders have begun to tighten their standards for approval. Some furloughed employees found out that their temporary job loss turned into a permanent one. Paying the mortgage became difficult. In April 2020, we saw a significant increase in mortgage delinquencies. As a result, lenders started putting more requirements in place for loan approval. But, if you have a steady job, a decent credit score, and have continued to pay your bills on time, you could still qualify for a mortgage loan. It just might not be at the ultra-low sub-3% rate.
There are still plenty of programs available for homebuyers even if you don't have 20% to put down and your credit score falls below "excellent". Contact the Welch Team today to start looking for your next Green Cove Springs Florida home.