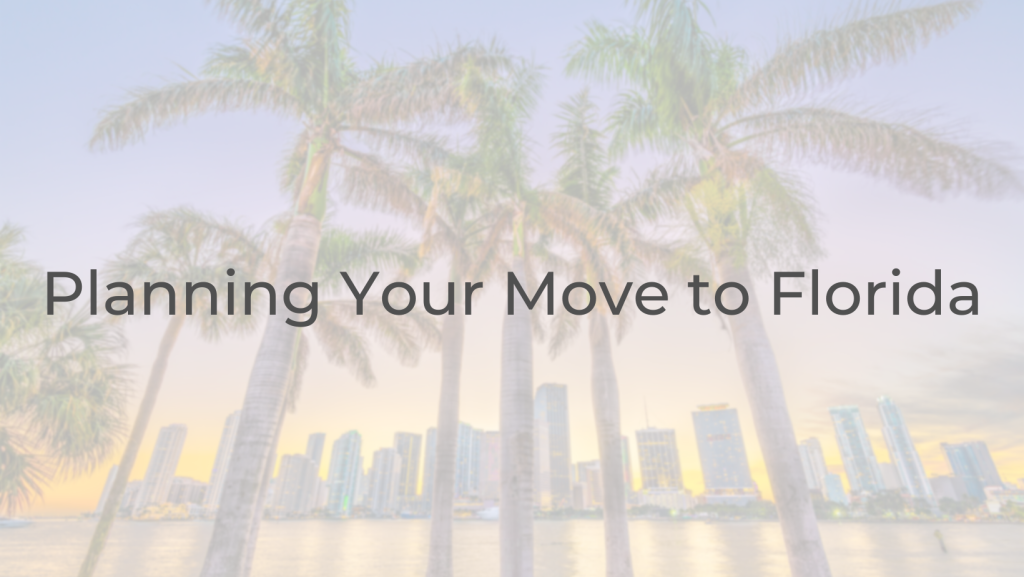 Florida has been a state that welcomes new residents and visitors for many years now. Especially recently as people aim to relocate to the sunbelt. Whether you're relocating from Vermont, Georgia, or anywhere in between, we have some tips that'll help you transition smoothly to your new home state. 
Lifestyle Changes
One of the first decisions you need to make is what your motivation for moving to Florida is. Maybe you're of retirement age and want to permanently move or become a snowbird and spend the winters in Florida. Maybe you have young children, and you want them to grow up by the ocean. Maybe you are relocating for a job. Whatever your reason, you want to make sure you have a clear understanding of why you're moving and what part of Florida fulfills that need. For instance, if your new job is in Tampa, you should know that even though the Sarasota area is geographically close, with traffic and travel, it can take up to an hour to get downtown. Knowing how these changes will affect your day-to-day life will be key to a smooth transition.  
Securing a New Home
One of the items at the very top of your to-do list should be securing your new home. There are many options available when it comes to finding and purchasing a house. Most would prefer to travel to the area and check out the homes in person before putting in an offer. For others, there are digital options available with zoom meetings and virtual open houses. Regardless of which route you take, you'll want to work with a trusted realtor who knows the area well and how to navigate the competitive market. Another key part of buying a new home is understanding the finances. Whether you are buying your first home, or selling your current one, it's important to know how much house your budget will allow. Remember to avoid making big purchases on credit before buying a home. Save those for after you have closed to avoid any financial red flags on your mortgage. 
Working With Movers and Transportation
The largest undertaking in your moving process is the action of packing up your life and actually moving it. You'll want to plan this as much as possible to avoid last-minute panics. The influx of people buying homes means movers are getting booked up faster, especially those that make cross-state moves. So gather a few quotes from movers and pick the one that works best with your timeline and budget. At this time, you'll also want to decide how to get you and your family to your new home. Some people choose to drive as a way to expedite getting your most valued items to your home. Another popular option for people coming from the northeast is the car train, which leaves from the Washington, DC area. Where they load up your car into a carrier, and then your family can be passengers on the train. This is an attractive option for people who want to load up the car but maybe don't want to drive the entire way. 
At least two weeks before your moving date, you'll want to start packing your belongings. A good system is to create three types of boxes: keep, donate, and trash. That way, you're only taking the things to your new home that you'll need and use instead of bringing all your belongings and sorting them out in your new home. Allow yourself to have a fresh start in your new home with only the items you love. 
Now that you've considered all of these items, you're ready to get started on your move to Florida. Florida has so many wonderful features to offer all sorts of people and families and is ready to welcome you as you settle into your new home. 
Looking for Homes for Sale in Jacksonville?
Are you interested in seeing listings for sale in Jacksonville, Florida.  If so, you've come to the right place. Check out our newest listing here!
Knowing where to buy a home takes time, research, patience, and help from professionals who understand local markets. So, if you're considering moving to Northeast Florida and want to know more about what's available in the area, contact the Welch Team today! Our team of real estate experts would love to help you find the home of your dreams in the city that's right for you. 
And while you're here, don't forget to pick up a free copy of our buyer's guide. It's packed with valuable information, including a step-by-step guide to the home buying process, tips from the experts, and a list of our most trusted vendors.