Discover Eagle Landing Community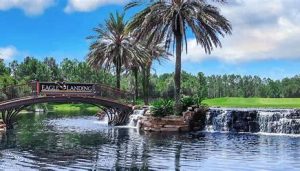 Nestled in the outskirts of Jacksonville, Florida, Eagle Landing is a sought-after community that combines the serenity of suburban living with the convenience of modern amenities. With its picturesque landscapes, fantastic golf course, and a wide range of recreational opportunities, Eagle Landing has become a beloved destination for residents seeking a tranquil yet vibrant lifestyle. Let's explore what makes Eagle Landing an exceptional community and why it continues to attract families and individuals looking to establish roots outside of Jacksonville.
A Welcoming Oasis
Eagle Landing offers residents a tranquil oasis amidst the hustle and bustle of city life. The neighborhood's lush green spaces, well-maintained parks, and tree-lined streets create a picturesque and welcoming environment. The sense of calm and natural beauty that envelops Eagle Landing sets the tone for a peaceful and enjoyable living experience.
Family-Centric Community
Eagle Landing is renowned for its family-centric atmosphere. The neighborhood boasts top-rated schools, making it an ideal location for families with children. Children have access to quality education, while parents can rest assured that their little ones are growing up in a safe and nurturing environment.
Modern Amenities
Residents of Eagle Landing are treated to a wealth of modern amenities within the community's reach. The neighborhood features recreational facilities such as playgrounds, sports fields, and community centers, encouraging an active and social lifestyle. For those who enjoy staying fit, fitness centers and swimming pools offer ample opportunities to stay in shape.
Proximity to Urban Conveniences
Despite its serene setting, Eagle Landing enjoys close proximity to a wide range of urban conveniences. Shopping centers, restaurants, entertainment options, and professional services are just a short drive away, ensuring that residents can access everything they need with ease.
Community Spirit
Eagle Landing nurtures a strong sense of community spirit through various events and gatherings. From neighborhood block parties to seasonal celebrations, residents have ample opportunities to connect with one another and build lasting friendships. This camaraderie fosters a close-knit community that supports and cares for its members.
With its serene landscapes, diverse housing options, family-friendly amenities, and a strong sense of belonging, Eagles Landing is a testament to the joys of suburban living in Jacksonville, Florida. As the community continues to grow and flourish, it remains an alluring destination for families and individuals seeking a harmonious blend of tranquility and convenience in their daily lives. Whether you're considering a move or simply exploring the charms of Jacksonville, Eagles Landing is a place where you can truly feel at home.
Buying or Selling in Northeast Florida?
And if you're looking to buy or sell a home in Northeast Florida, you've come to the right place. Here at the Welch Team, we specialize in helping homeowners sell their properties and find the homes of their dreams. Contact us today to learn more!