Unraveling the Charm of Saint Augustine on Labor Day Weekend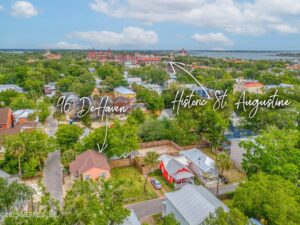 As summer draws to a close, the enchanting city of Saint Augustine allows visitors to explore the "Nation's Oldest City" during the Labor Day weekend.  Nestled along the eastern coast of Florida, this historic gem is the perfect destination for a weekend filled with history, culture, and relaxation. Whether you're a history buff, a beach lover, or a food enthusiast, Saint Augustine has something for everyone. Let's dive into some of the must-do activities that will make your Labor Day weekend an unforgettable experience.
Explore Historic Landmarks:
Saint Augustine proudly boasts a rich history dating back to its founding in 1565, making it the oldest settlement in the United States. Step back in time as you visit the iconic Castillo de San Marcos, a 17th-century fort built by the Spanish. Wander through the charming streets of the Historic District featuring well-preserved colonial architecture and quaint shops. Don't forget to take a guided tour on the Old Town Trolley to learn about the city's captivating past.
Relax on Pristine Beaches:
For those seeking relaxation during their Labor Day Weekend, Saint Augustine offers an array of pristine beaches perfect for unwinding under the warm sun. Head to Anastasia State Park, a nature lover's paradise, where you can lounge on the sandy shores, swim in the refreshing Atlantic waters, or explore nature trails teeming with local flora and fauna. You can also indulge in water activities like kayaking, paddleboarding, or even dolphin watching tours.
Indulge in Culinary Delights:
A visit to Saint Augustine wouldn't be complete without savoring its diverse culinary scene. From upscale restaurants offering fresh seafood delicacies to cozy cafes serving delectable pastries, this city caters to every palate. Don't forget to sample the delectable ice creams and popsicles offered by numerous creameries as you stroll along St. George Street.
Enjoy Vibrant Nightlife:
As the sun sets, Saint Augustine's vibrant nightlife comes alive. Head to St. Augustine Distillery or any of the city's trendy bars to taste locally crafted spirits and cocktails. The downtown area offers live music venues and charming pubs where you can enjoy a relaxing evening with friends or loved ones. The city's lively atmosphere guarantees a memorable night out on the town.
Embrace Outdoor Activities:
For the adventure enthusiasts, Saint Augustine offers a plethora of outdoor activities. Embark on a thrilling zip-lining adventure over ancient oak trees or explore the scenic beauty of the city through a guided bicycle tour. You can also take a scenic boat cruise to catch breathtaking views of the city's skyline from the water.
Saint Augustine, with its blend of history, natural beauty, and cultural charm, promises an unforgettable Labor Day weekend experience. Whether you immerse yourself in the city's historical landmarks, bask in the sun on its famous beaches, or explore its diverse culinary delights, this Florida gem has something to offer everyone. So, pack your bags, embrace the allure of Saint Augustine, and create lasting memories during this Labor Day weekend.
Buying or Selling in Northeast Florida?
And if you're looking to buy or sell a home in Northeast Florida, you've come to the right place. Here at the Welch Team, we specialize in helping homeowners sell their properties and find the homes of their dreams. Contact us today to learn more!