How to Impress Buyers and Get Top Dollar for Your Property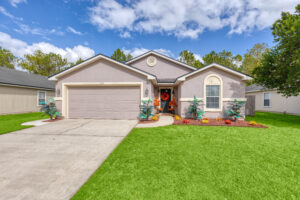 Selling a property is not just about listing it; presentation plays a vital role in attracting potential buyers and securing a top-dollar offer. Home staging is an art that can transform your property into a highly desirable and appealing space. In this blog, we'll explore the key aspects of home staging and how you can impress buyers to get the best possible price for your property.
1. Declutter and Depersonalize:
The first step in home staging is to declutter and depersonalize the space. Remove excess furniture, personal items, and anything that may distract potential buyers from envisioning themselves living in the home. A clutter-free and neutral environment allows buyers to focus on the property's features and potential.
2. Focus on Curb Appeal:
First impressions matter, and the exterior of your property sets the tone for the buyer's experience. Enhance your home's curb appeal by mowing the lawn, trimming bushes, and adding potted plants or flowers to the entrance. A fresh coat of paint on the front door and clean, well-maintained pathways can make a significant difference.
3. Highlight the Property's Best Features:
Identify the unique selling points of your property and accentuate them during the staging process. Whether it's a stunning fireplace, a spacious kitchen, or breathtaking views, make sure they take center stage. Use furniture placement, lighting, and decor to draw attention to these features and create a memorable impression on potential buyers.
4. Let Natural Light In:
Bright and well-lit spaces feel inviting and spacious. Ensure that curtains and blinds are open to allow natural light to flood the rooms. If your property lacks natural light, use strategic lighting fixtures to create a warm and welcoming ambiance.
5. Create a Warm and Inviting Atmosphere:
Appeal to the emotional side of buyers by creating a warm and inviting atmosphere. Use soft, neutral color schemes and add cozy elements like throw pillows, blankets, and fresh flowers. A welcoming ambiance will make potential buyers feel at home and emotionally connected to the property.
6. Stage Every Room with Purpose:
Every room in your property should have a clear purpose that appeals to potential buyers. If you have a spare room being used as storage, consider staging it as a home office or guest bedroom. Well-defined spaces help buyers visualize how they can utilize the rooms according to their needs and lifestyle.
Home staging is a powerful tool that can significantly impact the sale of your property. By decluttering, depersonalizing, and focusing on curb appeal, you can make a memorable first impression. Highlighting the property's best features, maximizing natural light, and creating a warm and inviting atmosphere will leave potential buyers with a lasting positive impression. Investing in home staging can pay off handsomely by attracting more buyers and securing top-dollar offers for your property.
Buying or Selling in Northeast Florida?
And if you're looking to buy or sell a home in Northeast Florida, you've come to the right place. Here at the Welch Team, we specialize in helping homeowners sell their properties and find the homes of their dreams. Contact us today to learn more!