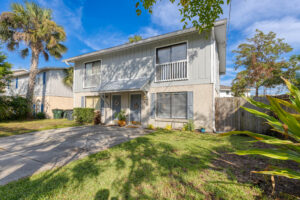 As the sun-kissed shores of Florida attract visitors from around the world, the state's diverse neighborhoods offer a plethora of hidden gems waiting to be explored. Nestled in the northeastern corner, NE Florida boasts an array of charming and vibrant communities that offer a unique blend of history, culture, and natural beauty. Come along as we uncover eight hidden gem neighborhoods that have captured the hearts of locals and visitors alike, making them must-visit destinations for anyone seeking an authentic Florida experience.
Ortega:
Framed by ancient oak trees draped with Spanish moss, Ortega exudes a nostalgic ambiance with its historic architecture and timeless charm. Overlooking the majestic St. Johns River, this picturesque neighborhood offers stunning views, serene parks, and a tight-knit community feel. Ortega Yacht Club is a local treasure, where residents can indulge in water activities and soak in breathtaking sunsets.
St. Nicholas:
St. Nicholas welcomes you with tree-lined streets and historic homes, reflecting the area's rich heritage. This close-knit community is known for its friendly locals, diverse dining options, and vibrant arts scene. The nearby Treaty Oak Park, home to the legendary 2,000-year-old oak tree, is a must-see attraction.
Hidden Hills/Fort Caroline:
For nature enthusiasts, Hidden Hills/Fort Caroline is a hidden paradise. Boasting scenic hiking trails, lush parks, and the awe-inspiring Timucuan Ecological and Historic Preserve, this neighborhood is a haven for outdoor activities. The Fort Caroline National Memorial adds a touch of history to the area, enticing both history buffs and nature lovers.
Beauclerc:
Beauclerc captures the essence of southern living with its charming estates, well-manicured gardens, and beautiful tree-lined avenues. This upscale neighborhood boasts proximity to the St. Johns River and provides ample opportunities for waterfront living and leisurely strolls.
Oceanway:
Situated just north of downtown Jacksonville, Oceanway offers a unique mix of coastal and rural vibes. Its serene setting and easy access to nearby beaches make it an attractive destination for those seeking a laid-back lifestyle.
Crescent Beach:
As part of the St. Augustine area, Crescent Beach entices visitors with its pristine shoreline and tranquil atmosphere. This idyllic beach community offers a relaxing retreat away from the hustle and bustle, ideal for those seeking a peaceful vacation or a permanent escape.
Green Cove Springs:
Green Cove Springs, with its historic downtown and natural springs, offers a glimpse into Florida's past. The quaint streets, antique shops, and charming cafes make this neighborhood an enchanting destination to explore.
Yulee:
Located just north of Jacksonville, Yulee is a rapidly growing community with a unique mix of suburban amenities and natural beauty. The area's proximity to beaches and state parks ensures residents have access to a wide range of outdoor activities.
NE Florida's hidden gem neighborhoods hold treasures for every type of traveler and resident. From historic charm and cultural richness to natural beauty and serene waterfronts, each of these ten neighborhoods offers a distinct experience worth exploring. Whether you're searching for a tranquil retreat or a vibrant community, NE Florida has something magical waiting to be discovered in these ten hidden gems. So, pack your bags and embark on a journey to uncover the authentic essence of this enchanting region.
Buying or Selling in Northeast Florida?
And if you're looking to buy or sell a home in Northeast Florida, you've come to the right place. Here at the Welch Team, we specialize in helping homeowners sell their properties and find the homes of their dreams. Contact us today to learn more!