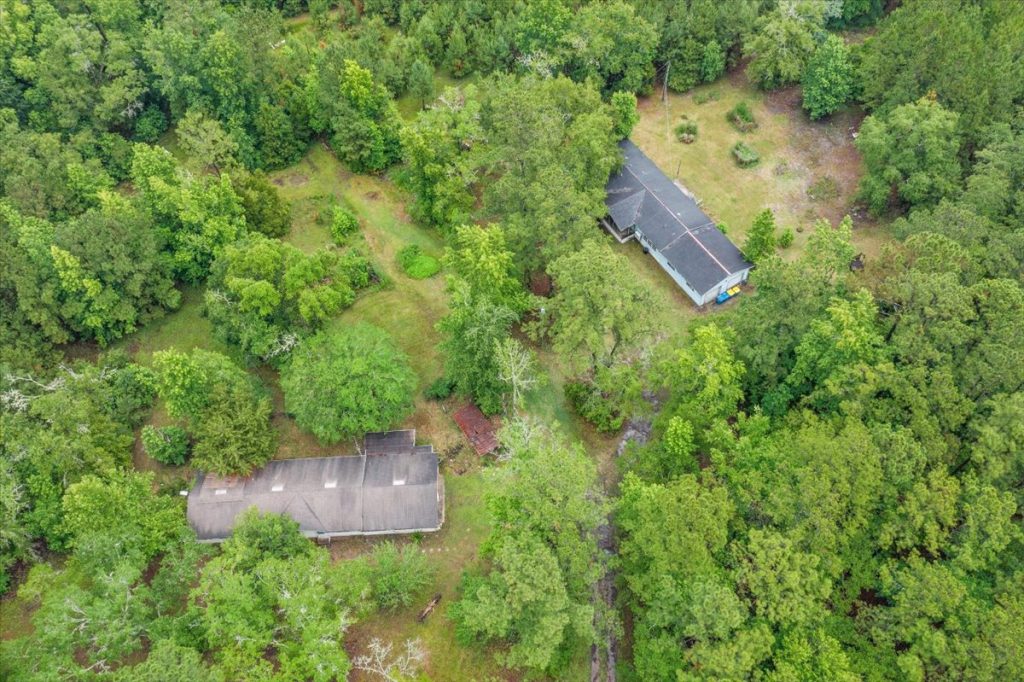 Secluded 10-Acre Property with Two Homes: 3093 Lannie Rd, Jacksonville, Florida
Welcome to 3093 Lannie Rd, a unique and secluded property located in Jacksonville, Florida. This remarkable estate spans over 10 acres and offers an incredible opportunity to own a piece of private land just minutes away from the airport, River City Marketplace, and downtown Jacksonville. With an agricultural-residential zoning, this property is a dream come true for those seeking a serene environment and space for their animals.
Nestled within this expansive parcel are two homes, each equipped with an attached two-car garage, a well with an aerator tank, and a septic system. The first dwelling, known as the Yellow House, boasts approximately 1,392 square feet of living space, featuring three bedrooms, a functional bathroom, and an additional gutted bathroom awaiting installation. The second residence, named the Blue House, offers around 1,416 square feet and presents two bedrooms, a functional bathroom, and another bathroom ready for renovation. While both houses require some attention, including new flooring, they hold immense potential and could be transformed into comfortable living spaces with ease.
The exterior of the property showcases a metal barn area comprising two sheds and movable chicken coops, perfect for those with a passion for farming or animal husbandry. The yard is partially fenced, offering a sense of security and privacy. As you explore the 10-acre estate, you'll be delighted by the presence of abundant wildlife, including deer, wild turkey, and boar. The property's natural charm is further enhanced by the presence of wild blueberry and huckleberry bushes, adding to its allure and providing an opportunity for nature enthusiasts.
Access to the property is through a manual gate on Lannie Rd, ensuring exclusivity and tranquility for its owners. The convenient location of the property allows for easy access to various amenities, such as the airport, River City Marketplace, and downtown Jacksonville. Whether you seek a peaceful retreat or a harmonious balance between rural and urban living, 3093 Lannie Rd offers it all.
3093 Lannie Rd presents a rare chance to acquire a secluded 10-acre estate with two homes in Jacksonville, Florida. With its agricultural-residential zoning, generous living spaces, and an array of amenities including a metal barn area and wildlife sightings, this property epitomizes the perfect blend of tranquility and convenience. Although some renovation work is required, the potential for creating your dream home or investment opportunity is undeniable. Take this unique chance to explore the possibilities that await you at 3093 Lannie Rd and make your dreams of owning a private oasis a reality. Contact us today to schedule a visit and experience the serenity of this remarkable property.