Blog Covers – Area Blogs (2)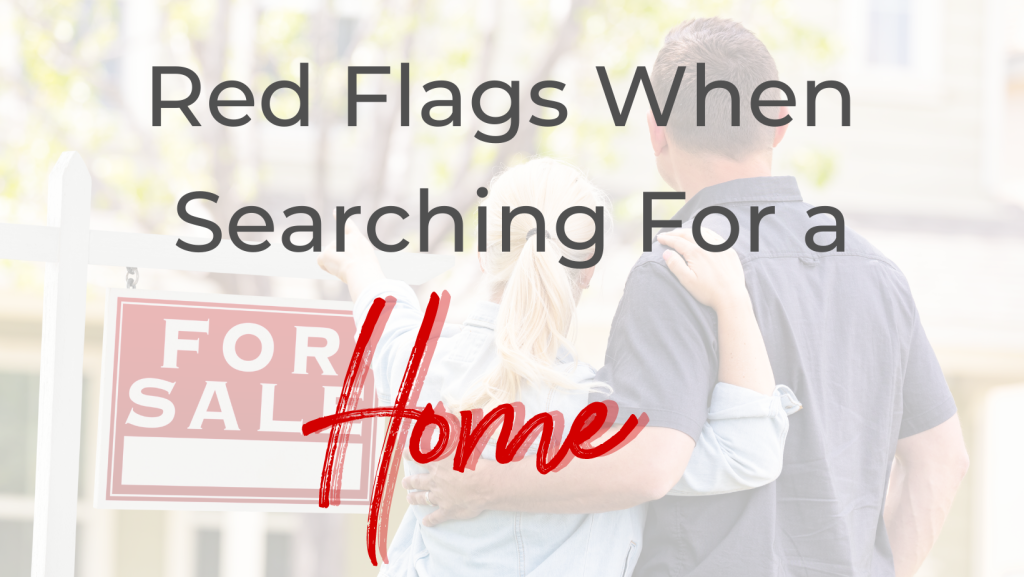 Buying a home comes with a lot of inherent risks. With so many potential issues that can arise, it can be incredibly challenging to know what to look for or prioritize when searching for a new home. After all, many problems are relatively straightforward or inexpensive to fix.
7 Red Flags You Should Look for When Buying a Home
Learning the difference between those minor problems and catastrophic, deal-ending issues is paramount to your success as a homebuyer. That's why we've taken the time to put together a list of the biggest problems that may arise. Here are seven red flags you should look out for when buying a home.
1. Foundation Issues
Foundation issues are one of the biggest red flags you can find when searching for a new home. Not only are they incredibly difficult and expensive to fix, but they're also unsafe. To spot signs of foundation issues, look for cracked drywall, gaps between the windows and walls, cracks in the floors, a leaning chimney, and gaps between cabinets and counters and the wall, to name a few.
2. Pest and Insect Infestations
While walking through the house, you should also be looking for signs of pests and insect infestations. For pest infestations, you should look for small openings, chewed-up items, and tiny droppings, among others. For insect infestations, you should look for dead bugs, live bugs, tracks and markings, foul odors, and droppings.
3. The Neighborhood
Another way to learn about a home is to check out the neighborhood, specifically the neighbors. You might even talk to them, explaining that you're thinking about buying the house and wanting to talk to people in the area. Seeing a lot of trash or junk in the neighborhood could be a sign that it's not the right place for you.
4. Stains on the Walls and Ceilings
If you see any stains on the walls or ceilings, this could be indicative of many different issues, including water leaks, water damage, infestations, HVAC issues, roof issues, and more. Never let a wall or ceiling stain go unchecked or unnoticed. That's a huge red flag for potential problems.
5. Electrical Issues
There are a few distinct ways to know if you have electrical issues without taking apart an outlet and manually testing it. They include funny odors, sparking when you plug something into an outlet, dimming or flickering lights, buzzing sounds, hot outlets or light switches, and black stains around plugs and outlets. If you see any of these, you should bring them up immediately because they are huge red flags.
6. Landscaping Problems
Landscaping issues can harm the integrity of your home's foundation and cause serious safety problems. So, if you see any signs of grading issues or poor drainage/runoff, you should be incredibly wary. Signs of landscaping problems include standing or pooling water, water stains on the home's foundation, cracks in the dirt around the house, and soggy ground.
7. Mold
Last on this list is one of the most potentially dangerous issues you might encounter when searching for a home. Where there are water problems, there may also be mold, and mold can be incredibly harmful to your health—even if it's not black mold. So, be on the lookout for strange odors, worsening allergies, peeling wallpaper, and dark stains on the walls and ceilings.
Looking for a Home With Zero Red Flags in Northeast Florida?
Are you searching for a home with none of the above issues in Jacksonville, St. Augustine, or anywhere else in Northeast Florida? If so, you've definitely come to the right place.
Here at the Welch Team, we specialize in finding individuals and families the homes of their dreams. Plus, we'll help you spot those red flags long before you make any commitments. Contact us today to learn more!
And while you're here, don't miss this chance to grab a copy of our free buyer's guide. It contains a comprehensive, step-by-step walkthrough of the home-buying process, a list of our most trusted vendors, and tips from real estate experts to help you along the way.