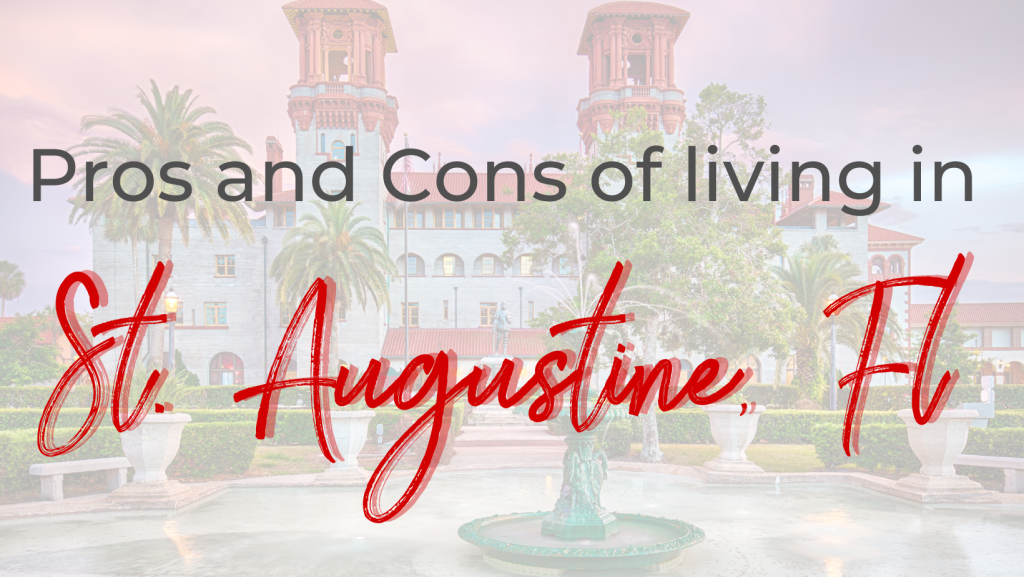 Are you thinking about living in St. Augustine? The ancient city is famous for its illustrious history, community-centric mindset, and highly-rated education system, but that's not all. In fact, you may be a little surprised to learn that there are a couple of reasons why St. Augustine might not be the perfect fit for everyone.
If you're interested in living in St. Augustine, you should know as much as possible before you commit. So, here's a complete list of the pros and cons of living in St. Augustine, Florida.
Pros of Living in St. Augustine, FL
There are so many excellent reasons to live in St. Augustine, but we decided we need to keep the list shorter, or we might've gone on forever. So, here are the pros of living in St. Augustine, Florida.
1. History
The draw for historians and history buffs to St. Augustine can't be understated. It's widely recognized as the first city in the United States. And as a result, there are numerous museums and historical places you can visit all over the city.
2. The Coast
St. Augustine borders the Northeast Atlantic Ocean, so the entire right side of the city is the most beautiful, white-sandy coastline you'll ever see. If you like gorgeous beaches and proximity to the ocean, then St. Augustine is the city for you.
3. Shopping
If you're into shopping (who isn't?), there are also lots of unique shops and boutiques in St. Augustine. Take a stroll down Avila's Street and St. George Street for a look at some of the local establishments that St. Augustine has to offer.
4. Community
St. Augustine is a very community-centric city. So, there are always community-led events and citywide programs for you or your children to join. And, best of all, the people are friendly and support local businesses – what more could you ask for?
5. The Outdoors
If you're a big fan of the great outdoors, then St. Augustine might be the perfect home for you. We have some of the most well-preserved nature in the country. Plus, there's an option for almost every outdoor activity imaginable, including camping, hiking, biking, swimming, fishing, surfing, bird watching, and more!
6. Weather
They don't call Florida the Sunshine State for nothing! That's because the weather here is absolutely perfect year-round. Of course, it may get a little hot in the summer, but you can always choose that as a reason to go for a swim!
7. Schools
As a part of St. Johns County, the schools in St. Augustine are among the best schools in the state. So, if you're looking for an incredible place to raise a family and provide your children with plenty of opportunities, St. Augustine is the ideal spot for you.
8. Short-Term Rentals
Last on the list of pros is the availability of short-term rentals. Lots of people come to visit St. Augustine, and they're always looking for a place to stay. So, if you have a home with a bit of extra space, you can rent some of it to tourists interested in seeing the area and make a little extra income!
Cons of Living in St. Augustine, FL
Even the best city in the world has its negatives. Here are the cons of living in St. Augustine, Florida.
1. Tourism
One of the drawbacks of living in St. Augustine is the amount of tourism in the area. While tourism is an excellent source of revenue for the local economy, it also impacts the lives of residents, increasing traffic, waste, and the cost of living.
2. Hurricanes
Another negative for living in St. Augustine is hurricane season. Now, if you already live in Florida or anywhere near the ocean, you're probably aware of how hurricanes can impact your life. Fortunately, the area is well prepared for storm season, and if you follow local protocols, you will be fine.
3. Insurance Rates
Unfortunately, hurricanes and the proximity to the coast make home insurance a little more expensive than in other areas. So, high home insurance rates are definitely a drawback to living so close to the beach.
4. The Heat
While we mentioned the weather in the pros section, many people don't love hot weather and might dislike how hot it gets during the summer in St. Augustine. So, if you're not a big fan of the heat, you might reconsider living in this area.
5. Short-Term Rentals
And while we already mentioned short-term rentals in the pros section, it can also be listed as a con. A large number of short-term rentals makes tourism much higher in the area. So, if you aren't a fan of the crowds, you might also not like the availability of vacation homes.
Looking for a Home in St. Augustine?
Have the tourism and the high levels of heat not scared you off? If you're searching for homes for sale in St. Augustine or anywhere else in Northeast Florida, you've come to the right place. Here at the Welch Team, we specialize in helping individuals and families find their forever homes. Contact us today to get started!
And while you're here, don't forget to grab your copy of our free buyer's guide. It contains expert tips, a comprehensive walkthrough of the complex home-buying process, and a complete list of our most trusted vendors.
Wondering about surrounding areas of St Augustine?
Check out this article from NeighborWho, City Guide to Living in Orlando and Its Neighborhoods.