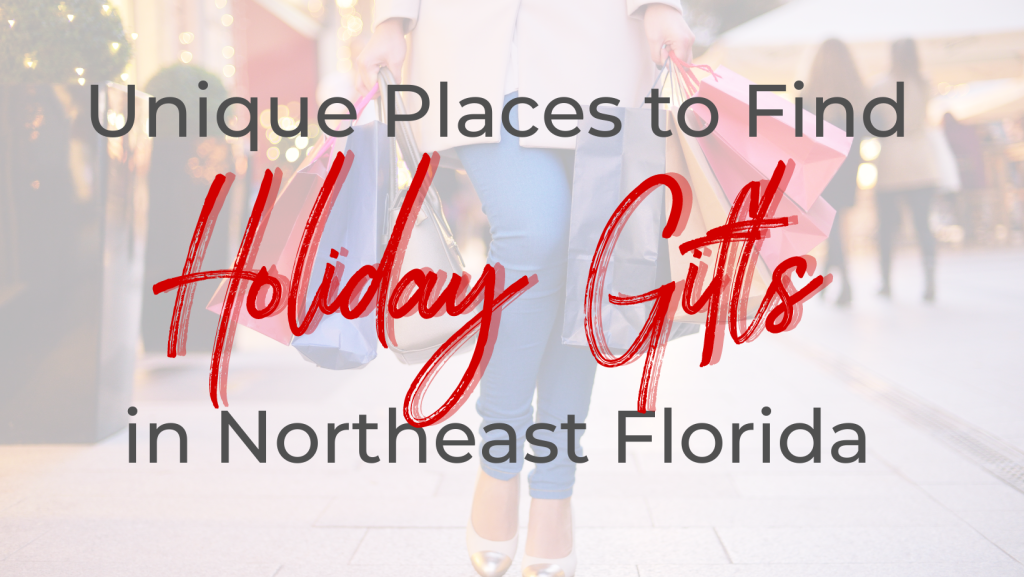 Are you thinking about getting an early jump on holiday shopping but aren't sure where to start? While it's true that you can go door to door in the mall, hitting every shop available, that's a time-consuming and draining way to approach holiday gift shopping. Plus, you might not end up with the high-quality gifts you'd like to give your friends and family. 
You are more than welcome to throw money onto a gift card or buy the latest technology, but if you want to make your gift-giving a little more personalized, you must think outside the box. So, instead of getting the name-brand gift that everyone's offering, why not go for something unique?
5 Boutiques and Shops to Find Holiday Gifts in Northeast Florida
To get the most unique and thoughtful gifts this holiday season, you should try to shop locally. Local artisans, boutiques, and shop owners are likelier to have interesting, high-quality gift options, so before you run to the mall, try these spots. Here are five unique places to find holiday gifts in Northeast Florida.
1. Riverside Arts Market
The Riverside Arts Market (RAM) is a weekly art and farmers market featuring a variety of local businesses, including artists, bakers, makers, and chefs. It's a family-friendly event that attracts over 3,000 people every weekend. And the holiday gift item possibilities cover a wide array of unique options, including fine art, candles, bath and body products, plats, jewelry, crafts, food, and more! 
2. Coconut Barrel
The Coconut Barrel is an artisan market that features local handmade work from St. Augustine, Jacksonville, Palm Coast, and Orange Park. Local artists are always on-site offering their take on handmade happiness, and the goods are well worth writing home about! If you're looking for a unique holiday gift item in Northeast Florida that you won't find anywhere else, then Coconut Barrel is the first place you should go!
3. Cool Stuff Vintage
Cool Stuff Vintage is a unique shopping experience, offering a wide array of antiques and vintage items that could make any collector or antique enthusiast lose their mind with excitement. They have everything from antique furniture to mid-century décor and everything in between. If you have a friend or family member who loves old stuff and vintage collectibles, this is the spot for you.
4. Sailors Siren
Sailors Siren is a chic little boutique in Jax Beach operated by a mother-daughter duo. They offer all your home and gift essentials that promote and celebrate the salty, Southern lifestyle. And their assortment of gift options includes high-quality American, responsibly made artisanal goods, art, bath and body products, jewelry, home décor, kitchen goods, handmade candles, and more!
5. Bayard Arts and Antique Market
The Bayard Arts and Antique Market, located at the Bayard Antique Village, should be one of your go-to spots for antiquing in Northeast Florida. Each 100-year-old cottage within the village is run by a different vendor, offering a unique array of antique items to please anyone's personal preferences. It's one of the most unique shopping experiences you'll ever have! 
Looking for a Home in Northeast Florida?
Northeast Florida is known for more than just great places to go shopping during the holidays. So, if you're interested in seeing homes for sale in Jacksonville, St. Augustine, or anywhere else in Northeast Florida, contact the Welch Team today!
And while you're here, don't forget to grab your free copy of our expert buying guide. It contains tips from the experts, a comprehensive walkthrough of the home-buying process, and a list of our most trusted vendors.