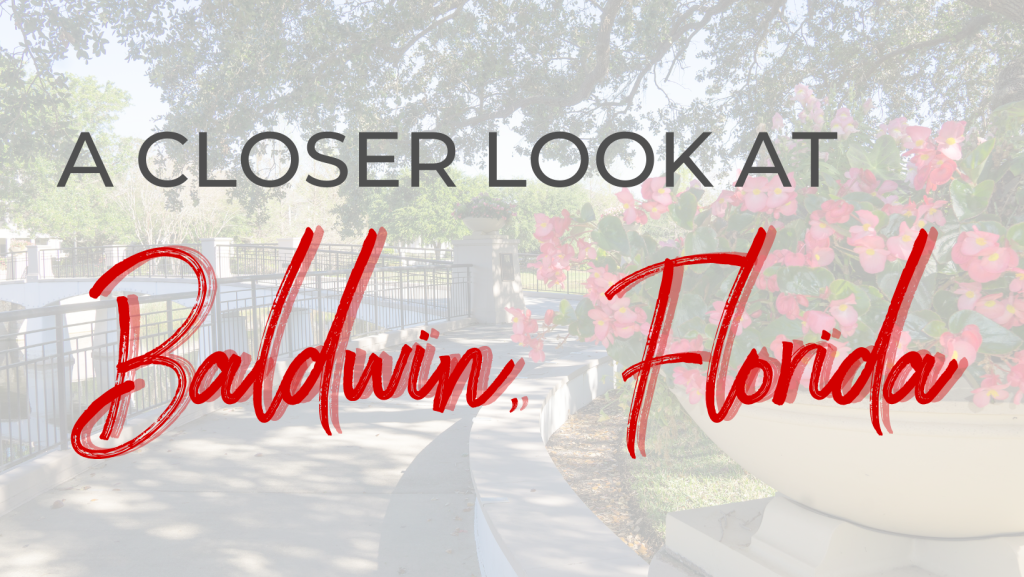 If you're searching for affordable and beautiful homes for sale in the Jacksonville area, you've come to the right place. Baldwin is located just west of Downtown Jax, so it's super close to the action without being right in the middle of it. Plus, it's an area known for highly rated public schools, affordable homes, and beautiful landscapes.
The town of Baldwin has a suburban feel with an emphasis on community-centric ideologies. So, if you move to this area, you can expect to be welcomed with open arms. It's the kind of place built on family values and local pride, a mindset that dates back to its founding.
A Brief History
The town of Baldwin was originally called Thigpen when it was settled in 1849 and was originally a settlement devoted to the staging, food, and shelter of horses and passengers. The first railroad was built through the town in 1857, which brought new life to the settlement. 
The name was changed from Thigpen to Baldwin in honor of Dr. Abel Seymour Baldwin, the president of the Florida, Atlantic and Gulf Central Railroad, a railroad that ran all the way from Lake City to Jacksonville. 
The town saw severe destruction during the Civil War when it was burned down by the Federal army. So, the area entered an era of renewal and reconstruction from 1865 to 1875. At this point in the town's history, the population reached a sum total of 250. Since then, the town has continued to grow and develop, becoming a hometown for thousands of Floridians.
Things to Do in Baldwin, FL
Located 20 miles west of Jacksonville, Baldwin is a unique location with a lot to offer. As we already mentioned, the schools are highly rated, and the town is very community-centric, which makes it an amazing place to settle down, raise a family, and even start a business if you have an entrepreneurial spirit. But that's not all that Baldwin has to offer! 
The town has some very unique selling points, including Camp Milton Historic Preserve, which protects and provides interpretation and explanation for the old military encampment near Baldwin. If you're a history buff or are interested in Civil War-era history and want to know more about what happened in this town during that fateful time, this is an excellent spot to visit.
The town is also home to the WW Ranch Motocross Park, Florida's top-ranked motocross track. Whether you like to watch motocross races or want to participate yourself, this is a world-renown park that offers fun, excitement, food, and lodging.
Also, if you're a fan of hiking, biking, and exploring nature, you should check out Cary State Forest, a 13,385-acre forest adjacent to the town of Baldwin. The park offers several worthwhile amenities, including hiking, horseback riding, camping, hunting, picnicking, and more!
And, of course, we'd be remiss if we didn't talk about Baldwin's proximity to Downtown Jacksonville. You get all the amenities of living in the big city without any of the hustle, bustle, or daily traffic. It's like living in a small town with all the benefits of living in a metropolitan area.
Since this is a town poised for exponential growth, new opportunities will continue to arise. And people with swift minds and the ability to take a chance will be able to capitalize. So, don't miss your opportunity to live in this wonderful town!
Active Listings in Baldwin, Florida
Are you looking for houses for sale in Baldwin, Florida? If so, you've come to the perfect place! Here are the current active listings we have available:
Don't miss this incredible opportunity to find the home of your dreams in Baldwin, Florida. If you're interested in checking out one of our locations or have any additional questions, contact the Welch Team today!