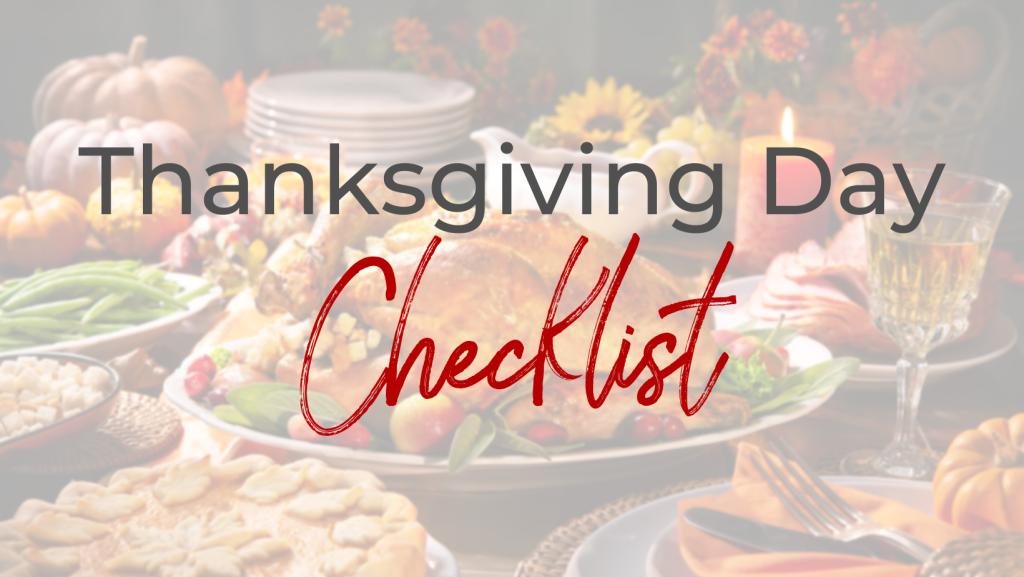 Hosting Thanksgiving can be stressful, especially if it's your first time. That's why we've decided to put together a list of things you should do to prepare for the big day. Following our checklist, you can rest assured that your Thanksgiving Day will go smoothly.
Thanksgiving Day Checklist: 10 Things You Should Do to Prepare for Thanksgiving Day
Thanksgiving Day should be a time to celebrate with loved ones and eat delicious food. So, to keep everything as smooth as possible, here's your comprehensive Thanksgiving Day checklist.
Make a Menu
This cannot be overstated or exaggerated. Take the time to sit down and make a Thanksgiving Day menu. That way, you know exactly what you have to buy when you go to the store, how much you need for each item, and how long you'll need to cook each dish. 
Buy a Turkey
You might think steps two and four belong on the same line, but they don't. If you plan on including a turkey in your Thanksgiving Day menu, you should knock this one out at least two weeks in advance. Remember: turkeys sell out, so don't miss your chance!
Make a Detailed Shopping List 
Next, you'll want to take your menu and break it down into a detailed shopping list. To avoid making extra trips, you should air on the side of caution when deciding on item quantities. It's always better to have too much than not enough.
Go Shopping
This is an easy one – go shopping! Give yourself plenty of time, so you can shop at a leisurely pace. Or you can get super-efficient and make a plan based on the layout of your specific grocery store.
Thaw Your Turkey
Thawing a turkey isn't as simple as you'd think. It takes 24 hours in the refrigerator for every 5 pounds of turkey. So, if you have a 20-pound turkey, you'll want to put it in the fridge four full days before you cook it.
Prep Your Side Dishes and Desserts (If Applicable)
The night before, you should take some time to prepare your side dishes and desserts. If it goes in a baking dish, it can be prepped and ready to go into the oven. Knocking this out the night before will ensure you have plenty of time during the day to cook the meal.
Put Out Snack Trays
When you wake up on Thanksgiving Day, eat breakfast and put out a snack tray. Most people will wake up hungry, excited for the big meal. So, if you give them something to nibble on throughout the day, you won't have to worry about people rushing you in the kitchen, and no one will get "hangry." 
Clean Your Kitchen
Here's another pro tip. The cleaner your space, the easier it'll be to cook your meal and keep your sanity. On the other hand, working in a chaotic environment will slow you down and increase your stress – and nobody wants that!
Make a Last-Minute Trip to the Grocery Store for Any Missing Items
You'll want to knock this out, preferably the night before, before you can also do it first thing on Thanksgiving Day. Unfortunately, even the most prepared hosts sometimes have to make a last-minute trip to the store for some forgotten item. So, don't stress about it – plan for it!
Choose a Comfy Spot to Nap (Optional)
Last, you will want to make your bed or put a blanket and pillow on your favorite couch. This item is completely optional, but if you're the type of person who likes to take a nap on Thanksgiving Day, you'll thank yourself for preparing ahead of time.
You're Ready to Go!
Once you're done with that, you're ready to go! Remember to give yourself plenty of time to cook your meal and try to have fun with it. Spend time with your family, talk to your friends, and have a wonderful day!
Looking for a New Home this Holiday Season?
Are you searching for your dream home in Northeast Florida this holiday season? If so, you've come to the right place. Here at the Welch Team, we take pride in finding forever homes for all our clientele. Contact us today to learn more.
And while you're stopping by, don't forget to snag a free copy of our expert buying guide. It includes a comprehensive list of trusted local vendors, a step-by-step walkthrough of the home-buying process, and tips from industry experts.