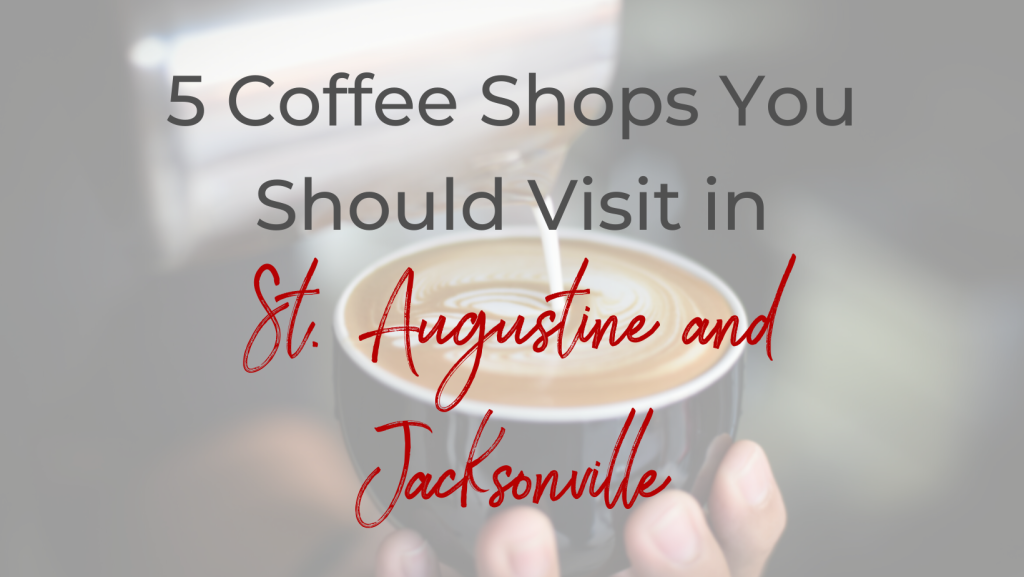 Looking for a good cup of coffee in Jacksonville or St. Augustine? Well, you've come to the right place. As Northeast Florida locals, we know all the best coffee spots in the area, so we can definitely point you in the right direction.
5 Coffee Shops You Should Visit in St. Augustine and Jacksonville
Instead of grabbing your trusty Starbucks today, why not go with something local? Local coffee shops tend to have more personality, friendlier service, and better deals on drinks and baked goods. Plus, when you shop local, you're also supporting a local business. So, here are our five favorite coffee shops in Jacksonville and St. Augustine.
1. DOS Coffee and Wine
If you're looking for a homey little café with barista-made drinks, Latin-inspired eats and treats, and delicious wine in a chic and modern atmosphere, then DOS Coffee and Wine is the spot for you. Located in St. Augustine, they're open every day, including weekends, and offer a quiet, relaxing atmosphere. 
2. Kookaburra Coffee
Interested in getting a taste of the Australian Outback in Northeast Florida? If so, you should visit Kookaburra Coffee, an Australian-American fusion coffee shop that specializes in delicious coffee, espresso, and Australian pies. They offer some of the tastiest blends of coffee South America has to offer. And they even offer wholesale prices for their products, so you can sell Kookaburra Coffee in your establishment! 
3. Southern Grounds
Offering a wide assortment of coffee, delicious food (breakfast, lunch, and dinner, including vegan options), tasty desserts, and incredible service, Southern Grounds is a coffee shop like no other. It's a quiet spot to grab a coffee and pastry with a friend or grab an organic dinner with your significant other. The coffee shop is just steps away from the beach and prides itself on being a social hub for the community.
4. Brass Tacks Coffee Co.
Located in the heart of Jacksonville, Brass Tacks Coffee Co. offers dine-in, drive-thru, and delivery. They pride themselves on local hospitality and friendly, accessible service, emphasizing superbly roasted coffee beans and mouth-watering coffee beverages, eats, and treats. They even have signature creations, including the "Florida Man Style," "Hologram Panda," "The Churro," and more!
5. Sago Coffee
Sago Coffee in Jacksonville Beach aims to provide an uplifting and friendly spot for the beach community, offering great-tasting coffee and delicious snacks. Their vision includes creating a place that caters to a true beach community, giving people the opportunity to connect with each other, engage with their neighbors and friends, and thrive together. 
Looking for a New Home in Jacksonville or St. Augustine?
Are you searching for your dream home in Jacksonville, St. Augustine, or anywhere else in the Northeast Florida area? If so, then you've come to the right place. Here at the Welch Team, we specialize in helping families and individuals find their forever homes in Northeast Florida. Contact us today to learn more. 
And while you're here, don't miss this opportunity to snag a free copy of our expert buying guide. It includes tips from industry experts, a list of trusted local vendors, and a step-by-step walkthrough of the home-buying process.