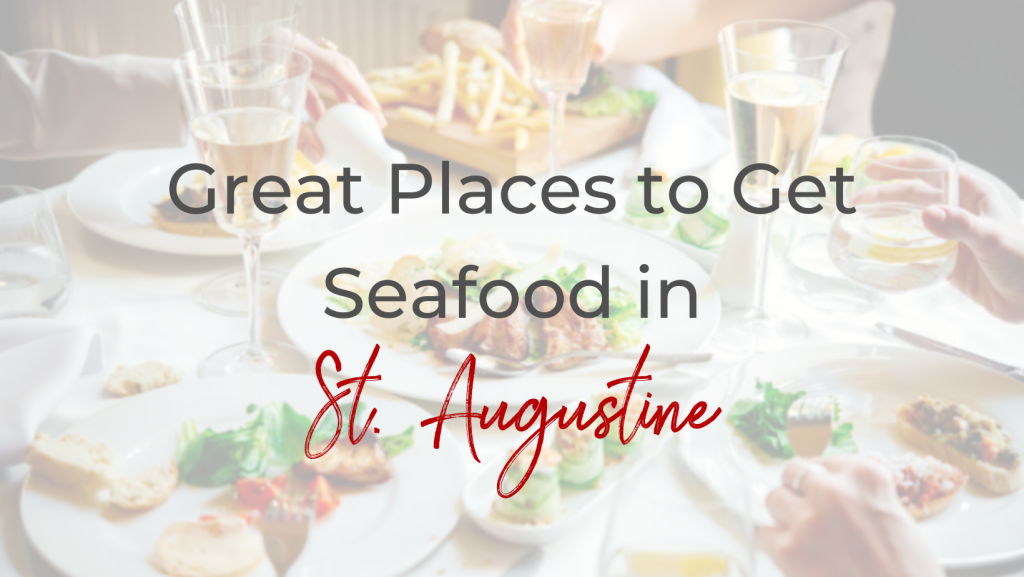 Looking for some tasty seafood in the Sunshine State? Well, you're in luck. Since St. Augustine is located on the Northeast Atlantic Coast, we get some of the freshest and best-tasting seafood in the world. And as St. Augustine locals, we know the best spots in the city for all your seafood needs.
8 Amazing Seafood Restaurants in St. Augustine
If you want the best seafood in St. Augustine, you've come to the right place. Here are eight must-try seafood restaurants in St. Augustine, Florida.
1. Julington Creek Fish Camp
Known statewide for its delicious lunch and dinner menus, Julington Creek Fish Camp is an elegant spot that offers a dedicated menu of tried-and-true seafood options with a southern twist. They also have a full bar with signature drinks to help you wash down all that delectable seafood. 
2. Caps on the Water 
Caps on the Water in St. Augustine offers waterfront sunset views on their wooden deck and some of the freshest, best-tasting oysters you'll ever try. It's the perfect place to spend a romantic evening or wine and dine customers you aim to impress.
3. Aunt Kate's
Offering southern seafood that will knock your socks off, Aunt Kate's is a seafood eatery that takes pride in over 100 years of service to the St. Augustine area. Their eclectic menu features tantalizing options like fried alligator tails, smoked fish dip, and much more!
4. Schooner's Seafood
Celebrating over three decades in the Ancient City, Schooner's Seafood is best known for its tasty platters piled high with fresh-caught seafood. They also have the incredible, award-winning Minorcan Clam Chowder and other local favorites.
5. St. Augustine Fish House and Oyster Company
If you're searching for a laidback seafood restaurant with open-air dining and some of the tastiest crabs, oysters, and fish you can find off the Atlantic coast, then St. Augustine Fish House and Oyster Company is the spot for you! You cannot miss this spot if you're on the hunt for great seafood in Northeast Florida. 
6. Beaches at Vilano
Located right on the water, Beaches at Vilano offers laidback seafood fare with a focus on creating an exciting and worry-free atmosphere. This is where you go to have a ton of fun with your friends, offering all your grilling favorites and delicious signature cocktails.
7. Conch House 
If you'd like to pair your tasty surf and turf with a bit of Caribbean flair in a sea-themed setting with a lounge, bar, and outdoor patio, then Conch House is the spot for you. The Conch House specializes in delicious seafood, tasty drinks, music that makes you move, and plenty of Florida sunshine. 
8. Catch 27
Located in the heart of St. Augustine's historic district, Catch 27 is an upscale eatery that serves local seafood and seasonal fare in a quaint but sophisticated environment. All their delicious seafood is caught fresh and served just the way you like it. 
Looking for a New Home in St. Augustine?
Are you searching for homes for sale in St. Augustine, Florida? If so, check out our newest listing here. In this area, you can dine on the most delicious seafood the coast has to offer all year round. Fortunately for you, here at the Welch Team, we specialize in helping people find their forever homes in the best cities in the world. 
Contact us today to learn more!
And while you're here, don't forget to grab your free copy of our expert buyer's guide. It offers an inside look at the Northeast Florida real estate market, including trusted local vendors, tips and tricks from the experts, and a step-by-step walkthrough of the home-buying process.