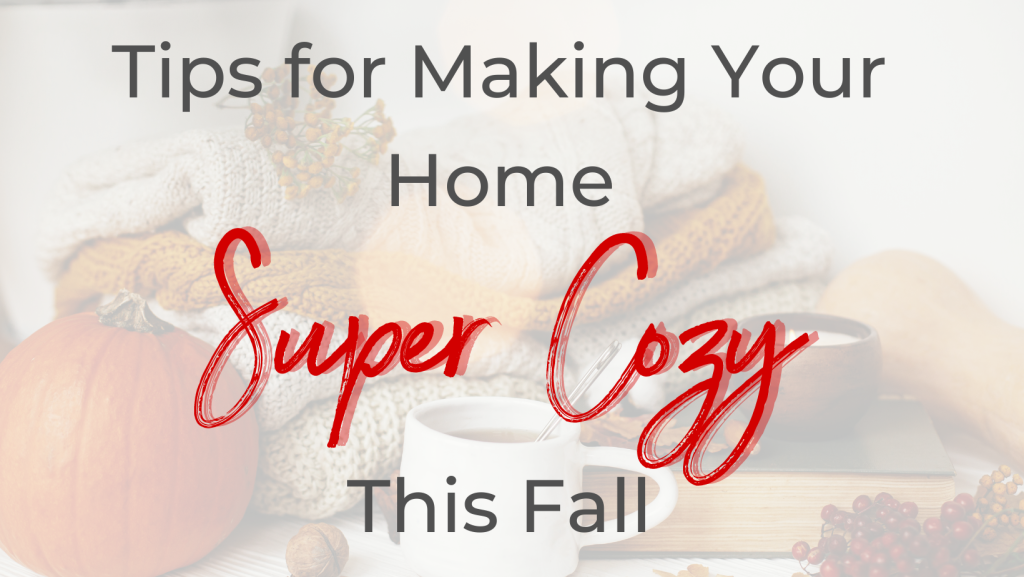 Are you looking for ways to make your home super cozy this fall? Fall is the time for nights around the fire, comfy sweaters, and hot chocolate, which are some of our favorite things ever! So, it makes sense that you might want to incorporate the season into your home décor.
7 Tips for Creating a Cozy Home This Fall
As real estate experts, we know all the tips and tricks for making your home feel warm and inviting. So, here are seven tips for creating a cozy home this fall.
1. Use Warm Colors
If you'd like to make your home more cozy, fill it with warm, inviting colors. Utilizing lighter colors like soft white, yellow, orange, and red are an excellent way to brighten your home and increase the warmth of your interior décor. 
2. Pillows, Pillows, Pillows!
Here's an essential cozy tip to remember: you can never have too many pillows. So, if you want your home to be cozy this fall, cover it with soft pillows, cushions, and blankets of varying sizes. The more softness you have in your home, the more people will want to sit and relax.
3. Throw Blankets and Quilts
We briefly mentioned this in the last blanket, but you can never go wrong with throw blankets and quilts. There's nothing quite as cozy as snuggling up under a blanket on a cold night and enjoying a book or your favorite comfort film. 
4. Area Rugs and Carpet
And while you're adding coziness to your home, don't forget your floors. Cold tile and hardwood floors can be beautiful to look at, but they may also be cold and uncomfortable on bare feet. So, if you want to make your home cozy this fall, use area rugs, carpet squares, and carpets to increase the comfort of your guests' feet.
5. Soft, Warm Lighting
Another surefire way to increase the coziness in your home is to use soft, warm lighting. Instead of using bright white lights that tend to wash everything out, use warm lights with a softer wattage. You'll be surprised by how much it helps!
6. Fill Your Walls With Smiling Faces
If you want people to feel comfortable in your home, you should fill your walls, shelves, and mantels with pictures of smiling loved ones. Few things make a room cozier than knowing it's full of love. And even better if they find their own faces on the wall! 
7. Bring in the Great Outdoors
Lastly, if you want to make your home super cozy this fall, bring in the outdoors. That means plant life, warm earth tones, and lots of sunshine. This will not only help with your coziness but using nature and the great outdoors is a proven way to boost productivity and improve mental health.   
Interested in Selling Your Home in Northeast Florida?
Has all this talk about redecorating for the fall prompted some thoughts about selling your home? If so, you've stumbled into the right place. Here at the Welch Team, we specialize in helping individuals and families get the best deals possible on their homes. 
Contact us today to learn more! And while you're here, find out how much your home is worth with our Home Value Report!