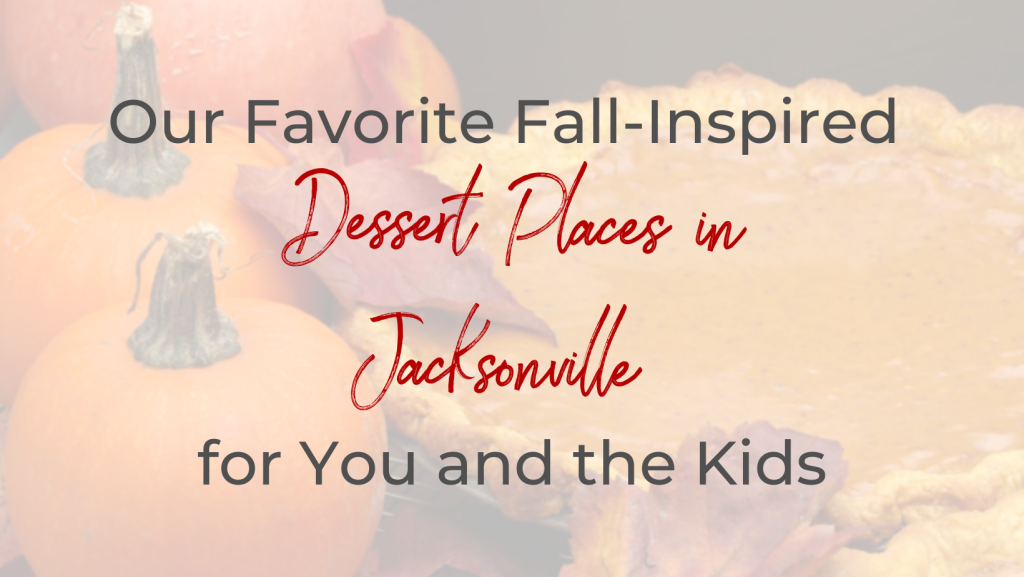 Are you looking for fall-inspired dessert shops to take the entire family? If you've just spent the day shopping downtown, swimming, or hanging out at the beach, and are searching for a sweet spot to sample some delectable fall-inspired treats, then you're in luck. We've gathered a list of the top dessert spots in the city, perfect for children of all ages.
5 of Our Favorite Fall-Inspired Dessert Spots in Jacksonville for the Whole Family
There are many different spots throughout Northeast Florida that get into the fall spirit, but these are definitely our favorites! Check out the five best fall-inspired, family-friendly dessert places in Jacksonville. 
1. Sweet Pete's Candy
Located at Sweet Pete's candy shop is more than a candy store. It's an interactive sweet-treat experience that's perfect for the entire family. They offer hundreds of candy and chocolate selections, hands-on candy classes, catering, parties, and more! So, bring the whole family and take a tour of the facilities. You may even get to see how the candies are made!
2. Mayday Ice Cream
Mayday Ice Cream was named after the innovative American pilots who would carry ice cream to the frigid temperatures of the planet's highest altitude during World War 2. This tasty sweet treat is an American staple, so it's no wonder that Mayday's handcrafted ice cream is one of our favorite spots in Jacksonville. Don't forget to check out their seasonal, fall-inspired ice cream flavors while you're here!
3. Whit's Frozen Custard
Whit's Frozen Custard is made daily with all the best ingredients you can find in South Jacksonville. They offer an array of flavor options, including options to satisfy your seasonal cravings. Plus, they highlight a new flavor daily, provide free samples, offer gluten-free and vegan options, and cater to frozen custard lovers of all ages. 
4. Cookies N Crème
Cookies N Crème is located in Jax Beach and offers some of the tastiest fall-inspired dessert options you can dream up. As their name suggests, they offer a wide array of cookie and ice cream flavors. Plus, you can combine the two to create your own homemade cookie ice cream sandwiches!
5. Rita's Italian Ice and Frozen Custard
Rita's Italian Ice and Frozen Custard is one of our all-time dessert spots in Jacksonville. They're open year-round, offering Italian ices, old-fashioned frozen custards, custard cookie sandwiches, and more! If you're looking for a kid-friendly dessert spot in or around Jacksonville, you should definitely check out Rita's.
Looking for a Home in Jacksonville?
Are you searching for homes for sale in Jacksonville or anywhere else in Northeast Florida that'll put you within driving distance of all these sweet, fall-inspired dessert shops? Well, look no further! Here at the Welch Team, we specialize in finding families and individuals the homes of their dreams in the best cities on the map. Contact us today to learn more.
And while you're here, don't forget to grab a free copy of our expert buying guide. It includes a complete walkthrough of the home buying process, a list of trusted vendors in the area, and more!