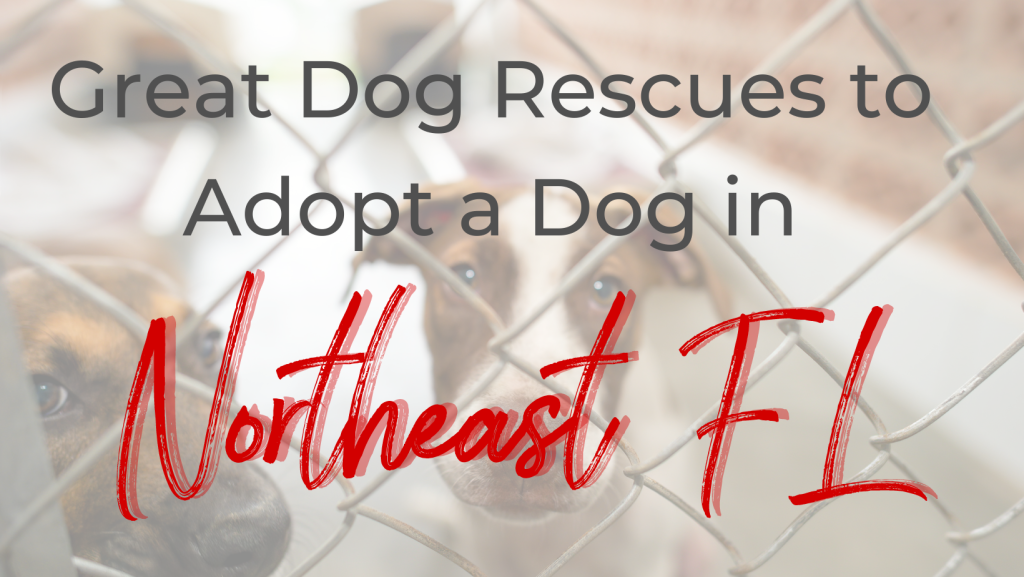 Are you searching for a rescue shelter to adopt a dog in Northeast Florida? Well, in honor of National Adopt a Dog Month, we wanted to recognize the best and most humane dog shelters in the area.
7 Dog Rescues in Northeast Florida to Adopt a Dog
Adopting a dog should be easy, but with so many places to choose from, you might have option paralysis. So, that's why we've taken the time to put together a list of the best dog rescues in Jacksonville, St. Augustine, and everywhere else in Northeast Florida. Here are seven incredible dog rescue shelters in Northeast Florida where you can adopt a dog today!
1. Safe Animal Shelter
Safe Animal Shelter was opened with the primary goal of rescuing and adopting unwanted dogs and cats in Clay County and Northeast Florida. They pride themselves on providing happy endings for hundreds of furry friends yearly. It's also the oldest no-kill shelter in Clay County.  
2. Akita Rescue Society of Florida
Founded in 1985, The Akita Rescue Society of Florida has aimed to reduce the number of unwanted, abused, and abandoned dogs throughout Florida, Alabama, Georgia, Mississippi, Louisiana, Tennessee, and the Carolinas. They offer programs for education, intervention, spaying/neutering, and dog adoption. 
3. Jacksonville Humane Society
Jacksonville Humane Society is responsible for rehoming thousands of cats and dogs in Jacksonville and the surrounding areas. They provide comfort, care, and compassion to every animal that passes through their doors while offering education and training to the community.
4. The Roland Senior Dog Rescue Gang, Inc 
The Roland Senior Dog Rescue Gang, Inc was opened to help the growing number of abandoned and neglected senior dogs. They offer fostering and adopting opportunities. And for those who want to help but don't have space in their own home, they even provide sponsoring opportunities. Learn how you can sponsor a senior dog today!
5. Ayla's Acres No-Kill Animal Rescue
Located in St. Augustine, Florida, Ayla's Acres No-Kill Animal Rescue offers unwanted and "unadoptable" dogs over 45 acres of land to live out the rest of their lives in peace and harmony. They also provide outreach, education, fostering, and adoption programs, rehoming hundreds of abused, homeless, and abandoned animals annually. 
6. Fawn's Small Dog Rescue
If you're searching for a small dog rescue in Northeast Florida, Fawn's Small Dog Rescue might be the dog shelter for you. Named after their beloved miniature pincher, Fawn, this dog rescue's mission is to save the lives of dogs stuck in overcrowded kill shelters. 
7. St. Augustine Humane Society
The St. Augustine Humane Society is doing something truly unique in Northeast Florida. As a dog rescue, they aim to create lifelong bonds between humans and animals, providing educational resources, low-income assistance, veterinary care, and more. This is a fantastic dog shelter in St. Augustine, and if you're looking for a new furry friend, you should check them out!
Looking for Homes in Northeast Florida?
Are you searching for a home in Northeast Florida for you and your furry friends? If so, you've come to the right place. Here at the Welch Team, we pride ourselves in finding dream homes for families of all sizes! Contact us today to learn more about homes for sale in Jacksonville or anywhere else in Northeast Florida. 
And while you're here, don't forget to grab a copy of our free homebuyer's guide. It includes valuable information, including home buyer tips and tricks, trusted vendors in your area, and a complete setp-by-step walkthrough of the home buying process.