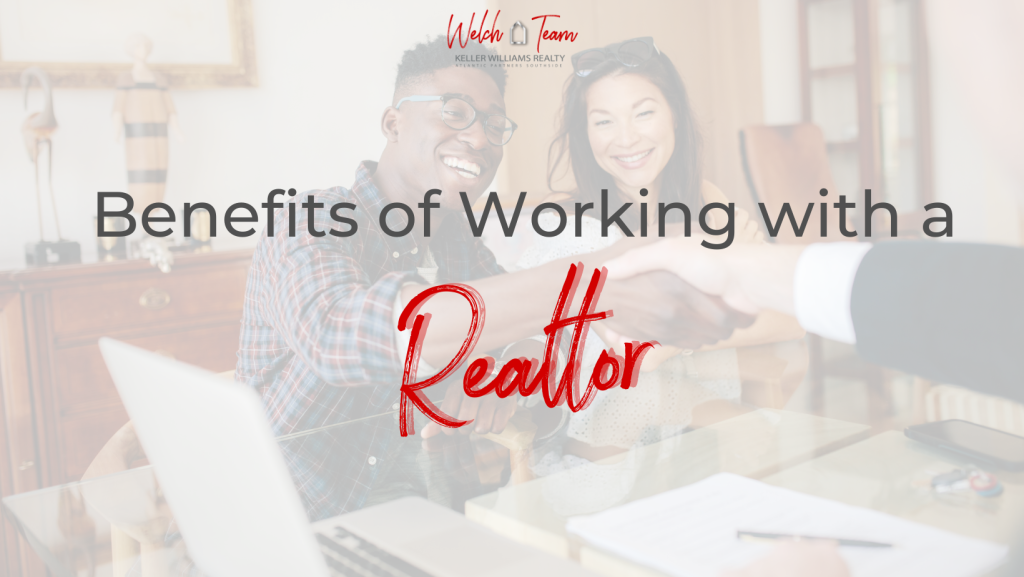 As you work through the home buying or selling process, you will face a lot of complex legalities, technical jargon, and unfamiliar processes. There are enough aspects to the real estate industry to fill several large books – and people have! 
That's why it's so essential for homeowners and home buyers to work with someone with knowledge of the local market and experience in the real estate industry. Here are eight benefits of working with a realtor in 2022.
4 Benefits of Working With a Realtor (as a Buyer)
The benefits of working with a real estate agent vary depending on whether you want to buy or sell a home. Of course, if you're a buyer, you'll want a dedicated agent with your best interests in mind – but you'll also want the same thing as a seller. So, to get things started, here are four benefits of working with a real estate agent as a buyer. 
1. Negotiating Power, Better Prices
A buyer's agent is crucial to your real estate team because they can act as your representative at the negotiating table. Since they understand the industry and know how to move within the market, they'll know when to lower or raise your bid and when to pull the trigger. If you're looking for higher negotiating power and better prices, working with a professional is a must.
2. Access to the Multiple Listing Service (MLS)
Multiple Listing Services (MLS) is a service available to real estate professionals that give them access to properties and homes that aren't available through other services. Access to this service gives you more options, thus increasing the likelihood that you'll be able to find the home of your dreams. Unfortunately, you can't get access to this platform without the help of a buyer's agent.
3. No Upfront Cost
Buyer's agents also have no upfront cost. And, in some cases, they will not cost you anything since the seller is often responsible for paying both agents involved in the transaction. As a buyer, there's absolutely no reason you shouldn't work with a dedicated realtor – it's essentially a free service! 
4. Paperwork and Legalese
There's also a ton of paperwork and complex legalese involved in the home buying process. If you're unfamiliar with this process, you could miss something important or fall victim to a scam and never know it. Working with a buyer's agent makes the process much more secure and allows you to enter the home buying process with much more peace of mind.
4 Benefits of Working With a Realtor (as a Seller)
As a seller, you will want a real estate professional who understands the market and can negotiate a higher return. Fortunately, seller's agents are also interested and motivated to get the highest price possible, making them an invaluable asset to your team. Here are four benefits of working with a realtor as a seller. 
1. Understanding of Local Markets
A seller's agent is absolutely vital to the selling process because they have the best understanding of local markets, how to price homes, what's selling, and, more importantly, what isn't. They'll be able to guide you through all the necessary changes you'll need to make to improve your chances of selling and suggest prices that match local trends.
2. Access to a Network of Buyers
Real estate agents also come ready with a network of buyers you can't get anywhere else. Not only are you working with someone who has a vested interest in selling your home at a great price, but you're also working with someone with a list of interested buyers. If you're interested in selling your home, working with a seller's agent gives you the highest chances of success and the best opportunities. 
3. Negotiating Power 
Seller's agents also have negotiating power that you won't get as an independent seller. They understand the lingo and the local market and have relationships with local buyers. This gives them the ability to influence prices and ensure you get the best deal possible.
4. Professional Staging Experience
Lastly, a seller's agent will bring a ton of experience to the table, including professional staging. When selling your home, you shouldn't just throw open the doors and invite people in – you have to set the stage for them. A dedicated real estate agent will have expert advice on how to properly stage your home to almost guarantee a sale!
Looking for a Realtor You Can Trust?
When entering the real estate market, you will want every advantage you can get. And that's precisely what a dedicated realtor is going to provide. They bring invaluable knowledge, experience, and expertise to the table, making the process as simple and stress-free as possible.
If you're looking for a dedicated realtor in Northeast Florida for buying or selling your home, look no further than the Welch Team! Our team of expert realtors specializes in buying and selling gorgeous homes in the beautiful sunshine state. Contact us today to learn more!