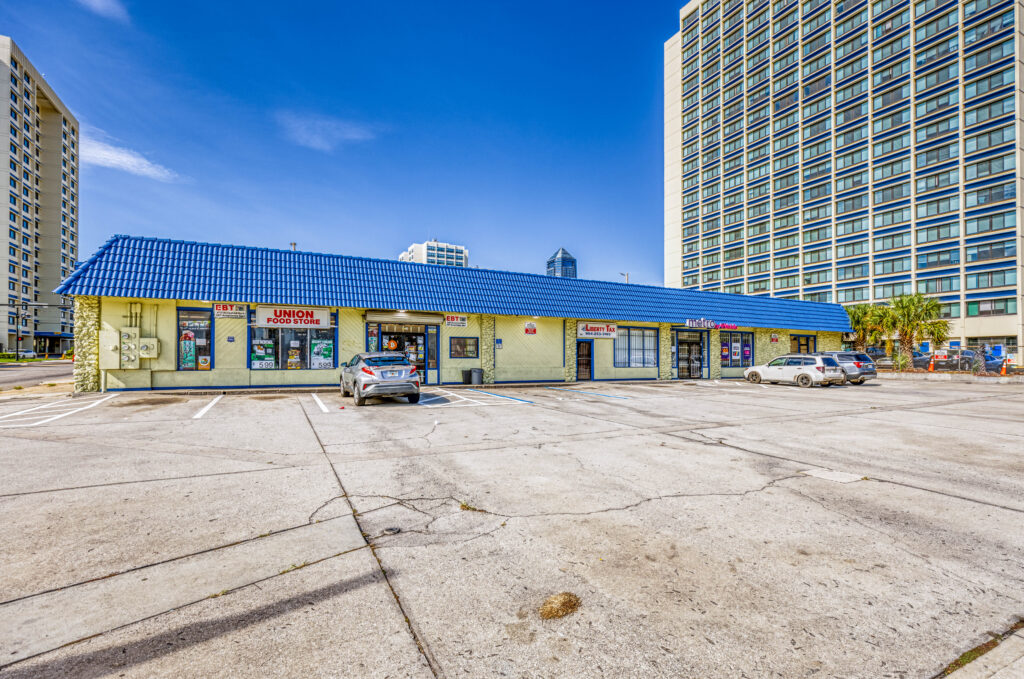 Are you searching for a proven and profitable commercial opportunity in Downtown Jacksonville? If so, then our newest commercial listing might be the perfect venture for you. It's located in the heart of Jacksonville, just seconds away from all the action. You'll be hard-pressed to find a more ideal location for retail space in the entire city!
Located near TIAA Bank Field in downtown Jax, this investment opportunity is perfect for both new and seasoned entrepreneurs and investors. The units are located at 136 E Union Street, Jacksonville, Florida 32202. The building measures 5,130 square feet with 12 parking spaces (with room for more), and the listing is currently priced at $1,100,000, which is an incredible steal in this market!
The building currently has two long-term tenants, including Metro PCS, which leaves two units that still need to be filled. That opens up many opportunities, allowing you to secure new deals with profitable businesses. Or if you'd rather use one or both the units yourself, you can do that, too! 
Instead of leasing a space, you could own the entire location, bringing in additional rental income while you operate your newest business venture. With over 5.7 billion dollars worth of development currently in the works for Downtown Jax and the 370-million Four Season project popping up down the street, there's no better time to invest. 
This is a long-term investment that could potentially pay off tenfold in the coming years as more businesses invest in Downtown Jacksonville. Don't miss this once-in-a-lifetime opportunity to invest in your and your family's future! Invest in Jacksonville today for a huge payout tomorrow.
Commercial Opportunities in Jacksonville, FL
There's a reason so many entrepreneurs, businesses, and investors are flocking to Jacksonville to pursue their next business venture. According to a report from Wallet Hub, Jacksonville has quickly become the best city in the country to start and own a business. The area is famous for having a small-town mindset, even though it's one of the biggest cities in the state.
And with that comes a community-centric mindset that favors local businesses and emerging entrepreneurs. The people of Jax would rather spend their money within their community, making it a perfect place to own a business. This booming metro area welcomes established and emerging entrepreneurs and brings them tons of business.
But that is not the only reason you should invest in Jacksonville. Northeast Florida is also ranked one of the top places to live in Florida and one of the best areas in the country to raise a family. As a result, this area is a prime location to plant roots, which is why it draws so much attention.
Investing in a four-unit retail location is almost a sure thing since businesses are relocating and opening in this area all the time. And since the area is still widely in development, this trend is only expected to continue. So, if you're looking for a wise place to invest your money, this is where you should start!
Speak to an Agent Today!
Are you interested in seeing this location first-hand? Remember that deals like this don't come around often, so if you miss it, you might not get another chance. If you'd like to secure this commercial location, you must act quickly. Contact the Welch Team today to schedule a private viewing with one of our real estate professionals!