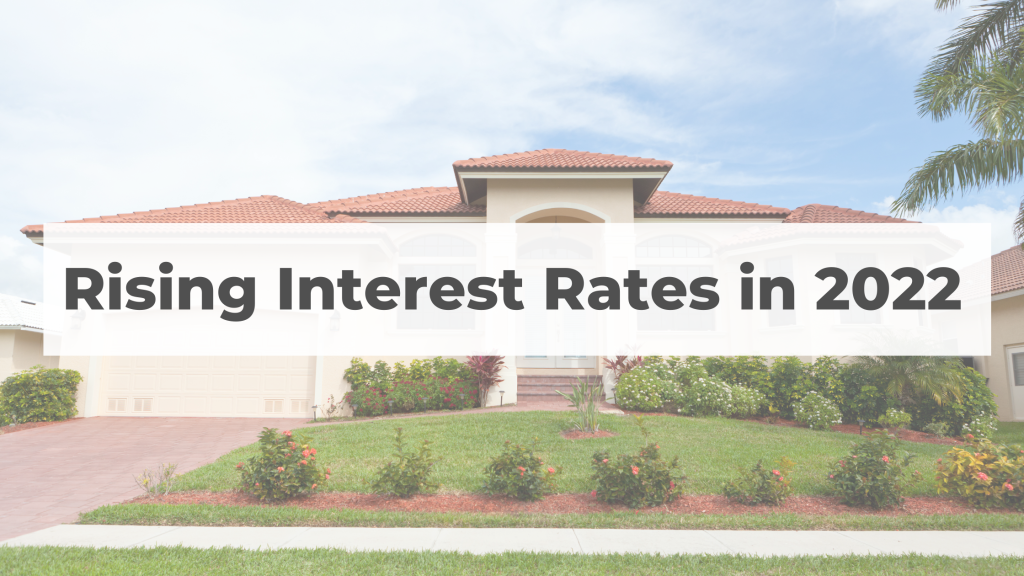 So, you've finally decided it's time to buy a home or invest in real estate, hoping to secure your family's financial future. But then you start researching the current market and find a bunch of articles with alarming headlines that give you immediate pause. Well, don't panic just yet!
While articles like "Rising Interest Rates in 2022"  or "Historically High Mortgage Rates" can sound concerning, those catchy taglines don't tell the whole story. There are many causes for rising interest rates. But none of those reasons have changed the fact that real estate investments are still one of the safest investments you can make. 
Here's everything you need to know about interest rates in 2022!
Why Interest Rates Are Rising in 2022
Mortgage interest rates have been on a steady incline all year, and there are many reasons for that. At the beginning of 2019, the federal government tried to stimulate the national economy by financially backing lower interest rate mortgages. This strategy caused historically low rates, but after supply chain issues started to arise and inflation kicked in, the government could no longer back them.
The increase in rates is due to several bureaucratic and economic factors. First, builder permits are down because supplies are less available and more expensive, and the county approval process has gotten more constrained. Second, mortgage applications have reached a 22-year low.
We're also seeing record-low inventory, with just under 4,000 listings available on the market, which is half of what it should be. The federal reserve has hiked another 75 points, which is the most significant increase the market has seen since 1994. And all of these abrupt changes are forcing sellers to price effectively to sell and try to stay ahead of the market.
2022 Mortgage Rates Forecast
Due to the above issues compounded with supply chain issues, pressure from federal policymakers, widespread economic turmoil, and higher inflation, interest rates are expected to rise throughout 2022. But, on the bright side, interest rates shouldn't reach levels nearly as high as they were decades ago. And eventually, the global and national economies will begin to stabilize, and we should see interest rates level out again.
How Does This Impact You?
Until then, there's still a silver lining you should consider. Real estate has always been a reliable and safe investment. Homes bought now will only continue to appreciate in value, meaning you'll earn money the longer you live in them. And though you can't go back in time and purchase a home at a lower price, you can refinance a home at a lower rate once the rates go down. 
Northeast Florida Real Estate is a Safe Investment
Northeast Florida remains a haven for real estate investors and homeowners, even as rates continue to rise. The State of Florida Demographic estimates that, on average, 100 people move to Jacksonville every single day. And they're all looking for places to live.
And the reasons behind this are simple. First, Jacksonville and Northeast Florida have an extremely low unemployment rate. Second, the area has a higher average median income than other areas of similar size compared to pre-pandemic numbers. And last, home values are expected to rise in the coming years, supporting the thought that you should buy sooner rather than later.
Speak to a Northeast Florida Real Estate Agent Today!
Do you want to cash in on this incredible financial opportunity? Mortgage interest rates may rise in 2022, but Northeast Florida real estate is still a safe and reliable investment. Contact the Welch Team today to learn more about homes for sale in Jacksonville, St. Augustine, and other cities in the area.
And while you're here, don't forget to grab a copy of our free buyer's guide, which contains expert tips, trusted industry contacts, and a walkthrough of the home buying process!