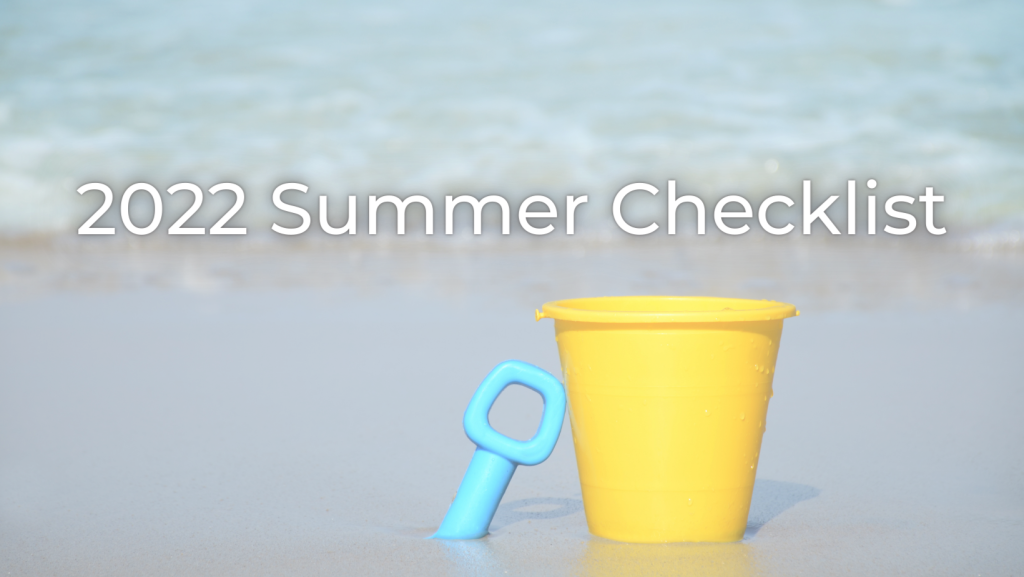 Have you always wanted to do something fun or exciting but never felt enough motivation or didn't have the energy to actually go through with it? Well, maybe it's time to make 2022 the year where all of your summer dreams come true! 
Start by making a checklist or bucket list of everything you want to do this summer. And then, start doing them! Use all the free time, energy, and warm, beautiful weather at your disposal to make summer 2022 your best summer yet!
10 Summer Bucket List Ideas for 2022
If you're having trouble coming up with your own list, don't worry. We won't let your summer go to waste! Check out our ten summer bucket list ideas for 2022. Add these items to your own summer checklist, or use them as a jumping-off point. Then, make it your 2022 summer goal to complete them all!
1. Visit Disneyworld in Orlando
Disneyworld is an international attraction and one of the most fun places on Earth. Even if you've been before, it's totally worth a trip this summer. So, pack up your suitcase, put on those old Mickey Mouse ears, and have an absolute blast with your favorite characters and rides at Disneyworld in Orlando!
2. Visit Universal Studios in Orlando
And while you're visiting Orlando, you might as well take a trip over to Universal Studios, too! At Universal, you can have a blast on the interactive rides, experience cinematic thrill rides, and even spend the day in the Wizarding World of Harry Potter. 
3. Spend the Day at the Beach
Here in Northeast Florida, we have dozens of beaches that you can visit along the North Atlantic coast. Whether you want to go fishing, swimming, boating, or surfing, there's a beach for you.
4. Host a Barbecue in Your Backyard
While it's fun to get out and hit the town, hosting a little get-together with your friends and family is also fun. So, why not spend some time in the summer of 2022 hosting barbecues, cookouts, and backyard parties?
5. Visit a Place You've Never Been Before
This summer, take a chance and visit some place or do something you've never done before. Your life is happening right now, and there's no reason to waste it with the same old activities you've always done. Try something new!
6. Go Kayaking on the St. Johns River
While you're doing something new, have you ever gone kayaking? Whether you're a novice or an expert, take some time this summer to go kayaking or rafting on the St. Johns River!
7. Go for a Hike
And if you're a big fan of the outdoors, you should definitely plan a hike or two. If you fill your summer with outdoor activities and tons of nature, you'll enter the fall with a newfound respect for the planet and probably a pretty nice tan.
8. Build a Sandcastle
If you're going to have a productive and exciting summer, you need to build a sandcastle. It's not necessarily a requirement for a happy life, but it does help. Rediscover your inner child and build yourself a fortress on the beach!
9. Rent a Vacation Home
If you're looking for a fun way to spend a weekend, a week, or even a month this summer, why not rent a luxury vacation home with your family and friends? You'll get a ton of quality time together. Plus, you'll get to live it up in a luxurious home that was literally designed for you to have a fantastic time away from all those pesky adult responsibilities.
Click here to check out these options close to home!
10. Buy Your Dream Home
While you're checking things off, why not take this time to invest in your dream home? There's never been a better time to jump in and seize ahold of your future. And buying a home might be the wisest thing you can do with your summer. 
Don't let your summer go waste. If you're looking for homes for sale in Jacksonville or anywhere else in Northeast Florida, contact the Welch Team today! Our real estate experts specialize in finding individuals and families their forever homes. 
And while you're thinking about it, you should grab a copy of our free buyer's guide! It contains tips from the experts, a walkthrough of the home buying process, and even a list of our most trusted vendors.