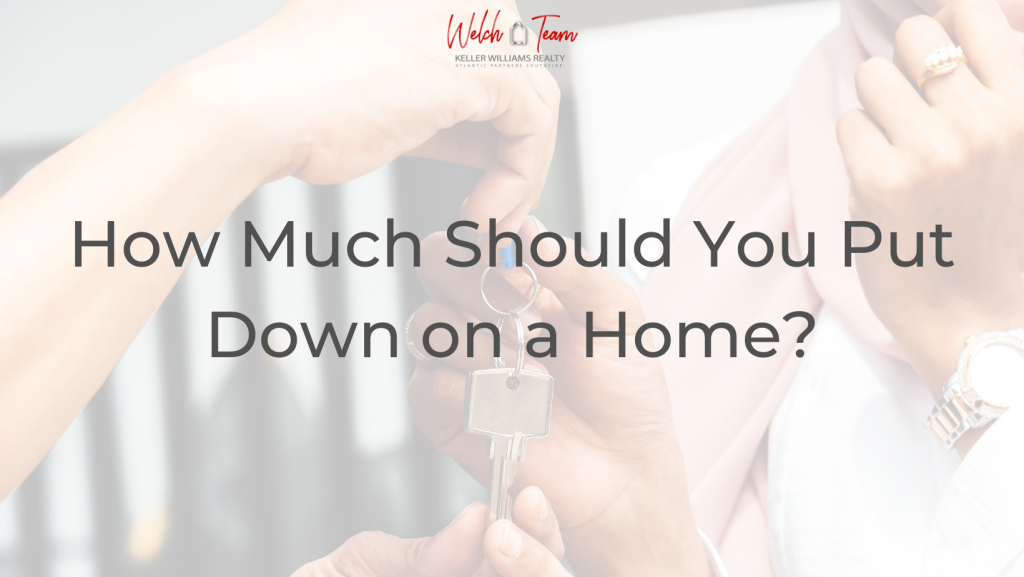 So, you've decided you want to buy a home, and you're scouring the internet looking for information about how to get started. Getting approved for a mortgage isn't always straightforward, so you definitely want to take any advantage you can get. 
One of the tips for securing a mortgage that you'll see most often in your research is to save for a sizeable down payment. Many experts even claim that you should put down 20% of the home's total value, which is, thankfully, a bit of a misconception. But before we jump into how much is needed for a down payment, let's cover the basics.
What is a Down Payment?
In real estate terms, a down payment is the amount of money you give to a lender upfront to secure funds for a mortgage. This number varies, but when people talk about down payments, they typically talk about them in percentages.  
For instance, if you're trying to get approved for a $500,000 mortgage, and you put down $100,000 upfront, then your down payment would be 20%. If you put $50,000, your down payment would be 10%. It's just simple math.
Mortgage Down Payment Recommendations
Of course, if you've done your research, then you've probably seen the 20% recommendation thrown around quite a bit. Fortunately, that is just a recommendation and not a requirement. 
If you put down 20% on your mortgage, you're more likely to get approved for the loan. It builds trust with the lender, might lower your interest rate, and allows you to avoid getting private mortgage insurance (PMI). Most new home buyers try to avoid PMI because it's added to your monthly payment.
Is a 10% Down Payment Enough?
Yes, a 10% down payment is definitely enough to secure a mortgage. Most people can only afford to put down 6% to 12% for their first home, and that's completely acceptable. In fact, the average down payment for most first-time homebuyers is just 6%. 
That being said, there are minimum requirements for some mortgages. But you also might be surprised to learn that some loan types have no down payment requirements at all.
Minimum Down Payment Requirements for Different Loan Types
Down payment requirements vary, depending on your loan size and the type of loan for which you're applying. Here are the down payment requirements for the most popular mortgage loans:
Conventional Mortgage Loan (with PMI) – The minimum down payment for a Conventional Loan (with PMI) is 3%. You're more than welcome to put down more than that, but it isn't required.
Conventional Mortgage Loan (without PMI) – The minimum down payment for a Conventional Loan (without PMI) is 20%. If you want to avoid PMI, you must put down 20%.
FHA Mortgage Loans – The minimum down payment for an FHA Loan is sometimes as low as 3.5%. Additionally, these loans are backed by the Federal Housing Administration, not a private lender.
VA Mortgage Loans – A VA loan has no down payment requirements. It is a loan type backed by the Department of Veteran Affairs, not a private lender. And it's only applicable to active military members, veterans, and surviving military spouses.  
USDA Mortgage Loans – There is no required down payment for a USDA Loan. They are backed by the U.S. Department of Agriculture and have other requirements, including income limits and location. 
Jumbo Mortgage Loans – The minimum down payment for a Jumbo Loan is typically around 10% but depends on the lender. 
How Much Should You Put Down on a House?
The answer to this question depends on several factors. If you're applying for a conventional mortgage and want to avoid PMI, your down payment must be at least 20%. If you don't mind paying PMI or can't afford to save 20%, just put down as much as possible.
And if you can't afford a down payment, don't worry! There are still many loan options available for you to explore. 
Get Started Today!
Are you a first-time homebuyer who's excited to get started? If so, you should check out our Free Buyer's Guide! It's a comprehensive guide that will walk you through each step of the home buying process. 
For more information about houses for sale in Northeast Florida, contact the Welch Team today!