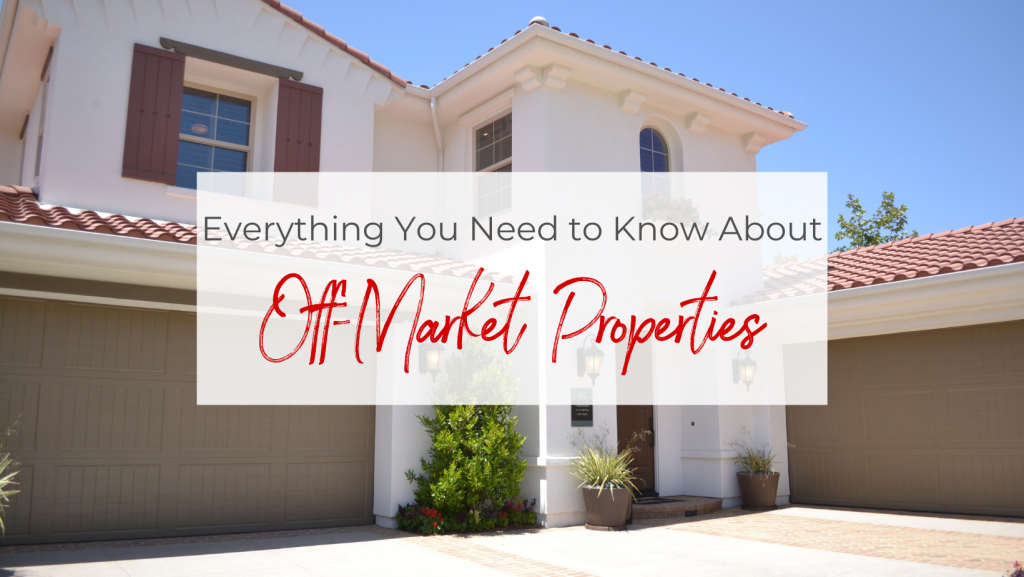 The housing market is exploding with interested buyers, but unfortunately, there just isn't enough inventory to go around. Even with historically low interest rates, many prospective buyers are having difficulties finding their next home. Thankfully, there are potential solutions to this problem. 
Many people look to the MLS (Multiple Listing Services) for all the active listings available on the market. But what if there were properties for sale that weren't listed on the MLS? 
That's where off-market properties come into play.
What is an Off-Market Property?
The term "off-market" can technically mean two separate things. First, it references a property that is not listed on the MLS and is not for sale. This refers to most homes on the market and isn't especially useful in this conversation.
But more commonly, the term "off-market" refers to a home that is not listed on the MLS but is for sale. These homes might belong to sellers who aren't quite committed to the market or someone still in the early stages of listing. They might be recent foreclosures or properties still in development.
This is a little-known secret, but you might be surprised to learn that many people buy their homes off-market. In fact, according to the National Association of REALTORS Research Group, 11% of homes recently sold were not actively listed on the MLS.
Should You Buy Off Market?
There are several advantages to buying an off-market property. First, off-market sellers are typically less rushed, giving you ample time to make an offer without worrying about someone beating you to the punch. Second, as we just alluded, when you buy off-market, you don't have to worry as much about competition or potential bidding wars.
Third, off-market negotiations are exceedingly more flexible and typically smoother in nature. Since both parties are more relaxed, you will have plenty of time to assess the property, do your due diligence, and make the right offer. 
And last, since the process is more straightforward and the negotiations smoother, there's also much less stress involved. In other words, buying off-market is much less stressful than the alternative. After all, finding and buying your dream home doesn't have to be so intense.
How to Buy Off Market Properties
Many people wonder: can you make an offer on property not listed on the MLS? And the answer is yes – but it's not quite as simple as putting in an offer on an active listing. You need to know if the homeowner is open to selling, their home's estimated comparative market value, and the best way to reach them.
How do you do that? By working with a professional. A trusted real estate agent will have connections to off-market sources and can assist you on how to know if a homeowner is open to offers. In this high-speed, low-inventory market, off-market properties are just one more reason to work with an experienced real estate agent to find your next home.
If you're interested in finding off-market properties for sale in Jacksonville or anywhere in Northeast Florida, contact the Welch Team today! Our friendly team of real estate professionals would be happy to offer expert guidance and support on your homebuying journey.