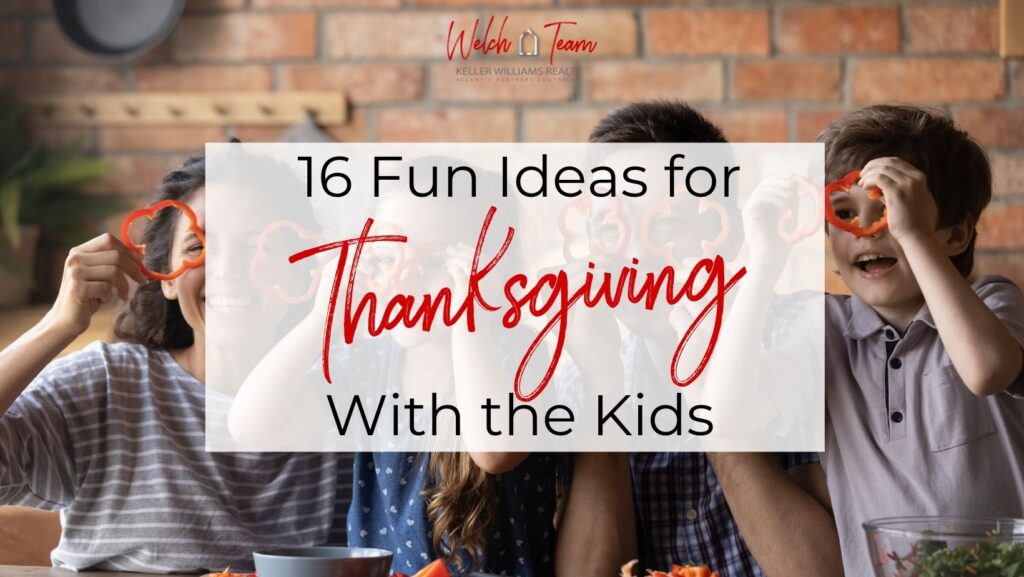 Are you looking for fun Thanksgiving activities for the entire family? Whether your goal is to spend some quality time at home or find some kid-friendly activities in town, we have lots of Thanksgiving family activities for you. Here are sixteen fun ideas to spice up your family's 2021 Thanksgiving celebrations.
Staying at Home?
If you're looking forward to some holiday bonding time with the entire family, then look no further! Here are some low-cost, kid-friendly activities that are easy to plan and super fun to do.
1. Thanksgiving Bingo
This is customizable fun for the whole family, with plenty of different game cards available online to choose from. The setup is relatively simple: everyone marks out things they see, feel, hear, or experience until they get five in a row. The winner should get something fun, like the first shot at a wishbone or an extra slice of pie.
2. Thanksgiving Themed Crafts
There are so many family-friendly Thanksgiving craft ideas to choose from that your kids will love. You can spend the day painting pumpkins, making little corn cobs out of yarn, making turkeys out of random household items, and so much more. Be creative and have fun with it!
3. Create a Family Tree
Making a family tree is not just a fun, kid-friendly craft idea. It's also an excellent way to teach your children about their family history.
4. Movie Marathon
There are so many fun holiday films out there that are perfect for the entire family. So, once all the food is gobbled up and everyone's ready to relax, why not settle in for a holiday movie marathon? Grab some popcorn or a dessert and settle in for some heart-warming family time.
5. Pumpkin Bowling
While you're in the spirit of Thanksgiving, why not jump outside and play a few rounds of pumpkin bowling? If you don't have bowling pins, you can use rolls of paper towels. And as long as you have small, round pumpkins, you're good to go! 
6. Ugly Sweater Contest
If you're hosting extended family members this Thanksgiving, why not have an "Ugly Sweater Contest?" The rules are simple: everyone wears an ugly sweater, and the guests vote for their favorite. This could be tons of fun for the kids, too, especially if you let them pick their own. 
7. Do a Puzzle
If you're not wanting all the hustle and bustle of other, more strenuous activities, you might consider doing a puzzle. It's a great way to relax after a big meal and teaches your children essential life skills, like patience, problem-solving, and teamwork. It can be holiday-themed or not – that's entirely up to you. 
8. Tiny Pumpkin Hunt
Similar to an Easter Egg Hunt, you can buy a bunch of tiny pumpkins and hide them all over the house or backyard. It's always a ton of fun to watch the kids run around, celebrating every time they find a prize. And it also allows you to sit back and relax while the kids run off some of that sugar-induced energy. 
Wanting to Get Out?
Are you looking for family-friendly Thanksgiving-themed events to attend in your area? Here are some fun Thanksgiving activities in Jacksonville and St. Augustine, Florida, perfect for the entire family.
9. Family Fun Painting With a Twist (Jacksonville, Florida)
Painting With a Twist offers a family-friendly painting event the day after Thanksgiving to help keep the celebration going. This is a terrific way to spend the afternoon with the kids after a hearty plate of leftovers. 
10. Catch a Show at The Alhambra Theatre and Dining (Jacksonville, Florida)
The Alhambra Theatre & Dining is putting on "Christmas Carole" throughout November and December, a fun rendition of Charles Dickens' "A Christmas Carol." It's fun for the whole family and perfectly in line with the holiday season. 
11. Check Out Dazzling Nights (Jacksonville, Florida)
Located at the Jacksonville Arboretum & Botanical Gardens, Dazzling Nights is a gorgeous, next-level lighting experience that spans three-quarters of a mile. It's an absolutely magical experience and an ideal way to spend the evening.
12. Visit the Holiday Market for Makers (Jacksonville, Florida)
The Market for Makers brings together local small businesses, independent artists, and makers of fashion, art, design, home décor, food, and more! If you want to get out of the house this Thanksgiving, you should consider the Holiday Market for Makers in Jacksonville.
13. Check Out the Nights of Lights (St. Augustine, Florida)
If you want to see some gorgeous lighting displays in St. Augustine, you must check out the world-famous Nights of Lights. From November 20th, 2021 to January 31st, 2022, St. Augustine's historic downtown will be lit up like you wouldn't believe.
14. Set Sail on Schooner Freedom (St. Augustine, Florida)
Interested in spending your Thanksgiving on the water? Well, you should consider setting sail on the Schooner Freedom. It's a locally owned tour boat that will gladly take you and the entire family around St. Augustine and show you the ancient city's illustrious history. 
15. Visit Ripley's Believe It or Not! Museum (St. Augustine, Florida)
There are always tons of fun things for the kids at Ripley's Believe It or Not! Museum. They get to run around and learn about strange facts, oddities, weird parts of history, and other wacky things that are too strange to be true (except they are!). The Ripley's museum in St. Augustine is definitely worth your time this holiday.
16. Spend the Day at the St. Augustine Alligator Farm Zoological Park (St. Augustine, Florida)
Once your bellies are full of delicious Thanksgiving food, why not walk some of it off at the St. Augustine Alligator Farm Zoological Park? They have special holiday hours for Thanksgiving and Christmas. So, don't miss all the holiday fun with the alligators, crocodiles, exotic birds, lemurs, and other beautiful animals that call this wonderful zoo home.
Interested in Finding a New Home This Thanksgiving Day?
If you're looking for homes for sale in Jacksonville, St. Augustine, or anywhere in Northeast Florida, contact the Welch Team today. We'd love to help you find the home of your dreams this Thanksgiving.