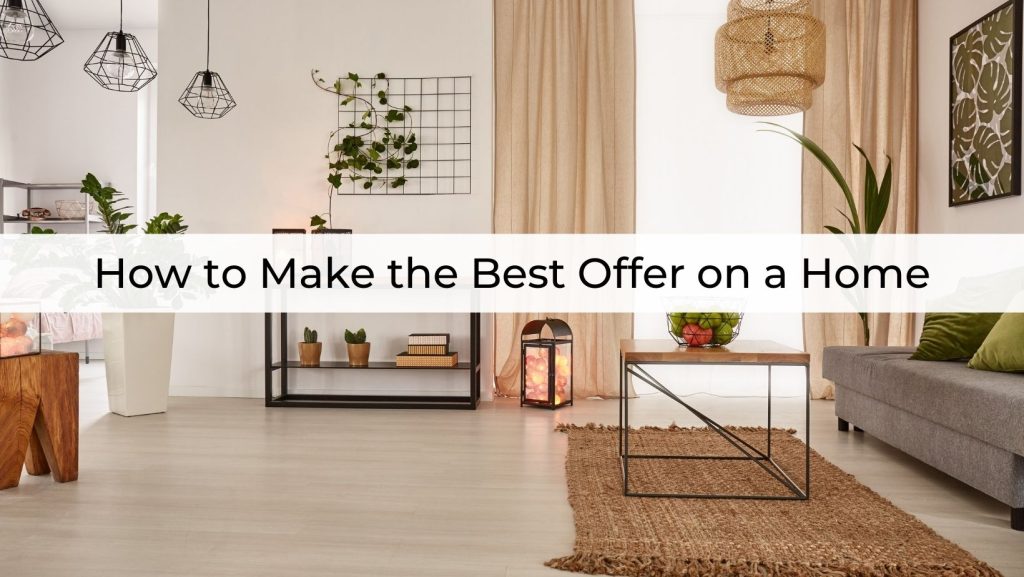 When you're buying your dream home, you should do everything in your power to make the best offer possible. The last thing you want is to find yourself in a bidding war, which can significantly drive up the price and ultimately cost you the deal.
While it's undoubtedly feasible to win a bidding war, if you make the best offer in the first place, you can avoid that altogether. Here are eight tips from real estate experts on how to make an attractive offer on a home:
1. Identify the Seller
Social media is an excellent tool that you can use to learn about the seller. If you have something in common or a mutual connection, any little bit of information can help in the negotiation process. 
For example, if you're aware that the seller is relocating for a job and needs to close as quickly as possible, that's information you can use. Or, for instance, if you find out they're a die-hard fan of the Jags, and you have that in common, you might mention that during the negotiation process. 
Be thoughtful about what you learn but remember that information is power. So, you should take any advantage you can get. And if you can tailor your offer to meet their needs, you'll have a much better chance of closing the deal.
2. Be Quick
While it's essential to be thorough and thoughtful during the offer process, you also want to be quick. Chances are, many people are going to make similar offers, so it's within your best interest to be the first.
3. Check Out a CMA
Before settling on an offer price, you should check out a CMA (comparative market analysis). A CMA is essentially an estimate of a house's value based on similar homes recently sold in the immediate area. 
Knowing the selling price for similar homes in the neighborhood will enable you to make a highly competitive offer. If you aren't sure how to get ahold of a CMA, this is something that a real estate agent, like the experts here at Welch Team, would be able to provide for you.
4. Attach a Preapproval Letter to Your Offer
What is a preapproval letter? A preapproval letter is a letter or statement from a lender stating what they are willing to give you to purchase a home. By attaching this to your offer, you're letting the seller know that you're preapproved for a mortgage and are less likely to back out.
5. Be Flexible and Keep it Simple
The cleaner your offer, the better, so try to keep the contingencies to a minimum. Try to avoid making unnecessary special requests, and don't demand more than what you and your team deem is absolutely necessary.
On the same note, you want to be flexible, too. Don't demand swift or unreasonable timelines and give the seller plenty of room to breathe. If the seller knows that you're easy to work with, they might choose you over a difficult buyer with a similar or even slightly better offer.
In fact, you should do everything in your power to convince the seller that working with you will be easier than working with anyone else. Even if you have the best offer, if the seller feels like they have to jump through hoops to close the deal, they might choose someone else.
6. Boost Your Earnest Money
Before you can boost it, you might be wondering: what is earnest money? Well, earnest money is the money you're willing to put down on a home before closing to show the seller that you're serious. And remember: you don't have to put a lot down to earn the seller's trust.
Typically, an earnest investment should fall between 1% and 5% of the home's total cost. But if you want to make a stellar impression, you might offer closer to 10%.
For instance, if you're going to buy a home in Jacksonville Beach worth $500,000, which is slightly above the median home value in that area, you should try to put $50,000 down in earnest money to prove you're serious and secure the deal.
The more you're able to put down in earnest, the better your chances of closing the deal. The ultimate goal for the seller is to sell their home, so they're inevitably going to be attracted to the buyer with the most skin in the game (so to speak).
7. Consider an Escalation Clause
If you want to increase the odds of your offer being accepted, you might consider including an escalation clause. What is an escalation clause? This is a section included in your offer that tells the buyer that you are willing to pay more if they receive a competing offer.
This will save you from renegotiating or losing the deal should the seller receive an attractive new offer. An escalation clause also lets the buyer know that you're serious about your offer.
8. Work With an Expert
If you want to make the best offer possible, you should work with an expert with a proven track record for success. While it's totally possible to close on a deal on your own, you're much more likely to succeed with some help from a real estate professional.
If you're looking for a home in Jacksonville or anywhere in Northeast Florida, contact the Welch Team today. Our incredible team of real estate experts would be delighted to help you find your dream home and make the best offer possible.