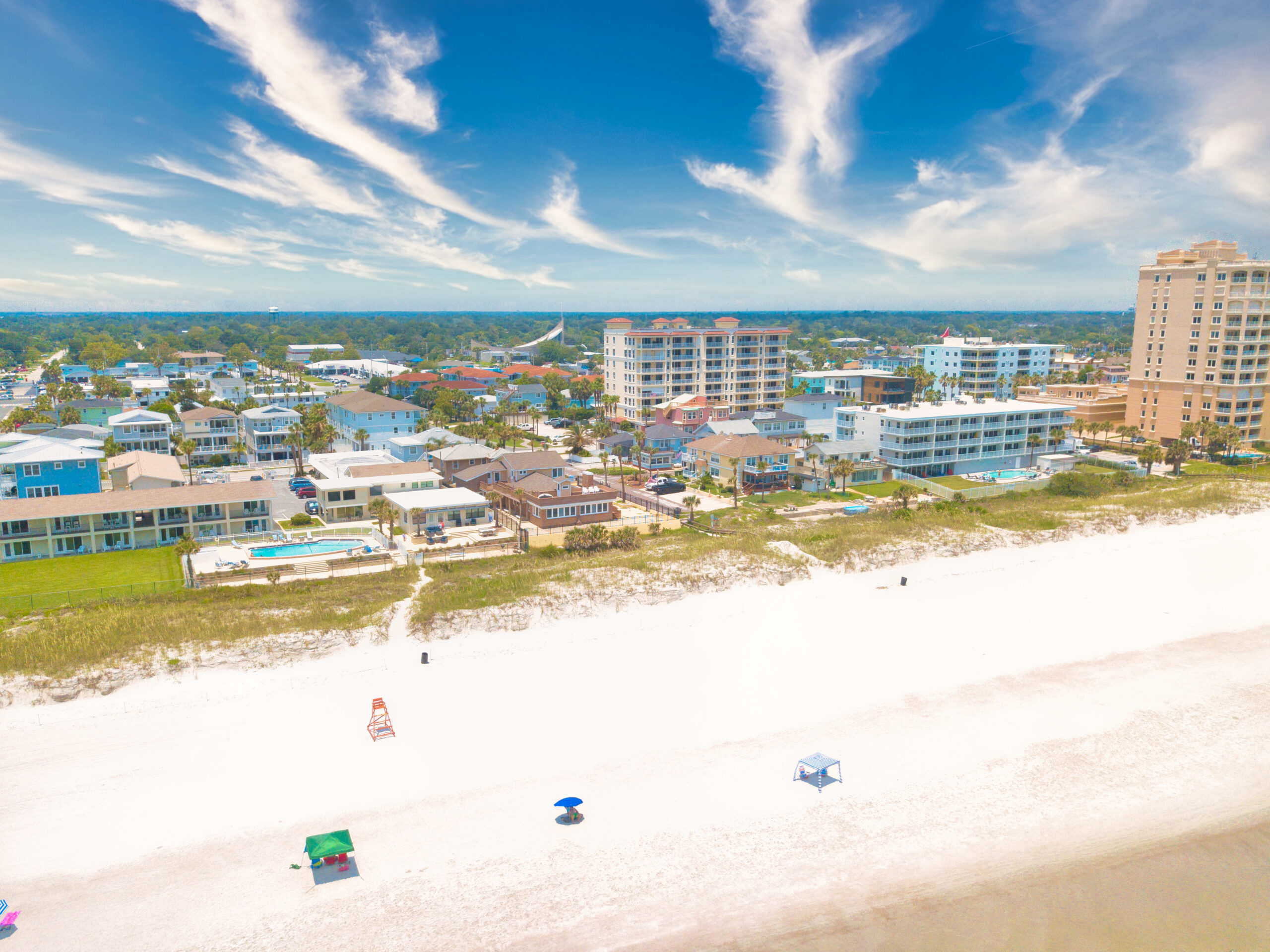 Have you been considering relocating to Northeast Florida lately? You're not alone. A lot of people have discovered how great it is here. While the population of Jacksonville jumped significantly in the last few years, you might want something a little closer to the ocean. Located just 20 miles to the east of Jacksonville sits Jacksonville Beach. If oceanside living combined with fantastic food, music, and an arts scene is what you crave, Jacksonville Beach is the place for you!
Jacksonville Beach, Florida
When it comes to stunning beaches, warm sunshine, and a lively atmosphere, Jacksonville Beach, Florida, stands out as a true gem. Located on the northeastern coast of the Sunshine State, this seaside community offers residents and visitors an abundance of natural beauty, exciting events, and a strong sense of community. Join me as we dive into the vibrant tapestry of Jacksonville Beach, discovering its unique charms and the reasons why it continues to capture the hearts of all who visit.
A Coastal Paradise:
Nestled along the Atlantic Ocean, Jacksonville Beach boasts miles of pristine sandy shores, inviting visitors to soak up the sun, take refreshing dips in the turquoise waters, and indulge in various water sports. Whether you're an avid surfer riding the waves, a family building sandcastles, or a nature lover appreciating the stunning sunsets, there's something for everyone in this coastal paradise.
The Spirit of Community:
One of the most remarkable aspects of Jacksonville Beach is the strong sense of community that permeates throughout the area. From the welcoming smiles of locals to the numerous community events, this beach town fosters a warm and inclusive atmosphere. Whether it's the Beaches Art Fest showcasing local artisans, the annual Springing the Blues Festival celebrating blues music, or the monthly Beaches Green Market promoting sustainable living, there's always an event to connect with your neighbors and embrace the vibrant community spirit.
Thriving Culinary Scene:
Jacksonville Beach is a food lover's haven, with a diverse culinary scene that caters to every palate. From casual beachside eateries serving up fresh seafood and mouthwatering burgers to upscale waterfront restaurants offering exquisite fine dining experiences, there's no shortage of options. Don't miss the opportunity to savor local favorites like shrimp and grits, fish tacos, or a classic Southern barbecue. With an array of restaurants, cafes, and bars, Jacksonville Beach is sure to satisfy even the most discerning food connoisseur.
Recreation and Outdoor Activities:
Beyond the beach, Jacksonville Beach offers a wide range of recreational activities for the outdoor enthusiast. Explore the Intracoastal Waterway by renting a kayak or paddleboard, go fishing on one of the piers, or enjoy a leisurely bike ride along the scenic paths. The area also boasts numerous parks and green spaces, providing opportunities for picnics, jogging, or simply unwinding amidst nature's beauty.
Art, Culture, and Entertainment:
Jacksonville Beach is a hub of artistic expression, with an array of galleries, theaters, and live music venues. The Players by the Sea theater showcases local talent, while the Beaches Museum highlights the rich history and culture of the area. The Seawalk Pavilion hosts free concerts and events, providing a lively entertainment experience for all ages. Whether you're looking to immerse yourself in local art or enjoy an unforgettable performance, Jacksonville Beach has something to offer.
Jacksonville Beach, Florida, is a true coastal gem, offering residents and visitors an unparalleled combination of natural beauty, a vibrant community, and a diverse range of activities and experiences. From the stunning beaches and warm waters to the lively events and exceptional dining options, this seaside community has it all. So, pack your beach gear, prepare to indulge your taste buds, and immerse yourself in the warmth and spirit of Jacksonville Beach.
Buying or Selling in Northeast Florida?
And if you're looking to buy or sell a home in Northeast Florida, you've come to the right place. Click here to view our latest listing at the beach. Here at the Welch Team, we specialize in helping homeowners sell their properties and find the homes of their dreams. Contact us today to learn more!
All Available Listings
Click Here to View All Commercial Listings 
Click Here to View All Residential Listings