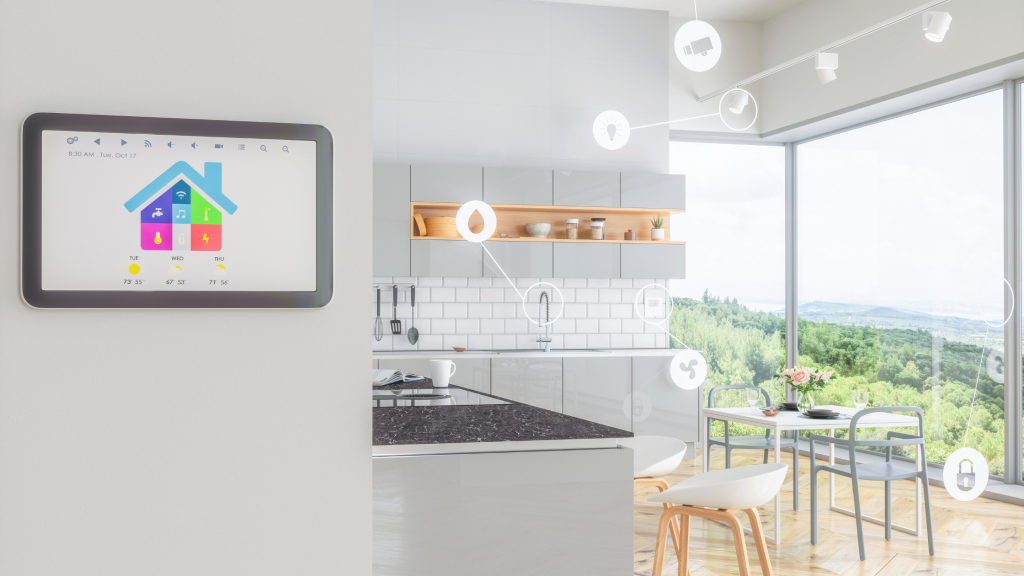 Over the last century, we've experienced a technological revolution that has completely changed the world we live in. Think about basic modes of transportation like cars and airplanes or the seismic technological breakthrough with the internet and cell phones. These things didn't even exist 150 years ago. Technology doesn't just open new doors – it alters the way we live our lives.
Now, there's a new revolution. As a society, we've covered the basics from information to communication to infrastructure. And while there are still advancements to be made in those areas, there's a large part of the technology sector moving towards something new: the creation and integration of smart home technology.
What is Smart Home Technology?
Imagine this. You wake up to faint morning alarm chimes from your multi-room speaker system. Your shades open slowly and automatically, letting in the morning light. You slip out of bed, walk out of your room, and the lights turn off automatically as you leave. As you walk into the kitchen, your morning cup of coffee finishes brewing. Your favorite playlist starts playing from your surround sound speaker system, and you get to sit for a minute in the serenity of your smart home and enjoy your freshly-brewed cup of coffee.
That's not a scene from the future. That's what's possible right now with smart homes. While we're on the subject, we should talk about the best technology for your home on the market today.
1. Voice Assistants
A few examples of this that most people are familiar with include the Amazon Echo (commonly known as 'Alexa'), Google Home, and Apple HomePod. These devices can answer questions, tell you the news or the weather, set reminders and alarms, and help you shop online. They also work as small hubs, connecting to various devices around your house via Bluetooth, giving you full control over your home tech with just your voice.
2. Lighting Systems
Lighting systems are great additions to your smart home because they're both convenient and energy-efficient. If you struggle with turning off the lights when you leave a room, don't worry – they'll shut off automatically. You have full control over this using your home automation control system or voice commands. Many automation systems even allow you to programs the lights to turn on, off, or dim at certain times throughout the day.
3. Speaker Systems
Speaker systems have been in the audio-video space for multiple decades but have significantly evolved in the last ten years. We're not just talking about Bluetooth speakers, either, though that's still viable home tech for many people. With the incorporation of voice assistants, multi-room speaker systems, and home theaters, the possibilities are endless.
4. Smart Thermostats
These are great for the eco-conscious and for anyone who continually adjusts the thermostat. Smart thermostats can be set to automatically change based on the time of day. Plus, you can access them from an app on your home, giving you access to the temp settings for your entire house, no matter where you are. Imagine you come home from a vacation, and your house is already at the perfect temperature! That's possible with a smart thermostat.
5. Robot Vacuum Cleaners
We all know about the Roomba, but robot vacuum cleaners have gotten a lot smarter over the last few years. You can set them to run on a schedule, and you never have to vacuum ever again. They can be controlled from a central hub or an app on your phone.
6. Home Security
Surveillance cameras, smart locks, doorbells, and alarm systems are a considerable part of the growing home technology sector. These systems can be connected to your phone or control system, giving you constant access to your home's security, whether you're inside the house, at the office, or taking a vacation in Europe.
7. Smart Home Control Systems
We've mentioned these throughout this list, but they probably need their own section. Once you reach a certain level of high-end tech, you'll want to get a smart home control system. These include Control4, Crestron, Savant, and many others. These systems allow you to control all the gadgets in your smart home from one central location. This kind of software is typically incredibly complex and creates an optimum user interface (UI) for a better user experience (UE).
The Future of the Tech Home
We've been discussing the top technology for your home, but remember that your options are not limited. New technologies are created every day, so there's always something shiny and new just hitting the shelves. No two smart homes are exactly alike because the tech is so customizable. There are companies all over the country that offer smart home design, implementation, and installation.
Our advice – do the research on what kind of system you want and the type of tech you think will add value to your life, then have a professional set it up. By doing it this way, you get exactly what you want and don't have to worry about the headache of making it all work.
If you're looking for a house in Northeast Florida to fill with all these wonderful gadgets, give us a call. Here at Welch Team, we specialize in providing homeowners with the home of their dreams.