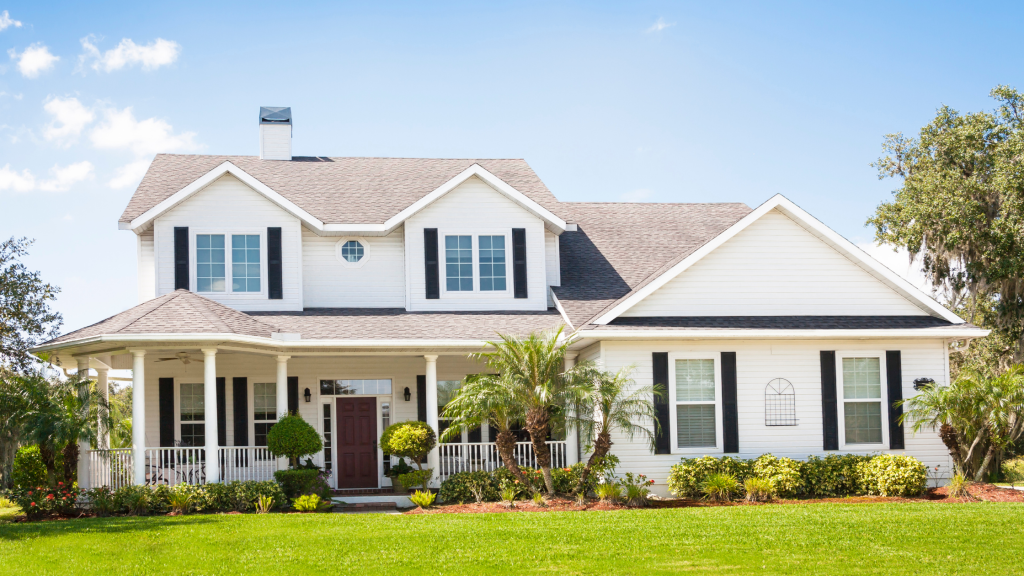 Most people take pride in their homes. That's why we spend so much time cleaning when we plan to have company. We can't let our friends or family know that sometimes, we forget to dust or allow our dishes to build up a bit too high in the sink. We care what other people think, and that's completely normal. 
First impressions happen fast. This may be surprising, but people are known to make snap judgments before they step one foot in your home. They can stand on the curb or sidewalk and look at the front of your house, the lawn, the garden, everything – and their mind is already made up. That's why creating curb appeal is so important.
Just do a quick search: homes for sale in Jacksonville. Look at the listing for every house you see on any website you click on. The first picture is usually (if not always) the front of the house! That's what everyone wants to see right away. That's why we've taken it upon ourselves to come up with seven easy ways to create curb appeal for your Florida home.
1. Landscaping
This covers a lot of different areas, all of which are pretty important. First, make sure to keep up with your lawn. A freshly and professionally manicured lawn tells your neighbors you care and has a surprising effect on how your house looks.
Second, it's good to invest in a garden. This can range from trees, flowerbeds, rock paths, and more. There are so many landscaping ideas to take inspiration from, so have fun with it. Take a look on Pinterest to see what's trending, or just go with what you believe looks great. This is a wonderful activity that can be fun for the entire family, especially when so many of us are confined at home. It'll get you outside in the sun and give you plenty of time to connect with nature.
If you're unable or uninterested in doing this work yourself, there are plenty of companies for hire that will do it for you.
2. Fresh Paint
Not enough can be said about a fresh coat of paint. This is one of the easiest and most sure-fire ways to create curb appeal for your Jacksonville home. Old, chipping paint jobs are an eyesore, and the colors you choose can negatively impact curb appeal. This is another area to do some research because you want to use colors that complement each other.
3. Windows and Accessories
There are few things quite as unsightly as a smudge-filled, dirty window. Make sure the windows on your house look crystal clear and clean. This can require a little bit of maintenance from people who have kids or pets, but it's well worth it.
Beyond the glass, you want to look at your window frames and shutters. Are they old and chipping paint? Are they colored correctly to match the aesthetic of the house? Do they look visually appealing? These are some great things to consider when deciding how to spruce up your windows and window accessories.
4. Outdoor Lights
This is a great touch that adds a ton of curb appeal, especially at night. When people drive down the street, it's incredible to see a well-lit home. Putting lights around the entrance and front porch, projecting them onto the house numbers, and lining them along the walkways are great ways to utilize outdoor lighting to create curb appeal.
5. Porch Design
What you put on your porch matters. You don't want to greet visitors with mismatching chairs and a dead plant in a broken pot. Whether you want a comfortable set of chairs with a playful doormat, the "grow old together" rocking chairs, or you love the plant and nature motif, invest in your porch. It's a great place to spend time, and it's what all your visitors see right before they enter your home.
6. The Roof
When's the last time someone worked on your roof? It's not enough to just make sure it's stable (though that is super important). You also want to make sure your roof looks nice from the street or sidewalk. If you have a bunch of missing shingles or the wear and tear on your roof has taken its toll, buyers will notice. Fixing those issues will not only create curb appeal but could also drive up the value of your home.
7. Mailboxes and Finishing Details
A nice-looking mailbox can go a long way. Much like the front porch, there is so much you can do with it. If you search online, you'll find many creative, elegant, and playful mailbox options to help inspire you.
Beyond the mailbox, you'll want to work on the finer details. Are your house numbers clean and readable from the street? If your house numbers are painted on the curb, are they legible? Are your gutters clean? Fixing these small details can go a long way in creating curb appeal.
Create Curb Appeal That Sells
This may come as a shock, but houses with higher curb appeal sell for about 7% more than homes of similar size and build with low curb appeal. People make quick judgments and often fall in love with a house by looking at it from the outside. Simply put, consumers looking for real estate in Jacksonville are more likely to dish out more money for a house that looks nice.
This actually makes a lot of sense. You can spend all the time in the world fixing up the inside of your house, but if the outside doesn't look great, you're going to have some trouble getting people in the door. If you focus on creating curb appeal, you'll attract more buyers and sell your home much faster.
If you'd like to sell your home in Jacksonville or anywhere in Northeast Florida, let's talk! Here at Welch Team, we take pride in getting our clients the best deals imaginable.