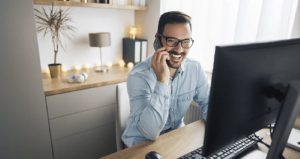 COVID-19 affects just about every aspect of our lives today. Many kids receive their education online. We wear masks to go shopping or pick up something to go from our favorite local restaurants. Social distancing has become the new norm. When shutdowns began earlier this year, many businesses chose to send their employees home to work. But what originally started out as a temporary solution has now become a long-term plan. In fact, some companies may continue this trend even after we find a vaccine to cure this global pandemic. Therefore, a home office has become essential rather than a luxury. Here are a few tips to help you create the perfect home office in your Jacksonville house.
How to Create the Perfect Home Office
Choose a Location
As in all other things real estate-related, location is everything…even with a home office. Sure, the dining room table worked for a little while. But as the temporary fix becomes a more permanent solution, you need an actual place to claim as your home office. It needs to be in an area away from the hustle and bustle of the rest of your home. Ideally, you want to be able to close a door or two to keep noise to a minimum while you conduct your business.
Guest rooms easily convert into a home office space. Don't have the extra room to spare? Transform a closet. Section off a portion of a larger room with room dividers for privacy. Turn that unused nook under the stairs into an office area. It might even be time to invest in a "she shed" for a backyard office. That might take a little time and money, but it works as a completely private home office that buyers like to see. (Just a thought to keep in mind if you ever want to put your Jacksonville home on the market in the future.)
Office Equipment
Two very important pieces of equipment necessary for any home office are your desk and your chair. Instead of a traditional office desk, consider using a small yet sturdy dining table. If working with minimal space, install a wall-mounted desk that folds up when not in use. A beautiful old-fashioned secretary desk allows you to fold down the desktop when it's time to work and tuck everything away when you finish. Corner units also take up less room. 
Now, there's no substitute for a good office chair. After all, you spend at least eight hours a day on it. It needs to fit you comfortably and stand up to the wear and tear of daily business life. Visit an office furniture shop. Try out as many chairs as necessary until you find just the right fit. When you get it home, adjust the settings (back, height, armrests, etc.) so that they conform to your exact needs for hours of comfort.
Storage
Filing cabinets work for long-term storage needs. But keep those in the closet, if possible. Use floating shelves and organizational systems to keep your workspace clutter-free yet attractive. Think about your workflow when deciding about storage. Keep items you use most often close at hand. Go paperless whenever possible to also keep clutter at bay. 
Lighting
Make the most of natural lighting in your home office. For one thing, it cuts down on your electric bill. For another, it helps your body absorb Vitamin D easier and makes you more productive. Finally, lots of light helps reduce eye strain. Add a desk lamp for overcast days and late-night work sessions.
Personalize Decorations
Your home office does not need to look like a sterile cubicle. Feel free to personalize this space for inspiration throughout your day. Display family photos and knick-knacks from your travels throughout your office space. Choose fun, homey decorations. Use a coffee mug as a pencil holder. Choose silly shaped sticky notes over traditional yellow Post-Its. Store your office supplies in a decorative desktop organizational unit to keep them in one place. Add a bulletin board where you can tack up anything that keeps you motivated. This allows you to change what you post on it as often as you want without putting extra holes in your walls. Just have fun with it.
Colors
Forget those boring white walls that you find in traditional offices. With a home office, you can go a little "crazy" if you want. Choose a wall color that makes you happy. That can be any color you want as long as you can close the door behind you. However, if you end up in a common area or your office can be seen from other rooms in your home, you might want to opt for a color that complements the rest of your abode.
Cord Cutting/Hiding
Cords can be a little unsightly in a home office. Sometimes, though, their presence is unavoidable. Try to go wireless whenever you can. This helps cut down the number of cords you see. Hide the rest of your cords by bringing them together and wrapping them in a pretty fabric. Or cleverly utilize a PVC pipe to contain the cords in. Even gathering them all together and zip tieing them makes cords much more attractive to look at.
Zoom Room Appropriate
Finally, meetings have changed with COVID-19. Zoom rooms have become all the rage. But you don't necessarily have to create a space completely separate from your home office for a zoom room. Make sure the area seen by your camera is completely clutter-free. Choose a nice backdrop. That can be a pretty yet simple painting or a lovely tapestry in soothing colors. Even a plant or two creates a lovely sight line without pulling focus from you. Just keep it simple. Make sure there is ample light in front of you (but out of sight from the camera) so that people can see your face when you take a virtual meeting.
Keep all of these tips in mind when you design your home office. When you are ready to put your Jacksonville home on the market, contact the Welch Team.