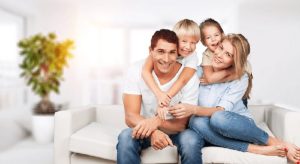 Over the past couple of years, Jacksonville area home values have increased quite a bit. According to Zillow, they rose 5.5% on average in just the last 12 months alone…and that's during a global pandemic. Many homeowners wish to take advantage of the area's seller's market to cash in on some of their equity. But they might need at least some (if not all) of the equity in their current home to pay for their next home. So, they end up living in their Jacksonville home while it is on the market. This adds a little more stress to the situation, especially if you work from home and/or your kids currently utilize distance learning for school. But it is possible if you keep the following tips in mind.
Living in Your Jacksonville Home While Selling It
Deep Clean, de-Personalize & de-Clutter
Your first step in selling your Jacksonville home should always be to thoroughly clean, de-personalize, and de-clutter your entire house. Get everybody in on the action. Send kids to their rooms to choose their two or three favorite items to keep. But everything else must get packed up for storage elsewhere. Family photos, keepsakes, and valuables should also be packed away. Deep clean carpets, baseboards, window sills, cabinets, cupboards, showers, tubs, and everywhere else in the house. 
Keep It Clean…daily
Once you perform that initial deep cleaning, it makes it a little easier to maintain this cleanliness in the future. It must be ready to show at any moment. That means that you need to clean up messes right away. Empty any trash cans in the house every single day. The same goes for the kitty litter box and picking up after your dogs in the yard. Make it a point to sweep and vacuum daily as well. You never know when a buyer might want to drop by for a tour.
Find an Experienced Real Estate Team
The team at Keller Williams Realty Atlantic Partners Southside works hard so you don't have to. They offer a wide variety of services and decades of experience in the local Jacksonville area real estate market. If you have a question, someone is always a phone call or email away. Contact them before you put your Jacksonville home on the market.
Be Prepared to Leave
When your agent tells you a buyer wants to stop by, put your family and pets in the car, and leave. Buyers feel awkward when touring a home while the seller watches. You want them to feel comfortable. Also, you may accidentally let slip information that the buyer could use against you during negotiation (such as how much you owe, various DIY projects around the house, why you want to sell, etc.). It's much easier to just leave. Your Jacksonville real estate agent can provide you with feedback later.
Yes, selling your Jacksonville home can feel overwhelming sometimes. But if you put in a little effort in the beginning and maintain it throughout, you'll find your home sold in no time. The Welch Team is here to help in any way possible. Contact them today.