Buying an Active Airbnb is More Than a Home – It's a Business Opportunity
When it comes to real estate investments, most people envision purchasing a new place to call home, a cozy retreat, or a potential vacation escape. However, a new trend is emerging in the world of real estate – the acquisition of active Airbnb properties. In essence, buying an Airbnb isn't just acquiring a home; it's stepping into a fully operational business venture. Let's delve into why purchasing an active Airbnb is more akin to investing in a business than merely buying a residence.
Seamless Income Stream
Traditional homes may require some time before generating returns, especially if they are intended solely for personal use. On the other hand, an active Airbnb property offers an immediate and steady income stream. Take, for instance, "Sea & Salt," a charming 2-bedroom townhouse nestled in the sought-after Sea Place community near historic St. Augustine. This property, currently operating as a highly sought-after Airbnb rental, comes fully furnished and ready for immediate occupancy or continued renting. It boasts a proven rental track record, an impressive 5-star guest rating, and a consistent income flow. Similarly, "Coral Casa," located in the historic Lincolnville neighborhood of St. Augustine, is a spacious 3-bedroom home that has a proven track record as a successful short-term rental. Its impressive collection of 5-star reviews and transferable rental history make it an irresistible choice for visitors seeking an unforgettable experience. Buying either of these properties means stepping into a thriving operation with established profitability from day one.
Turnkey Investment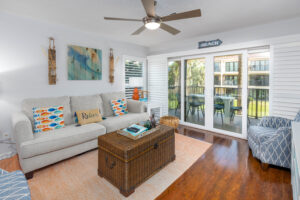 When you buy a traditional home, you might need to invest additional time, effort, and money into furnishing, decorating, and equipping the space. With an active Airbnb, the property is already fully furnished, and all the necessary amenities are in place. Just like "Sea & Salt," where all furnishings, appliances, and even a washer/dryer are included, and "Coral Casa," which offers the perfect blend of modern convenience and timeless charm. This turnkey approach saves you valuable time and minimizes initial investment, making it a business-ready opportunity.
Established Reputation and Marketing
Running a successful Airbnb requires more than just providing a comfortable place to stay. It involves building a reputation, attracting guests, and maintaining high guest satisfaction. Active Airbnb properties like "Sea & Salt" and "Coral Casa" have already earned their stripes, boasting impressive collections of 5-star reviews and loyal customer bases. The marketing efforts have been made, the brands have been established, and the businesses are thriving. When you acquire such properties, you inherit the hard-earned reputation and marketing efforts that come with them.
Low Entry Barrier
Starting a new business from scratch can be daunting and costly. Active Airbnb properties offer a lower entry barrier into the world of entrepreneurship. Consider "Sea & Salt" and "Coral Casa" again – they're not just homes; they're existing business operations with proven success. The risks associated with starting a new venture are significantly reduced, making these properties attractive options for investors looking to dip their toes into the entrepreneurial waters.
Expertise and Management
Running a successful Airbnb requires a certain level of expertise, from guest communication and property maintenance to pricing optimization and marketing strategies. When you purchase an active Airbnb property, you often benefit from the expertise of the previous owner or property manager. In the case of "Sea & Salt" and "Coral Casa," the properties are professionally managed, ensuring seamless transitions for you to either move in or continue renting. This professional management ensures that the business operations run smoothly, allowing you to focus on reaping the rewards.
In conclusion, buying an active Airbnb property goes beyond the traditional notion of real estate investment. It's an opportunity to step into fully operational businesses with established income streams, reputations, and marketing efforts. Just like "Sea & Salt" and "Coral Casa," these properties offer turnkey solutions, lower entry barriers, and expert management, making them enticing prospects for savvy investors seeking to combine the joys of real estate ownership with the potential of thriving business ventures. So, the next time you consider a property purchase, think beyond the home – think about the exciting world of Airbnb entrepreneurship.
Buying or Selling in Northeast Florida?
And if you're looking to buy or sell a home in Northeast Florida, you've come to the right place. Here at the Welch Team, we specialize in helping homeowners sell their properties and find the homes of their dreams. Contact us today to learn more!