How to Spend a Day in St. Augustine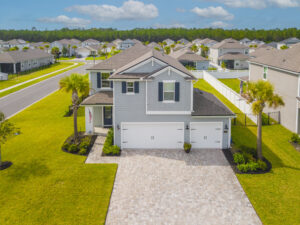 As one of Florida's most historic and captivating cities, St. Augustine offers a plethora of experiences for visitors to enjoy. Join us on a journey as we explore the best restaurants, top tourist attractions, must-visit places, and vibrant bars that make St. Augustine an unforgettable destination. Brought to you by Welch Team Keller Williams, we present a curated itinerary for spending a perfect day in St. Augustine.
Morning:
Start your day by indulging in a delightful breakfast at one of St. Augustine's finest restaurants. Here are a few top recommendations:
The Blue Hen Café: Known for its farm-to-table approach, The Blue Hen Café serves up delicious breakfast options made with locally sourced ingredients. Try their mouthwatering pancakes or their signature shrimp and grits.
The Floridian: This beloved eatery focuses on Southern-inspired cuisine, serving up hearty breakfast dishes with a modern twist. Don't miss their famous Datil Pepper Bacon and Eggs or their Southern Benedict.
After breakfast, explore the city's iconic tourist attractions:
Castillo de San Marcos: Discover the history of St. Augustine by visiting this impressive 17th-century fortress. Take a guided tour and learn about the battles and stories that shaped the city.
St. George Street: Wander along this pedestrian-only street lined with charming shops, boutiques, and restaurants. Immerse yourself in the city's vibrant atmosphere as you explore its unique offerings.
Afternoon:
As lunchtime approaches, satisfy your taste buds at one of St. Augustine's top-notch restaurants:
Columbia Restaurant: Experience a taste of Old Florida at this iconic restaurant known for its Spanish and Cuban cuisine. Enjoy classics like the 1905 Salad or their famous paella.
Preserved Restaurant: Indulge in Southern-inspired dishes made with locally sourced ingredients at this cozy and elegant restaurant. Their menu features a variety of flavors, including seafood, meats, and vegetarian options.
After lunch, continue your exploration of St. Augustine with these must-visit places:
Flagler College: Admire the architectural beauty of this former luxury hotel turned college campus. Take a guided tour to learn about its history and marvel at its stunning interior.
Lightner Museum: Housed in a historic building, the Lightner Museum showcases an eclectic collection of art, antiques, and curiosities. Explore the exhibits and soak in the grandeur of the Gilded Age.
Evening:
As the sun sets, St. Augustine's vibrant bar scene comes to life. Here are some popular spots to enjoy a drink and unwind:
Ice Plant Bar: Step back in time at this speakeasy-style bar that specializes in craft cocktails. Sip on carefully crafted drinks made with house-made spirits and enjoy the vintage ambiance.
Scarlett O'Hara's: Visit this lively Irish pub for a great selection of beers, live music, and a jovial atmosphere. Raise a glass to the evening while enjoying the spirited energy of this popular bar.
St. Augustine offers a remarkable blend of history, culture, and culinary delights. From exploring historic attractions and strolling through charming streets to savoring mouthwatering cuisine and enjoying the lively bar scene, this city has it all. Welch Team Keller Williams invites you to experience the charm of St. Augustine and create cherished memories in this remarkable destination.
Are you looking to buy or sell a home in northeast Florida? If so, contact the number on the screen to learn more! We look forward to hearing from you!