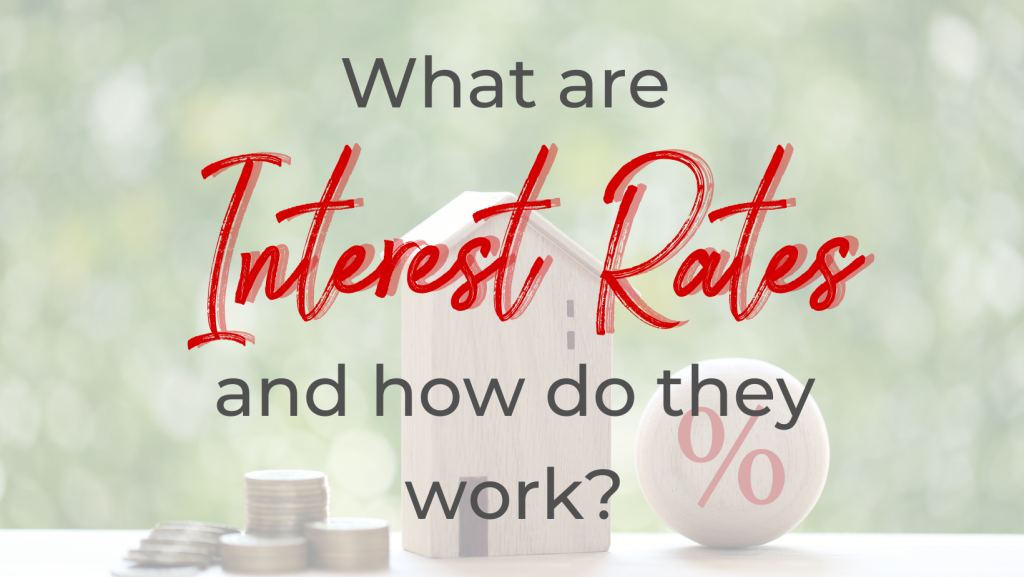 Understanding interest rates, why they fluctuate, and how they impact your lives can help everyone make smarter decisions when buying a home. That's why we've decided to put together a comprehensive guide to what interest rates are, how they work, and why they are essential to keep an eye on. We'll also take a look at several reasons why you should pay attention to current interest rates and how they affect you specifically.
What Are Interest Rates?
Interest rates are typically defined as the amount of money lenders charge borrowers in exchange for the ability to borrow money. The fee is set in the form of a percentage rate based on the perceived risk of the borrower based on credit rating, debt-to-income ratio, current income, and more. This amount has to be paid back to the lender over time and is customarily added to the mortgage payment.
How Do Interest Rates Work?
All things considered, interest rates are pretty straightforward. They're determined by several factors, including the type of loan, the borrower's credit score, the amount of money being borrowed, the length of the loan, and the current global and national economies.
Typically when interest rates are low, lenders are more willing to offer money to potential borrowers. This means that more buyers can enter the housing market when interest rates are low, leading to increased competition and higher property values.
On the other hand, when interest rates are high, lenders are more hesitant to lend to borrowers because the risk is too high. As a result, fewer potential buyers enter the market, leading to lower property values and less competition. Of course, while there are exceptions to the rule, this is most often the case.
5 Reasons You Should Pay Attention to Interest Rates
1. Borrow Amounts
Interest rates determine how much you can borrow and the standards you must meet to qualify. So, if you're looking to buy a house, it's important to pay attention to interest rates to get the best deal possible.
2. Current State of the Market
Interest rates can also influence the market. When interest rates are low, more potential buyers enter the market, and this can increase competition for properties and lead to higher prices. So, if you're waiting on the market to shift, you should pay close attention to interest rates.
3. Mortgage Payments
Interest rates affect mortgage payments. Your loan's interest rate largely determines your monthly mortgage payment. So, the higher the interest rate, the more you'll have to pay each month.
4. Monthly Budgets
Interest rates can affect your monthly budget. If you have a fixed-rate loan, your monthly payments will remain the same. However, if you have an adjustable-rate loan, your payment could change monthly depending on interest rates. If you have a certain amount budgeted for your mortgage, you might want to keep an eye on current interest rates.
5. Refinancing
And lastly, changing interest rates can affect your refinancing options. If interest rates drop significantly, you may qualify for a better deal that can save you money in the long run. So, if you're worried that interest rates are too high right now, you can always get a home in the current market, then refinance later when the rates drop.
How Do Interest Rates Affect You?
Whether you're a homeowner or a potential homebuyer, interest rates have a significant impact on everyone's lives. If you're a homeowner, rising interest rates can lead to higher mortgage payments or could even make refinancing more difficult.
For potential buyers, interest rates determine how much money you can borrow for a home. If interest rates are low, you could potentially be able to afford a more expensive house or even a larger loan amount. Plus, low interest rates can increase competition in the market, which may drive up property values.
It's important to remember that interest rates are constantly changing, and you should stay up-to-date on current rates and the current state of the housing market. This can help you make the best possible decisions when it comes to buying or refinancing a home.
Looking for a Home in Northeast Florida?
If you've done the research and want to find a home for sale in St. Augustine, Jacksonville, or anywhere else in Northeast Florida, you've come to the right place. Here at the Welch Team, we specialize in helping people find the homes of their dreams. Contact us today to learn more!
And while you're here, don't forget to grab a free copy of our expert buying guide. It contains tips from industry veterans, a walkthrough of the home-buying process, and a list of our most trusted local vendors.