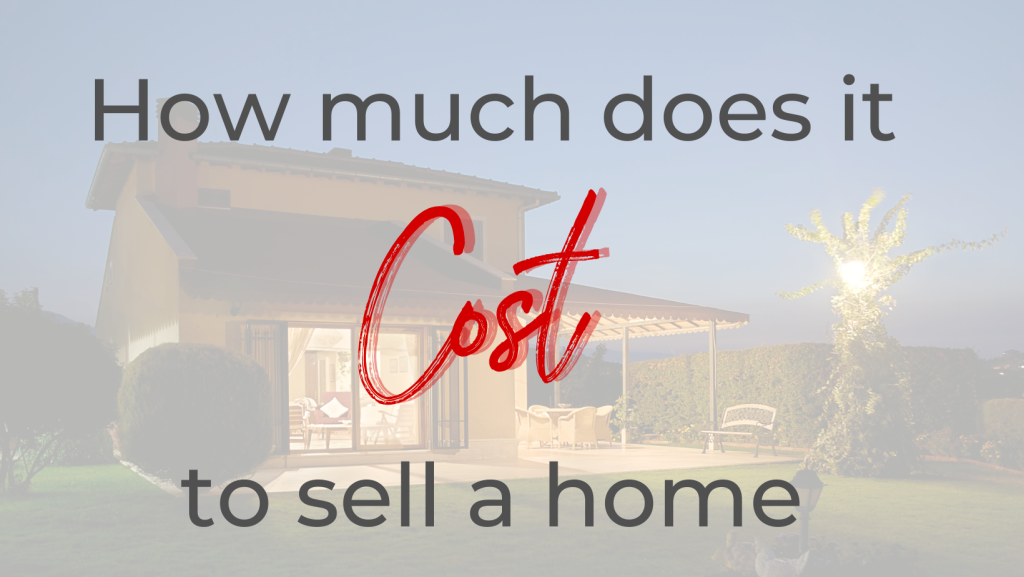 Are you thinking about selling your home? If so, you've probably already asked yourself: How much does it cost to sell a home? Knowing the cost of selling a home is crucial if you want to avoid overspending and maximize your return on investment.
That's why we've taken the time to put together a guide on why knowing the cost of selling a home is essential, the factors that affect the cost of selling a home, and ways to reduce it. Let's dive in!
Why Knowing the Cost of Selling a Home is Important
When selling a home, the goal is typically to make as much potential profit as possible and avoid overspending. To help ensure that this happens, you must factor in the costs commonly associated with selling your home. Knowing the associated costs can help you budget properly and anticipate any expenses that might arise, which will ultimately save you money in the long run.
5 Factors that Affect the Cost of Selling a Home
Selling a home is an exciting and sometimes overwhelming process, but it can also be pretty expensive. By understanding the various factors that influence a home's sale price, you can get an idea of what to expect in the home-selling process. Here are five factors that typically affect the cost of selling a home.
1. Real Estate Agent Fees
The cost of real estate agent fees will vary depending on the agent and the market but is typically between 5% and 6% of the home's sale price. Be sure to discuss this with your real estate agent before you put your home up for sale.
2. Home Inspection Fees
Home inspections can cost quite a bit, depending on the home's size and the inspection's complexity. This is a vital part of the home selling process that not only protects the buyer but also protects you.
3. Title and Escrow Fees
The cost of title and escrow fees will depend on your local market, but they typically range from 1% to 2% of the home's sale price. Be sure to talk to a professional about what fees you should expect based on your market.
4. Closing Costs
Closing costs can include legal fees, recording fees, transfer taxes and any other costs associated with closing on a home. These costs vary greatly, so it's vital to check with your local real estate professional to get an accurate estimate of what you should expect from closing costs.
5. Advertising Costs
Advertising costs can range from hundreds to thousands of dollars, depending on the market and your budget. This is sometimes covered by the real estate company, but it may be in your best interest to add a little to the marketing budget yourself. The more eyes on your home, the more competitive your final price will be, so you should definitely invest in getting the word out!
3 Ways to Reduce the Cost of Selling a Home
That said, these costs vary depending on your area and local real estate market. Plus, there are some additional things you can do to reduce the cost of selling your home. Here are three ways to decrease the cost of selling a home.
Negotiations: Negotiations are super important and can often make or break a deal. So, before signing any contracts, do your research, compare prices, ask for discounts, and haggle as much as possible to get the best deal you can.

Shop Around for Title and Escrow Services:There are many different title and escrow services available, so you should definitely shop around and compare services, prices, and terms to find the best value. Of course, your real estate agent can help with this, too.

Utilize Free Advertising: Most online classifieds and real estate websites offer free advertising options for people selling their homes. So, take advantage of as many free advertising opportunities as you can to reduce your marketing cost as much as possible.
Thinking About Selling Your Home in Northeast Florida?
If you're thinking about selling your home in Northeast Florida, it's important to choose a local real estate professional who has a thorough understanding of the local market and the costs associated with selling a home in your area. That's where the Welch Team comes in. Our team of real estate experts specializes in helping homeowners navigate the complex home-selling process. Contact us today to learn more.
And while you're here, take a second to check out our Home Value Report. It'll provide you with an accurate estimate of your home's current value based on current market trends in your area!