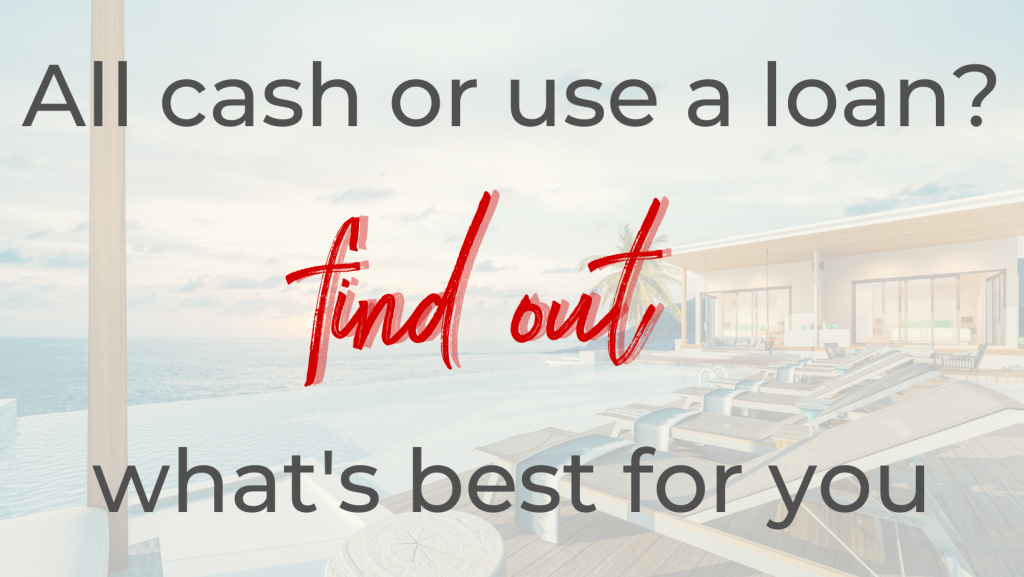 While many homeowners would love to buy their home with all cash, that isn't possible for everyone. Saving up enough money to buy a home with all cash may take much longer than you want. Plus, there are many benefits to purchasing a home with a mortgage loan.
You just have to decide which option is best for you and what's feasible based on the current state of the market and your personal finances. To determine which is better for you, let's take a moment to examine the differences between buying a home with all cash and using a loan.
The Difference Between Buying a Home with All Cash and Using a Mortgage Loan
When buying a home, you're often confronted with a ton of different questions. One of the earliest questions you'll face is how you plan to buy a home.
Some homebuyers choose to purchase a property with all cash, while others opt to finance their purchase with a loan. Both methods have advantages and disadvantages, and it's essential to understand how each works before deciding.
Buying a home with all cash means you're willing to pay for the home's total value upfront. So, you won't have to take out a loan at all. This could sometimes mean getting a better deal because cash purchases tend to be more attractive to sellers. Plus, all-cash buyers don't have to worry about closing costs and other associated fees, which lowers the overall cost for both sides of the buying process.
On the other hand, all-cash purchases can often mean forgoing potential tax breaks related to home ownership, such as deducting mortgage interest. All-cash buyers will also have a much higher up-front cost than buyers who finance their home with a loan.
What About Financing?
Financing a home with a loan can give potential buyers more flexibility and help them meet their purchasing goals. For instance, if you want to buy a home for $750,000 but only have half of that on hand, a mortgage can help you cover the difference.
Plus, many loan programs don't require a down payment at all, so you'll have to pay little to nothing up-front. And lenders often offer loan programs with tax deductions and other incentives, making them more appealing. So, if you purchase a home with all cash, you won't have access to those extra incentives.
Should You Buy a Home with All Cash or Use a Loan?
Choosing whether you want to buy a home with all cash or use a loan ultimately depends on your overall financial situation. If you have the money to purchase a home without taking out a loan, it may be the better option. You'll get to avoid extra fees, you won't be saddled with a mortgage payment, and you won't add to your overall debt.
On the other hand, a loan can be incredibly beneficial if you don't have the cash to purchase the home outright. It can help you build credit, provide tax breaks and other incentives, and provide you with a larger budget to buy the home of your dreams.
Check Out Beautiful Homes in Northeast Florida
Ultimately, the decision is up to you and should be based on your financial situation. But if you're ready to take the next step and buy a new home in Northeast Florida, you've come to the right place. Here at the Welch Team, we specialize in helping individuals and families find their forever homes. Contact us today to see what's available in your area!
And while you're here, be sure to check out our free buying guide. It contains tips from industry experts, a complete list of our most trusted local vendors, and a comprehensive home-buying walkthrough.