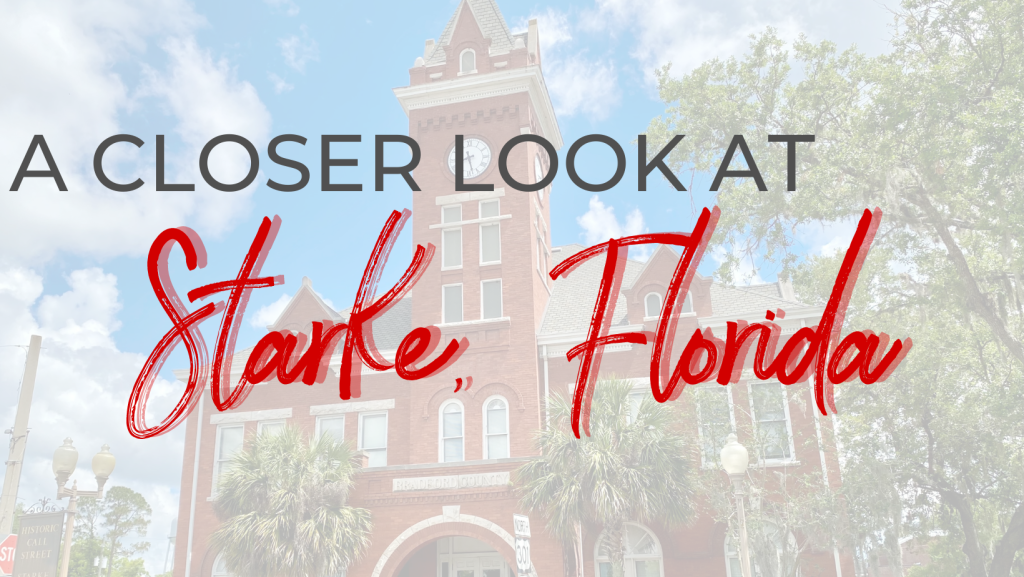 Are you searching for homes for sale in North Florida? Look no further than Starke, home to some of the most beautiful landscapes and exotic wildlife in the state. Starke is famous around the country for its historical sites and natural wonders. And while its population is intimate, it's also incredibly lively and community-centric, making it an ideal place to live, own a business, and retire.
A Little History
Founded in 1857 after a railroad was constructed from the Fernandina on the Atlantic coast to Cedar Key on the Gulf Coast, Starke started as a midpoint between the two busy cities. Trains would often stop here.
The city grew into a rural community, eventually establishing a formal weekly newspaper called the Bradford County Telegraph. It began publication in 1879 and boomed in the 1880s and 1890s in conjunction with the citrus industry. 
Eventually, the city attracted the government's attention, and they constructed the Camp Blanding Joint Training Center, a training base and military reservation for the Florida National Guard. Even today, visitors of Camp Blanding can visit the Camp Blanding Museum and Memorial Park. Their exhibits rival many U.S. military museums around the country!
The city is also a popular location for filmmakers and television producers. Many productions have utilized the beautiful landscapes and scenery in Starke, Florida, including G.I. Jane, starring Demi Moore, Tigerland, starring Colin Farrell, and Basic, starring Samuel L. Jackson and John Travolta.
Things to Do in Starke, Florida
Of course, there are several reasons to move to Starke, Florida, besides the off-chance that you'll be able to become an extra on a Hollywood movie set or meet an A-list celebrity in person. In fact, there are almost endless ways to spend your days in Starke.
You can walk along Call Street Historic District, the city's downtown area, home to local restaurants, a jewelry store, antique shops, and a movie theatre. The Florida Twin Theatre opened in 1941 and is one of the oldest theatres in North Florida, making it a popular destination for travelers and cinephiles that call the area home.
You can also visit the Eugene L. Matthews Historical Museum, which is named after the once editor of the Bradford County Telegraph. Or you can spend the day at Andrews Center, which used to be the Bradford County Courthouse. Its Romanesque-style architecture is inspiring to look at, and the building has been added to the National Register of Historic Places. 
And if you're ever in town during the first week of April, you can spend a weekend at the two-day, world-famous Strawberry Festival, which was started in 1998. While many areas have tried to duplicate these festivals, there's nothing like the real thing! The festival attracts thousands of visitors from all over the country.
Active Listings in Starke, Florida
Are you looking for fantastic dream homes for sale in Starke, Florida? Here are our current active listings in Starke:
Don't miss this once-in-a-lifetime opportunity to secure your dream home in Starke, Florida. If you have questions or would like to visit one of these beautiful homes, contact the Welch Team today!