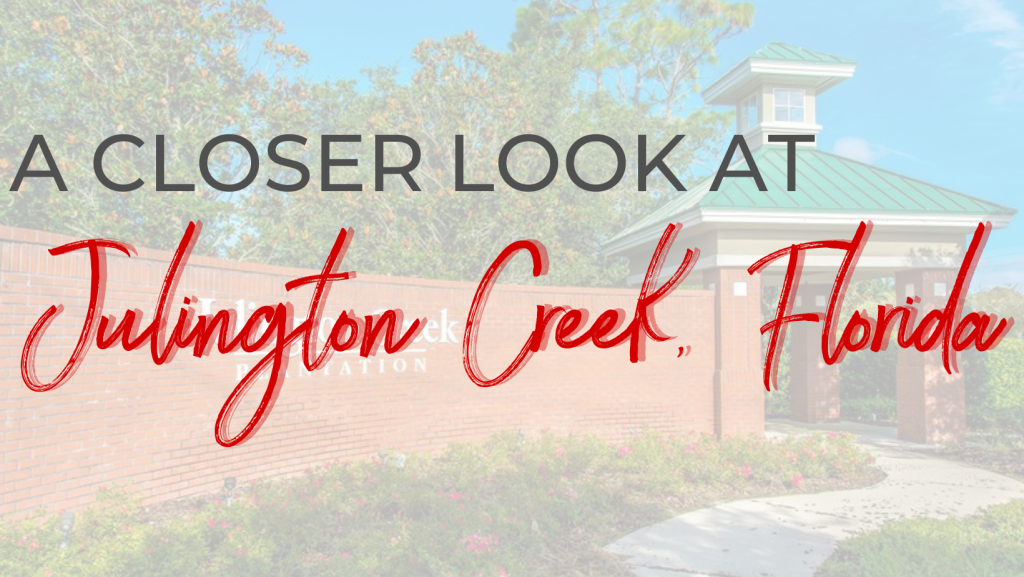 Located in Fruit Cove, Florida, Julington Creek Plantation is the unofficial border between Jacksonville and St. Johns County. It's one of the best neighborhoods in the state of Florida and home to some of the area's most beautiful natural landscapes. Since the community's construction began in 1994, this master-planned community has become one of the most popular neighborhoods in Northeast Florida.
The community is comprised of 4 neighborhoods and spans over 4,200 acres of well-kept land. Furthermore, Julington Creek is a family-oriented community that prioritizes and rewards community events, entrepreneurs, and small businesses. It's the ideal home for residents with an active lifestyle and a deep love of nature.
Life in Julington Creek Plantation
If you choose to live in Julington Creek Plantation, you'll gain access to a ton of unique and worthwhile amenities. The community offers an aquatic complex with a family-sized swimming pool with a waterfall fixture and a competition-level pool. The swimming facility is open seasonally and available to all residents and members of the community.
There's also a café in the community, offering all your favorite caffeinated and decaffeinated beverages. And if you're looking for things to do, you can spend time at Julington Creek's recreation center and the sportsplex, which offers basketball courts, tennis courts, a skate park, games, events, and more!
But that's not the only reason you should consider living in Julington Creek. The city is also located in St. Johns County, ranked #1 Best Counties to Live in Florida, #1 Best Counties for Families in Florida, and #1 Counties with the Best Public Schools in Florida. There's no better area to live in Florida to raise a family, and the city is famous for having some of the most high-performing schools in the country.
Plus, when you live in Julington Creek, you get the best of all worlds. You're located just minutes from St. Johns River and a short drive from the most beautiful beaches in the world, offering you tons of water-related activities. You're just a short drive from St. Augustine, famous for being America's first city. 
And lastly, you're just a quick trip to Downtown Jacksonville, where you can experience the thriving nightlife, the best restaurants in the south, shopping at unique boutiques, and a whole world of events and activities. So, if you're searching for a prime location in Northeast Florida, Julington Creek Plantation is the community for you!
Active Listings in Julington Creek, Florida
Are you looking for gorgeous homes for sale in Julington Creek, Florida? Here are the active listings we currently have available:
Click Here To See All Available Listings
Don't miss this chance to find the home of your dreams near Julington Creek Plantation. If you have any additional questions or want to visit one of our prime locations, contact the Welch Team today!