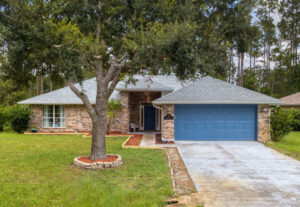 If you're looking for a thriving and active community, you can't get much better than Palm Coast, Florida. Located in the heart of Flagler County, Palm Coast is home to some of the top schools in the state, beautiful landscapes, and more. The area is super welcoming to retirees, young families, entrepreneurs, and working professionals.
Located between the historic St. Augustine and the world-famous Daytona Beach, Palm Coast is community-centric and has a mostly suburban feel. Most residents own their homes, and the median home value is below the national average. This unique factor makes it an excellent place to settle down, raise a family, or spend your golden years in the Florida sun.
The History of Palm Coast, FL
In the 1950s, the area that comprises Palm Coast was mostly swampland and pine forest, with a few beach houses and farms, sprinkled throughout. Most local businesses were situated along Florida State Road 100, and people would pay fees to fish or hunt in the area. Fast-forward to 1969, and the area really started to change.
The ITT Community Development Corporation moved in and started building homes at an alarming rate. They built over 48,000 homes on about 42,000 acres of land. They also put a lot of funds into local roads, central water systems, sewer management, and professional development.
This sudden surge in development made Palm Coast explode, eventually becoming the fourth largest city in Northeast Florida. Today, the city provides a range of public services, including commercial development, street construction and management, parks and recreation, and fire services. 
And while the area has grown significantly over the last few decades, it still maintains the qualities that initially brought people around. That's why you'll find some of the most beautiful parks in the world on Palm Coast, perfect for fishing, wildlife conservation, hiking, swimming, and more.
Things to Do in Palm Coast
If you're looking for things to do in Palm Coast, Florida, you're in luck! You can spend the day at the River to Sea Preserve, a 90-acre preserve home to natural vistas, walking trails, ecological education opportunities, and access to the beach. We also have world-class golf courses, including Hammock Beach Golf Resort & Spa, Pine Lakes Golf Club, and Cypress Knoll Golf & Country Club.
For stunning local parks with out-of-this-world nature views, you can visit Waterfront Park, Belle Terre Park, Ralph Carter Park, James F. Holland Memorial Park, and the Long Creek Nature Preserve. And we have several beaches, including Flagler Beach, Jungle Hut Road Park, Van Park, and Old Salt Park.
And if you're looking for tasty eats and treats in the area, Palm Coast will not disappoint. This close to the North Atlantic coast, you know that there is incredible seafood. So, you have to check out local favorites, including JT's Seafood Shack, Red Crab – Juicy Seafood, Palm Harbor Grill, and Atlantic Grille Oceanfront Restaurant. 
And if you ever want to get out of the city, St. Augustine, Jacksonville, and Daytona Beach are just a short drive away. Let's face it – there's always something fun to do in Northeast Florida. And if you live here, you won't want to live anywhere else!
Active Listings in Palm Coast, Florida
Are you on the hunt for homes for sale in Palm Coast, Florida? If so, you've come to the right place! Here are the current active listings we have available: View All Active Listings
Looking to build your custom dream home? Check out this newly available lot in Palm Coast!
If you want to move to Palm Coast, Florida, now's your chance! Contact the Welch Team today to schedule a viewing or learn more about Palm Coast homes for sale.