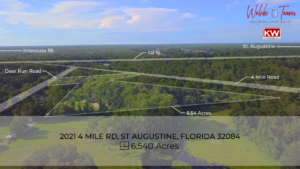 Are you interested in a once-in-a-lifetime real estate investment opportunity in St. Augustine, Florida? The land for sale is gigantic and priced at a steal. If you're interested in investing in development projects in Northeast Florida, then this is the perfect financial opportunity for you.  
The property is currently listed at $1,500,000. And with 6.540 acres of available space, this property holds significant development opportunities. Currently, the property contains two mobile home units and a large barn, totaling 3,412 square feet. 
But it's important to note that these homes take up just a fraction of the available acreage. Most of the land is untouched and undeveloped. So, in the hands of the right person, the value of this property could skyrocket. 
The Community
St. Augustine is in St. Johns County, which is well regarded as one of the best counties to live in the entire country. According to Niche, St. Johns County is ranked #2 in their "Best Counties for Families in Florida" list and #2 in their "Best Counties to Live in Florida" list.
The public schools are highly rated, churning out some of the highest test scores and graduation rates in the Sunshine State. Plus, it's located just minutes away from Jacksonville and contains some of the most beautiful beaches in the entire country.
Famous for being America's oldest city, St. Augustine is a charming city known for its illustrious history, delicious food, legendary golf courses, beautiful beaches, and community-centric attitude. No matter who you are or what you like, there's always something going on in this incredible city.
For instance, you can learn about the city's vast history on an Old Town Trolley tour. You can walk the cobblestone road and visit the shops on Aviles Street. Or you can spend the day at the St. Augustine Lighthouse and Maritime Museum.
And when you're done with all that, you can grab dinner and a drink at the Ice Plant, a local favorite whose building dates back to 1927. The options are almost limitless! Whether you're a longtime resident or brand new to the area, St. Augustine will welcome you with open arms.
Let's Talk Today!
Opportunities like this don't come along often, especially with valuable real estate and available property in St. Augustine, Florida. St. Johns County is a highly coveted area, so you should snatch this listing up as soon as possible. After all, it won't be available long!
Isn't it about time you invested in your future? If you'd like to schedule a viewing or learn more about property for sale in Northeast Florida, contact the Welch Team today!