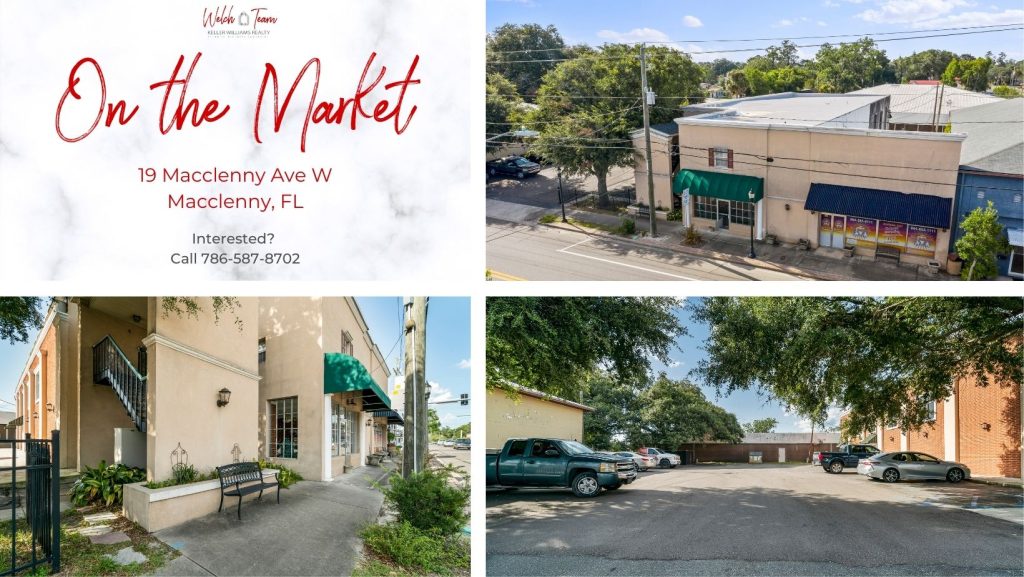 An incredible and profitable two-story commercial listing is waiting for you in Macclenny, Florida! Located in Macclenny's historic downtown, this sizeable property is overflowing with potential and perfect for anyone searching for Macclenny investment properties.
The property is located at 19 Macclenny Avenue W, Macclenny, Florida 32063. It is 10,500 square feet (which is equivalent to .430 acres). And the listing price is $1,500,00.00.
Built in 1970 and then renovated in 2006, the space is upscale, luxurious, and full of history. There are beautifully updated features, a gorgeous elevator, and new steel beams. Structurally, there are two buildings, seven bathrooms, and twenty parking spots on the property, with over 4,200 square feet of unfinished and unused space on the second stories. 
Since location is prime for local business, this property is currently grossing over $5,000 a month from current tenants, with a potential of reaching over $10,000 a month once it's fully leased. 
And once the unused spaces on the second floors are finished and ready to lease, that profit ceiling could rise, leaving a lot of room to grow. That makes this an ideal financial opportunity for anyone looking for investment properties in Macclenny, Florida.
The Community
You can't get any better than downtown Macclenny. Located away from the hustle of the big city but still within an active part of the community, this is an optimal spot for leasing to local business owners.
The land is located right around the corner from several restaurants, including a few local favorites: The Village Store, E&M's Cupcakery & Boutique, and Calendars Pizzeria & Sports Bar. There are also plenty of local shops nearby and beautiful historic buildings on every corner.
The community of Macclenny loves to support local. In fact, you should see a significant return on investment if you purchase this incredible commercial property and become a part of this thriving community. They put everything they can into making their city the best it can be.
Don't Miss This Opportunity
In this market, real estate investment is one of the wisest investments you can make. So, don't miss this fantastic financial opportunity. The community of Macclenny is ready to welcome you with open arms. 
If you're interested in touring the buildings or want to learn more about investment properties in Northeast Florida, contact the Welch Team today.