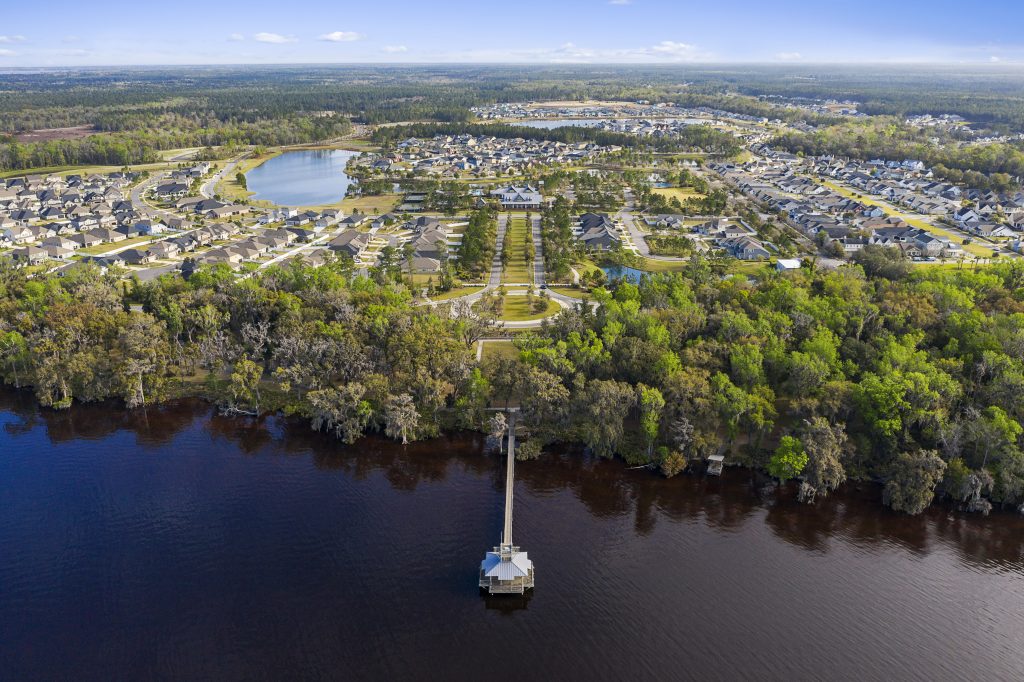 An illustrious part of the wealthiest county in all of Florida, St. Johns County, RiverTown is a beautiful waterfront community with luxurious amenities. It's located just off the St. Johns River, just miles south of Fruit Cove and within driving distance of Jacksonville. Like many of the areas in St. Johns County, this is the perfect place for any individual or family who loves the outdoors, community-minded neighborhoods, and peaceful southern living.
RiverTown, FL
A Community for Families
Located on the west end of St. Johns County, RiverTown is a master-planned community, home to seven different neighborhoods: Gardens, Westlake, Highpointe, Arbors, Estates, Haven, and Watersong (55+). All the neighborhoods in RiverTown are designed to take full advantage of the natural beauty of the St. Johns River.
Watersong at RiverTown, in particular, is a neighborhood for residents 55 years and older who value an active lifestyle. It's a neighborhood created to combine resort-style amenities with an untouched natural setting, and the result is gorgeous waterfront living. This neighborhood is a paradise.
Beyond that, RiverTown has also set aside more than five thousand additional acres for future generations of RiverTown residents. They also offer custom estate homes from various builders, making this an excellent place for any family looking to personalize and build their forever home.
Demographics
St. Johns County is ranked one of the best counties to live and raise a family in Florida. The schools are top-notch, containing the #1 school district in the state. The average home value is $304,700. RiverTown, specifically, has homes ranging from $200,000 to $1 million. 
The job market is booming in this area, with an average household income of $82,252. That's higher than the national average, $62,843. RiverTown is an exclusive area that prioritizes safety, security, and family life.
Things to Do
There's always something to do if you like in RiverTown, FL. Since it's located on the St. Johns River, there's always fun to be had on the water. If you love exploring the natural world and staying fit, there are hiking and biking trails everywhere. Or you can enjoy the many beautiful parks, including RiverTown's incredible dog park. It provides a safe place for your four-legged, furry friends to have an afternoon of free-roaming fun in the sun.
If you're craving a night in the big city, Jacksonville is just 30 miles away. And if you're wanting a day at the beach, RiverTown is within driving distance of Ponte Vedra Beach and St. Augustine. 
If you're seeking homes for sale in RiverTown, contact the Welch Team today. We would love to help you find your dream home in this idyllic and gorgeous riverside community.