Own a Prime Medical Office in St. Augustine Beach!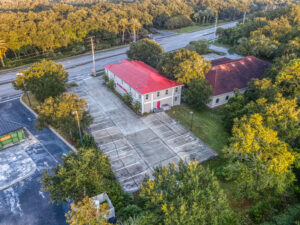 Are you in the market for a commercial property that offers prime location, versatility, and ample space? Look no further than this remarkable 2-story, 6,000+ sq ft medical office building in the heart of St. Augustine Beach. Constructed in 2016, this property is a standout investment opportunity for medical professionals and savvy investors alike.
Strategic Location
One of the key selling points of this property is its strategic location. Situated right on A1A, it guarantees exposure to over 24,000 passing vehicles daily. In the world of commercial real estate, location is everything, and this property certainly delivers in that department.
Versatile Layout
The building's layout is designed to offer maximum flexibility. It features a separate entrance and elevator, enabling a clear division between the downstairs and upstairs areas. The lower level boasts 8 spacious medical rooms, perfectly suited for healthcare practitioners looking to establish or expand their practice.
Upstairs Possibilities
Upstairs, the possibilities are endless. Currently housing a fully equipped gym, this space can easily be repurposed to suit a variety of needs. Whether you envision it as additional office space, meeting rooms, or even a showroom, this area provides the canvas for your imagination to run wild.
Functional and Convenient
Functionality and convenience are paramount in any commercial property, and this one delivers. A full kitchen and multiple office spaces ensure that your daily operations run smoothly. With a total of 5 bathrooms, both staff and clients will have ample facilities at their disposal. Plus, rest easy knowing that the building is fully equipped with a fire sprinkler system for safety and protection.
Climate Control and Durability
Florida's climate can be quite demanding, but this property has you covered. It features 4 5-ton HVAC units for efficient climate control. The building itself is constructed from sturdy concrete and topped with a durable metal roof, providing long-term durability and peace of mind.
Thriving Coastal Community
Located just a couple of blocks away from the beach, this property offers the best of both worlds. You have the advantage of a bustling coastal community, which not only provides a steady flow of potential clients but also offers a fantastic quality of life for you and your staff.
Whether you're a medical professional searching for the perfect practice location or an investor looking to add a prime commercial asset to your portfolio, this property checks all the boxes. Don't miss out on this exceptional opportunity to own a prime medical office in the thriving heart of St. Augustine Beach. Contact us today to schedule a viewing and take the first step towards securing your future in this vibrant community.
Buying or Selling in Northeast Florida?
If you're looking to buy or sell a home in Northeast Florida, you've come to the right place. Here at the Welch Team, we specialize in helping homeowners sell their properties and find the homes of their dreams. Contact us today to learn more!