Exploring the Charms of Jacksonville, Florida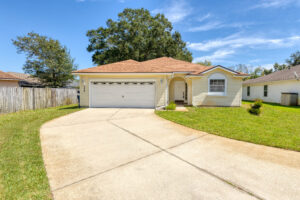 Are you considering a move to Florida? Look no further than the vibrant city of Jacksonville! Nestled on the northeastern coast of the Sunshine State, Jacksonville offers a unique blend of coastal living, cultural diversity, and economic opportunities. Is Jacksonville the location for you? Let us find out!
Affordable Real Estate:
One of the most appealing aspects of Jacksonville for out-of-state home buyers is its affordable real estate market. Compared to other major cities in Florida, such as Miami and Orlando, Jacksonville offers a more reasonable cost of living. Home prices are relatively lower, allowing you to find a comfortable home within your budget. With various neighborhoods and housing options, from historic districts to modern developments, Jacksonville caters to a wide range of preferences.
Stunning Natural Beauty:
Jacksonville's location along the Atlantic coast grants its residents access to breathtaking natural beauty. Miles of pristine beaches, such as Jacksonville Beach and Ponte Vedra Beach, invite you to relax, soak up the sun, and enjoy various water activities. If you're an outdoor enthusiast, you'll love the numerous parks, rivers, and nature preserves within the city. The iconic St. Johns River, the largest in Florida, provides ample opportunities for boating, fishing, and kayaking.
Thriving Economy:
Jacksonville boasts a thriving and diverse economy, making it an excellent choice for professionals seeking career opportunities. The city is home to major employers in industries like finance, healthcare, logistics, and technology. The presence of leading corporations, including Fidelity National Financial, Mayo Clinic, and CSX Corporation, ensures a robust job market and potential for growth. Additionally, Jacksonville's proximity to major ports and transportation networks offers advantageous conditions for entrepreneurs and small businesses.
Cultural Enrichment:
As the largest city in Florida by land area, Jacksonville offers a vibrant cultural scene with something for everyone. Downtown Jacksonville is a hub of artistic expression, featuring galleries, theaters, and the Museum of Contemporary Art. The historic Riverside and Avondale neighborhoods boast charming streets lined with boutiques, restaurants, and cafes. The city also hosts various festivals and events throughout the year, celebrating art, music, and cultural diversity.
Sports and Recreation:
Sports enthusiasts will find their haven in Jacksonville. The city is home to the Jacksonville Jaguars, an NFL team, as well as minor league baseball and ice hockey teams. Golf enthusiasts can enjoy a wealth of prestigious courses, including the renowned TPC Sawgrass. Furthermore, the warm climate allows for year-round outdoor activities such as golfing, tennis, and cycling.
With its affordable housing, stunning natural beauty, strong economy, vibrant culture, and abundant recreational opportunities, Jacksonville, Florida, stands out as an enticing destination for out-of-state home buyers. Whether you're seeking a relaxed coastal lifestyle, professional growth, or an active community, Jacksonville offers the ideal combination of amenities and opportunities. Consider making Jacksonville your new home, and unlock the endless possibilities that await in the bold and beautiful River City.
Buying or Selling in Northeast Florida?
Check out our latest listing in the Jacksonville, FL area here.
And if you're looking to buy or sell a home in Northeast Florida, you've come to the right place. Here at the Welch Team, we specialize in helping homeowners sell their properties and find the homes of their dreams. Contact us today to learn more!