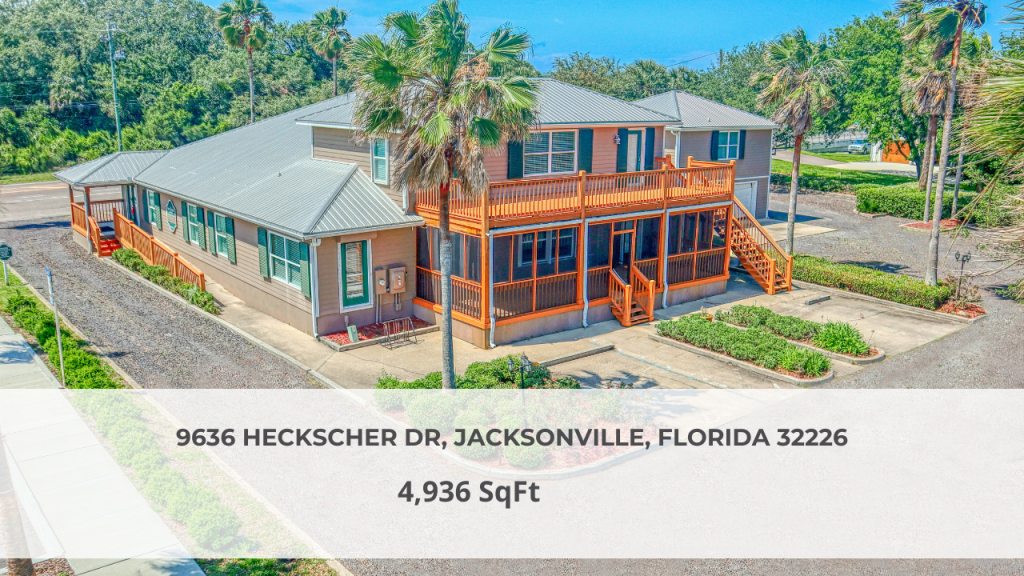 Looking for a prime WATERFRONT commercial property in Jacksonville, Florida? Look no further than 9636 Heckscher Dr. This property is located in a highly visible location with easy access to major highways, making it an ideal location for a variety of businesses. The listing is currently listed for $2,590,000, which is an absolute steal for real estate this prime.
The property consists of a large building with over 4,300 square feet of space, offering ample room for a wide range of commercial ventures. The interior features an open floor plan that can be easily customized to suit the needs of any business. With high ceilings, large windows, and plenty of natural light, the space is both welcoming and functional. The waterfront lot features 200 +/- feet of water frontage along the St Johns River, heading east along Heckscher, near where the river meets the ocean.
The exterior of the property is just as impressive, with a large parking lot that can accommodate plenty of cars. The building itself has a modern design and is well-maintained, giving it a professional look that will impress clients and customers alike.
The location of the property is another major advantage. It is situated on a major thoroughfare in Jacksonville, providing easy access to the downtown area and other key business districts. Plus, with the nearby Jacksonville Port Authority and JAXPORT Cruise Terminal, the property is ideally positioned for businesses in the shipping and logistics industries.
In addition to its prime location and ample space, 9636 Heckscher Dr also offers plenty of amenities to ensure that businesses can operate efficiently and effectively. The property is zoned CCG-2 which allows for many uses. A 2,000 sq ft + dock can be added with permits. This property would make a great waterfront restaurant, marina or boat repair facility, any marine industry business, hotel or bed and breakfast, or an amazing office or retail space for any business. The AADT is 7,200 vehicles per day and being located right next to the St. Johns ferry, this is a prime location with high visibility. The property sits apx. 20 minutes from Amelia Island, 20 minutes from downtown Jacksonville and right across the river from Mayport and the Navy Base. Call for more details and to schedule a showing today.
Whether you're looking to open a retail store, a restaurant, an office, or any other type of business, 9636 Heckscher Dr is the perfect location. Its prime location, ample space, and modern amenities make it an ideal choice for businesses of all sizes and types. Contact a commercial real estate agent today to learn more about this impressive property and schedule a viewing.