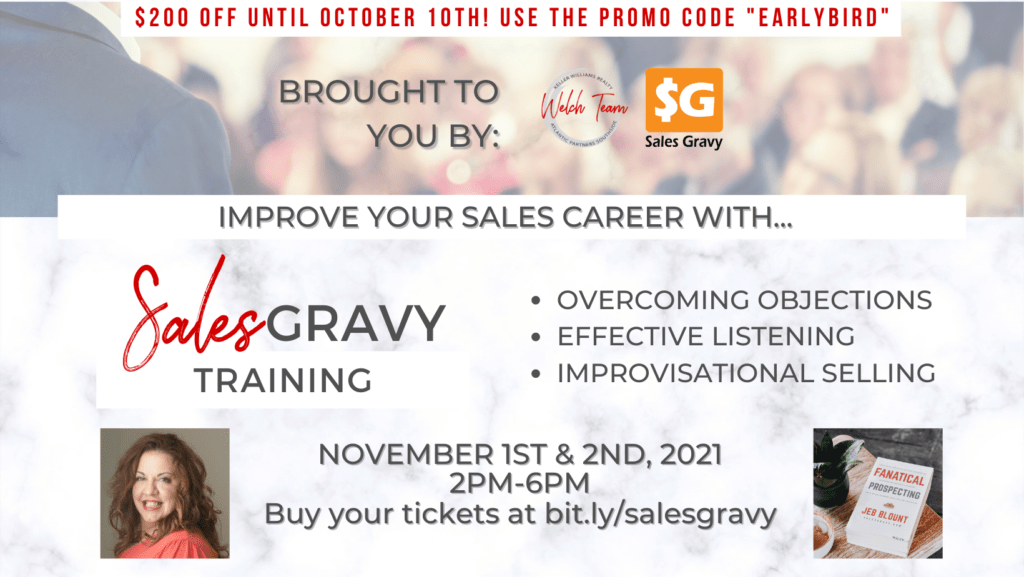 Welch Team has partnered with Sales Gravy to bring you an amazing 2-day training event!
Who is Sales Gravy?
They wrote the book on Sales Training (literally) with books like Fanatical Prospecting, Objections, Sales EQ, and more. Founder and CEO Jeb Blount is the bestselling author of 13 books and among the world's most respected voices in sales, leadership, and customer experience.
At Sales Gravy, their mission is simple: They help sales organizations, sales leaders, and salespeople win.
Their team of sales trainers, coaches, and advisors leverages their proven sales training and sales enablement system to help sales organizations become more agile, accelerate sales productivity, and gain a decisive competitive edge.
With the help of Gina Trimarco, we will be learning:
Effective listening
How to overcome obstacles
Improvisational selling.
Gina is a master sales improv trainer and leadership strategist who helps organizations re-humanize relationships through Improvised Intelligence™ (improv-based emotional intelligence). She has dedicated her career to helping people learn to become more agile communicators through the power of improv.
Event Details
When? You can join us on Monday, November 1st and Tuesday, November 2nd, from 2 pm to 6 pm EST.
Where? The event will take place at Keller Williams Atlantic Partners St. Augustine, located at:
100 Southpark Blvd
St. Augustine, FL 32086
Ticket Information: Tickets are available through EventBee. Keep in mind that there is limited availability, so be sure to secure your tickets before it's too late. The cost per ticket is $799.00 per person.
Questions? If you have any questions about the event or how to sign up, please feel free to contact us at [email protected].